Overview
Top of the mountain is the highest peak of the Adriatic islands. At the top are 12 m tall monumental cross of white stone from Brac and telecommunications facility, a tavern next to him "Vladimir Nazor". The immediate surroundings of the top of the old places of worship, and the remains of a double defensive walls hint of the old Illyrian. The top is called Vidovica, St. Vitus, the Old Croatian Sutvid chapel, whose remains are located about a hundred meters from the top.
Getting There
http://www.autotrans.hr/upload/userfiles/sezonski-red-voznje2011.pdf
http://www.split-airport.hr/
http://www.jadrolinija.hr/pdfs/631.e.zima.2011.pdf
http://www.jadrolinija.hr/pdfs/631.2011.ljeto.e.pdf
http://www.jadrolinija.hr/pdfs/9603.2011.zima.e.pdf
http://www.jadrolinija.hr/pdfs/9603.ljeto.e.2011.pdf
http://www.jadrolinija.hr/pdfs/638.2011.zima.e.pdf
http://www.jadrolinija.hr/pdfs/638.ljeto.2011.e.pdf
Red Tape
No limitation.
Camping
http://www.camping-brac.com/en
Camp Kito
Bracke ceste bb
21420 Bol
tel.: +385 (0)21 635 551
fax: +385 (0)21 635 551
Camp is situated in a beautiful and picturesque part of the island of Brac, at the entrance of the town Bol. The camp is surrounded by pine trees and a beautiful beach and it is a true paradise for all lovers of quality rest, nature and fun.
Camp Njiva
Podan Koštila bb
21420 Bol
tel.: +385 (0)91 795 7088
Camping field is actually an olive grove, which provides ideal conditions for rest in the natural environment. It is located in the beautiful part in the vicinity of the famous Bol beach "Zlatni Rat".
Camp Aloa
Marka Marulica 3
21420 Bol, Croatia
Tel: +385.98.1776484
Fax: +385.21.635.367
E-mail: ncb@mail.inet.hr
Camp "Aloa" - Vranina is near the Bol on island Brac. It's situated 2km outside famous holiday destination Bol in direction of small village of Murvica.
External Links
View
The views from the top stretches to the south coast of the island with a green belt around Bol. View particularly attracted to Zlatni Rat, a narrow sandy promontory that cuts like a peak of more than 600 m in blue sky.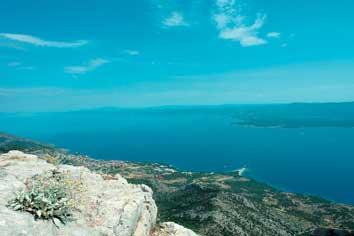 Coordinates
N 43 ° 16 '46.9''E 16 ° 37' 02.11''
Mark
Metal stamp is on the wall of the telecommunications facility.
Approaches
Kneževravan - Vidova gora 1:30 h
Bol - Vidova gora 2 h
The main access road to the Vidova gora is asf. road across Knezevravan. Pedestrian access from Bol is more attractive for hiking, but also exhausting. The road that leads up to the top of Vidova gora separates from the main island road Supetar - Pain in the vast plateau. After 1 km of it is off to a wide dirt road to the desert Blace, a road to Vidova gora continues 4 km gently climbs through a beautiful forest of red pine as well as through the alley and ends on an open plateau karst wells, in which the top edge of Vidova up . The road is paved and passable for buses, and beside it is partly made out of old markings. Path from Bol is hard because the rough terrain overcomes an altitude difference of 780 meters.
Map
Vidova gora is not covered by any hiking maps.
Educational track "Vidova gora"
The educational track "Vidova gora" is settled in the area of Significant Landscape "Vidova gora". It is of round shape and on it natural and cultural features of the island of Brac are represented.
Basic features
Length: 19,7 km
Height above sea level: 552-778 m asl
Tour time: around 6 hours
The level of difficulty:easy
The equipment needed: comfortable sports footwear, bycicle
Tour method: walking, mountain biking