Overview
Cat Mountain – Cerro del Gato - what a mountain!
Cat Mountain is a striking, standout desert peak in the Tucson Mountains west of Tucson, Arizona
(phonetic pronunciation: TOO-sahn)
. With over 1,000 feet of prominence, this petite desert beast serves up all the makings for a fine day: Sonoran desert beauty, route finding, scrambling and wide-open views. The diversity of Sonoran desert plants will leave the visitor spellbound: The noble Suguaro; the verdant Palo Verde; Multiple varieties of Prickly Pear; Bold "attack" cholla; Sneaky Cats Claw.
There's even an unusual "rock" at the summit: A fiberglass "boulder" that houses the Pima County Sherriff's signal repeater. As odd as it is to reach the summit of a mountain to find a big, fake rock, at least the county had asthetics in mind when errecing this communication device. After all, a big metal tower would not be as easy for the visitor (or nearby residents) to ignore.
Arizona Rank:
4321
th
highest peak in Arizona
Prominence:
1,062 feet
USGS Quad:
Cat Mountain
Trails Illustrated Map:
#237 Saguaro National Park
Rank and Prominence Source:
Lists of John
Getting There
Tucson Mountain Park resides 13 miles to the west of Tucson, Arizona in Pima County. The park can be reached via Gates Pass Road or by taking Ajo Road to Kinney Way.
Not content to simply offer the visitor a day of outdoor adventure, close-to-town Cerro del Gato is within spitting distance of a few other attractions. Along with neighbors such as Golden Gate Mountain and "Little Cat Mountain," Cat Mountain forms the rugged backdrop of Tucson Studios, where many famous westerns were filmed. Nearby
Cat Mountain Station
is named in honor of this noble desert peak and features a restaurant (Coyote Pause) as well as a collection of merchants and artisans. The breathtaking desert scenery of
Suguaro National Park
(West) is just a stone's throw away. The
Arizona-Sonora Desert Museum
would also make a fine and educational nearby outting.
And then there are the stories of the ghostly horseman haunting Cat Mountain and vicinity…
The Legend of El Tejon
Read the full story of the legend of El Tejon in the Tucson Citizen
According to local lore, in the late 1880s an outlaw named El Tejon (the Texan) frequented the area near Cat Mountain. His specialty was robbing stagecoaches, then ducking into the Tucson Mountains to hide from authorities. Eventually, the crook was brought to justice and executed for his crimes. After his demise, however, his legend only grew. It is said that El Tejon's golden stash is hidden in a rock cave on the rugged slopes of Cerro del Gato. Treasure-hunters beware, though: It is said that the one who finds the Texan's Treasure will also find himself face-to-face with the bandit! The ghost of El Tejon jealously guards his treasure and is said to strike fear into the hearts of any who have wondered across the secret cache.
Red Tape
There is no entry fee for Tucson Mountain Park. The park is open daily 7:00 AM to 10:00 PM. Click
here
for full rules governing use of Pima County Parks.
Do not for any reason tamper with the sheriff's repeater or the fiberglass rock structure at the summit!
Camping & Lodging
The only nearby campground is the 130-site
Gilbert Ray Campground
, located in Tucson Mountain Park.
The proximity of Cat Mountain to the Tucson Metro area means lodging options are virtually unlimited. Visit the
Trip Advisor
site covering Tucson, AZ, for more information about area accommodations.
Weather & Seasons
As with most lower elevation hikes in the Tucson area, hiking Cat Mountain would be most comfortable in the fall, winter or spring. March and April are primo wildflower viewing months.
Summer temperatures in this part of the Sonoran desert can be worse than uncomfortable; they can be downright
dangerous!
According to the United States National Weather Service, the record high temperature for Tucson, Arizona, set on 26
th
June 1990, was
117 degrees Farenheit / 47 degrees Celsius
.
External Links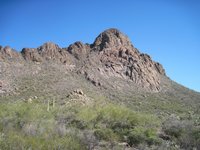 Tucson Mountain Park
PDF Map of Tucson Mountain Park