Overview
I dont know why some mountains in the Alps are named "Predigtstuhl", which means "Sermon Chair". There are several summits bearing that name and nearly all of them are a sort of promontory to a higher range or summit - maybe thats where the name comes from.
Our Predigtstuhl in the southern
Wetterstein
range is a sort of promontory to much much higher
Hochwanner
and is sometimes called "Predigtstein". It belongs geologically to the so called Vorbergzug which consists of Wettersteinkalk, a solid limestone. This is why Predigstuhl and its neighbouring summits to the east and to the west came into existence (for more geology see the
Hochwanner SP page
).
Predigtstuhl is quickly summited from the col between it and Hochwanner and then up Predigtstuhl steep north slopes. There is some easy rock scramble involved (UIAA grade I). As it is a north slope it tends to hold ice and snow in autumn and spring times.
Predigtstuhl offers nive views into the Gaistal surroundings and to the western Karwendel ranges. It can be done as an easy hike from Gaistal parking area or as an additional summit when descending Hochwanner. An ascent via Steinerne Hüttl and a descent via Rotmoosalm (or vice versa) makes a nice loop and a nice hike in a more or less remote mountain scenery - especially in late autumn or early winter when Predigtstuhl - and sometimes Hochwanner, too - is still accessible.
Getting There
Trailhead for the two normal routes is
Salzbach
parking area at the eastern beginning of Gaistal. Gaistal is an east - west running valley between Leutasch valley in the east and Ehrwald / Lermoos in the west, thus dividing Wetterstein ranges from Mieming range.
You reach Leutasch
At Leutasch Obern there are signposts to Gaistal. Follow the signposts "Gaistal" to the
toll road station
. Pay your toll (until october) and follow the road to its end. There is the parking area Salzbach.
Normal Routes Overview
The two normal routes start at Leutasch / Gaistal /
Parkplatz Salzbach
and unite at the unnamed col between Hochwanner and Predigtstuhl for the short summit ascent.
Steinernes Hüttl route
Follow the forest road from the parking area to
Tillfußalm
. Take the trail to
Steinernes Hüttl
. Follow the signposts to Rotmoosalm up to
Mitterjöchl
. Traverse the
Kotbachkar
below Hochwanner to the unnamed col between Hochwanner and Predigtstuhl. Great scenic trail !
Rotmoosalm route
Follow the signposts Rotmoosalm behind the bridge over Salzbach. Pass by
Hemmermoosalm
and ascend to
Rotmoosalm
. Use the lefthand trail up to the unnamed col between Predigtstuhl and Hochwanner.
Summit route
From the unnamed col follow a path up the north slopes of Predigtstuhl. The trail ascends on the left side of the north ridge to the rockier part of the north slope and uses then some short chutes with some rock scramble (UIAA grade I,
look at this
for a first impression) up to the summit.
Back on the same way.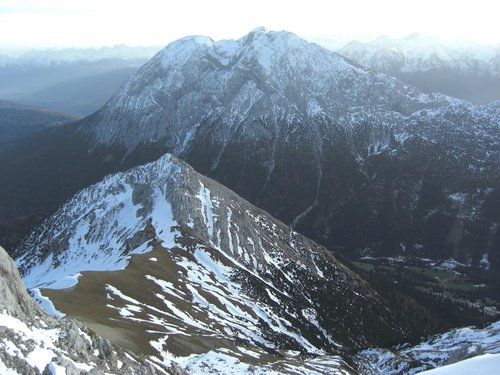 Red Tape & Accommodations
As far as I know there are no special restrictions in this area.
Around Wetterstein range are many villages with lots of accommodations of all kinds. The main villages are:
Leutasch
Seefeld
Telfs
Mösern
Scharnitz
Mittenwald
Garmisch-Partenkirchen
Around Predigtstuhl there are several mountain huts and Alm huts, which offer food and lodging
Tillfußalm
Rotmoosalm: Rotmoosalm was in February 2009
destroyed by an avalanche
. In the summer months the old hut offers drinks and food. Please refer to Internet information about the upcoming seasons.
Knorrhütte
Erinnerungshütte
, not guarded
Wangalm
Gear, Mountain Conditions & Map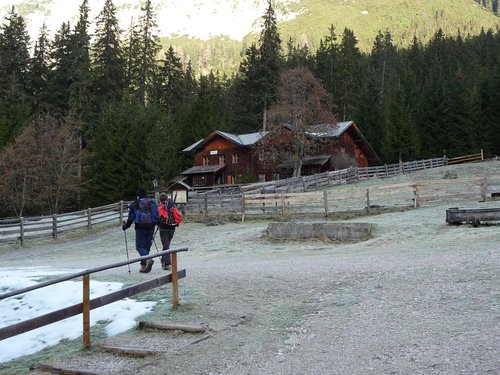 Predigtstuhl is a late spring, summer or autumn hike. Depending on the snow conditions, Predigtstuhl can be a late aim in early winter.
The hike requires only good hiking gear. The summit ascent needs some rock scramble knowledge (UIAA grade I) which is slightly exposed. You should be sure about how to move in such a terrain. Watch out for snow and ice in late autumn and early winter.
Map
Alpenvereinskarte
1 : 25.000
Number 4/2, Wetterstein und Mieminger Berge, Mittleres Blatt
Deutscher Alpenverein