Overview
Tecuamburro volcano is actually a dormant volcanic complex composed of several peaks, including Cerro La Soledad (Hill Solitude) 6053 feet/1845 meters; Cerro Peña Blanca (Hill With Rock) 6069 feet/1850 meters; and Cerro de Miraflores 6381 feet/1945 meters.
Cerro Peña Blanca covered in small openings emitting smoke and sulfur, offers the most interesting climb. This peaks is covered with rainforest made up of giant cypress and pine trees. The forest on all three peaks is so thick that views are scarce until you reach the top.
Once above the trees you will be able to see coffee plantations and Cruz Quemada Volcano. Because of the thick vegetation on this volcano trail you should wear pants to protect your legs. The ascent takes between 2-3 hours. You can ask in Aldea Los Esclavos or in the village of Pueblo Nuevo Viñas for a guide.
Chemical and isotopic analyses of thermal and nonthermal waters and of gases from springs and fumaroles are used to evaluate the geothermal potential of the Tecuamburro Volcano region, Guatemala. Chemically distinct geothermal surface manifestations generally occur in separate hydrogeologic areas within this 400 km2 region: low-pressure fumaroles with temperatures near local boiling occur at 1470 m elevation in a sulfur mine near the summit of Tecuamburro Volcano; non-boiling acid-sulfate hot springs and mud pots are restricted to the Laguna Ixpaco area, about 5 km NNW of the sulfur mine and 350-400 m lower in elevation
2 near interesting areas :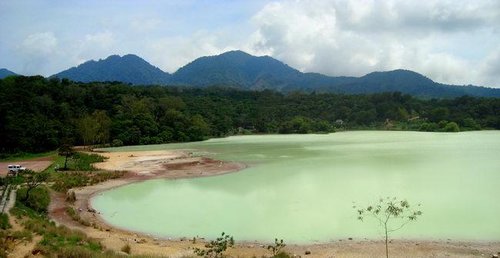 1) Laguna de Ixpaco is a perfectly round lagoon at the base of Tecuamburro Volcano. It is actually a volcanic depression connected to an underground river. The water is a ghostly yellow-green due to the high level of sulfur and, when levels are high, it can turn to milky-white. Prolonged exposure to the fumes coming off the water can be harmful; people with breathing problems should probably not visit. Nearby are some sulfur hot springs that the locals like to visit.
2) The city of Cuilapa, is the exact geographical center between North America and South America, a monument in the center of town marks the spot.
Getting There
Getting here: Tecuamburro is in Pueblo Nuevo Viñas. Catch a bus to Cuilapa, transfer to a bus heading toward Aldea los Esclavos and, at the junction, the bus will head south to Chiquimulilla. Check before you get on; otherwise, get off at the junction an wait for a bus heading south. It's another 10 miles (16 km) to the village of Tecuamburro. Ocassionally, the bus does not make it this far, especially after it rains and the dirt road turns to mud. There's a small parking lot at the foot of the volcano.
Camping
There are many places to camp including below Cerro La Soledad in an area with many sulfur and thermal gases in the rocks. So, if the smell of gases not affecting to you is ok. Many farms surrounded the volcano, in many of them is possible to camp previous negotiating with farms owners or workers.
No fees at all.
External Links
Volcanes de Guatemala.
My own site
style="display:block"
data-ad-format="autorelaxed"
data-ad-client="ca-pub-6523272176520096"
data-ad-slot="7132222476">