Wasootch Peak Overview
Sitting east of
Mt. Lorette
in the Kananaskis Valley is the scenic summit of Wasootch Peak. Standing at 7730 ft., this unofficially named peak is usually overlooked for the heftier Kananaskis Peaks such as
Kidd
,
Bogart
,
The Wedge
and
Allan
. This mountain offers some ample Front Range views of the Kananaskis Valley, Barrier Lake and Sibbald Conservation area. On a unclouded day summiters may even observe Three Sisters in Canmore, AB and even further away
Cascade Mountain
in Banff, AB.
Wasootch is the most northernly peak along the MacDougall Range which include peaks such as Kananaskis Peak, Old Baldy Mountain, Mount MacDougall and
Volcano Peak
. This peaks lower elevation and Front Range location makes for great climbing year round.
Wasootch's southern ridge is the most popular route to the summit for scramblers and hikers. The summit is snow free for most of the year except after new snowfall in winter and fall.
Wasootch is also the starting point of a long and moderate traverse of the MacDougall Range. The traverse is a 12-14 hour climb where a summiter can expect to bag more than one peak in a long day as described in the guide book, "More Scambles in the Canadian Rockies".
Wasootch Tower
, on the northern aspect on this peak is a perfect location for rock climbers and mountaineers who want to practice their climbing techniques. Climbers can expect a 4-6 hour climb for Wasootch.
Getting There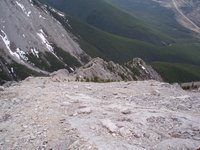 From the city limits of Calgary, AB take Trans Cananda Hwy.1 West. After roughly an hour, exit Hwy.1 via Kananaskis Trail ( Hwy. 40 South ) as per Kananaskis Village. Just before you reach the turn off for Kananaskis Village and Nakiska ski area you'll notice what looks like avalanche debris coming out of the woods on the left hand side of Hwy. 40. This is actually a stream bed. You will start you climb here. If you've gone past the Kananaskis Village sign, you have gone to far. Follow left of the stream bed. Most of the path to the summit is marked with marker tape so just follow the tape and well beaten path. After exiting the woods and in to the rocker section of the climb you will have some options where you can take an easier way to the top or make your own adventure and do a little more scrambling. The choice is yours. Either way you go you'll summit.
Red Tape
There are no permits needed for this climb. Always check bear activity for the area you intend to hike.
Wasootch
- is from the Stoney Indian word
wazi
, meaning "
unique
", and was given in respect to the north tower's aspect in this valley.
Reference: "Place Names of the Canadian Alps" by William L. Putnam, Glen W. Boles and Roger W. Laurilla 1990.
External Links
Mount Kidd RV Park and Campground
- a beautiful, clean camping experience.
Sundance Lodges
- 9 large tipis and 3 small on site including many campsites.
Delta Lodge At Kananaskis
- 321 rooms at the Lodge at Kananaskis.
Ribbon Creek Hostel
- a great spot for a rainy, windy night.
Today's Forecast