Overview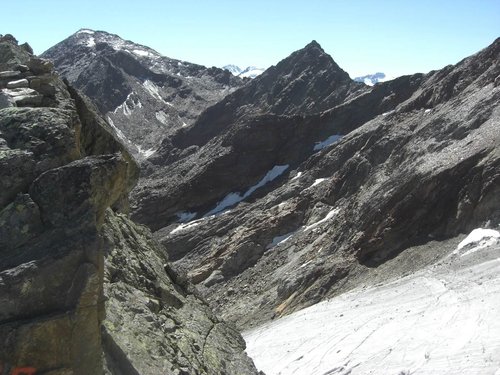 Wassertalkogel is the southernmost high summit of
Geigenkamm range within Ötztal Alps
.
The summit rises about 1.600 m above
Pitztal valley
to the west and about 800 m above
Pollestal
, a tributary valley to Ötztal, to the east. To the north is located the lower summit of
Sonnenkogel
, a secondary summit to mighty
Puitkogel
. To the south Geigenkamm range extends for about two more kilometers with the minor summits of
Gschrappkogel
,
Wurmsitzkopf
and
Polleskögel
until it ends at
Pitztaler Jöchl
, the linking col to
Ötztaler Wildspitze subgroup
.
Wassertalkogel, a broad heap of dark rock and scree, would not be a very attractive mountain without one feature: an alpine trail called
Mainzer Höhenweg
, the linking trail between
Rüsselsheimer Hütte
to the north and
Braunschweiger Hütte
to the south. Mainzer Höhenweg is the southernmost part of the whole Geigenkamm range traverse route and among the most difficult and exhausting parts of this traverse.
Wassertalkogel is the highest point of Mainzer Höhenweg thus giving this summit an extra importance.
An extra bonus of this summit is a bivouac hut, called
Rheinland-Pfalz-Biwak
, located only some meters below the summit and holding 9 bunk beds for an overnight stay. The red bivouac looks more like a lunar module than a mountain bivouac and is a rather strange sight on top of a high mountain.
Mainzer Höhenweg is the only trail leading from north or south to the summit. The west slopes are very steep, there is only an emergency descent route (marked only in descent direction!) starting north of the summit near the col between Wassertalkogel and Sonnenkogel which is not recommended for normal ascent or descent.
The east slopes down to Pollestal valley may be used in winter/spring as a ski tour ascent and descent route. An overnight stay in winter/spring at the bivouac hut is quite popular as the views from the bivouac and the summit are spectacular. Pollestal, though, is a very long valley and the ski ascent from Ötztal via Pollestal a rather strenuous undertaking.
Mainzer Höhenweg has its 40th aniversary in 2014. Wassertalkogel will receive therefore more visits than normal this year.
Getting There
Main trailheads are:
The trailheads for Rüsselsheimer Hütte and Braunschweiger Hütte are
Plangeross
and
Mandarfen / Mittelberg
, the last two villages in Pitztal valley.
An approach by railway and public busses is possible, too, though rather time consuming. The railway station for Pitztal is "Imst - Pitztal, for Ötztal it is "Ötztal - Bahnhof". Take the local busses from the railway stations to yout destination.
ÖBB schedules
Local busses schedule
Ascents to the huts
Routes Overview
Ascent from Braunschweiger Hütte
Follow trail number
918 / E 5
in northern direction (short descent) and ascent along the southeast slopes of Karleskogel to
Pitztaler Jöchl west col
.
The
former route
traversed a secondary summit on its south side in eastern direction to the
glacier col of Pitztaler Jöchl
. It then traversed the upper part of
Polles south glacier
to
Südliches Pollesjoch
, climbed up to the
northern summit
of
Polleskogel
and descended the north ridge of Polleskogel to
Nördliches Pollesjoch
.
Due to the glacier retreat this route has become rather
chaotic
. A
new route
leaves Pitztaler Jöchl west col (
signpost
: Mainzer Höhenweg) in northern direction into
Silbergrube
cirque (steep descent with some iron ropes for additional security), traverses the cirque (some snow fields) and ascends steeply west of Polleskogel up to
Nördliches Pollesjoch
.
Peak baggers are now one summit short. If you must you can follow the old route or climb Polleskogel to and fro via the easy north ridge.
Mainzer Höhenweg now follows the broad talus ridge with ups and downs and a bit of talus hopping, passing by
Wildes Männle
and
Wurmsitzkogel
– some minor summits of the ridge – and climbs shortly but steep up to
Gschrappkogel
, another secondary summit of the ridge.
The traverse from Gschrappkogel to the higher Wassertalkogel is easy and quickly done.
Ascent from Rüsselsheimer Hütte
This part of Mainzer Höhenweg is more difficult than the part Braunschweiger Hütte – Wassertalkogel.
Leave
Rüsselsheimer Hütte
on trail number
911
in eastern direction. At a trail junction take the right hand route (
signpost
: Mainzer Höhenweg) and follow this trail first in zigzags then following some moraine crests into Weißmaurach cirque. The route runs along the north side of the cirque to
Weißmaurach Joch
. Depending on the snow cover this ascent is more (without snow) or less (with snow) strenuous.
At Weißmaurach Joch take the
right hand trail
(the left hand trail descends into Polles valley) and ascend exposed, steep and with some scrambling action to the first of several minor ridges running down huge Puitkogel on its eastern side. Descend with the aid of some iron chains, ropes and a ladder exposed rocks to the snow and ice fields of small
Nördlicher Puitkogel glacier
.
Traverse this small glacier and ascend again to a secondary ridge. Another steep rock section, secured with iron chain, leads down to
Südlicher Puitkogel glacier
, which is a small but heavily crevassed glacier, fed by avalanche snow. This glacier needs crampons and sometimes a rope.
Traverse the glacier in its upper parts and descend steep rock slabs and scree fields or – better – descend the glacier to its southern end and regain the route, ascending steeply to a third secondary ridge.
The route now traverses the chaotic cirque of
former Sonnenkogel glacier
in southern direction. The glacier itself is drowned by scree and talus but there is still ice below the scree and the route "moves" on these ice fields due to the instability of the ground. Marks and signs can vanish and orientation is important.
After Sonnenkogel glacier cirque the route climbs up to the ridge between Wassertalkogel and Sonnenkogel. There is often snow covering the marks and the route. You may only find the marks again when arriving at or near the ridge crest.
After a short climbing section the ridge gets easier and with some talus and scree hopping you will arrive at the huge cairns of Wassertalkogel summit.
Red Tape & Accommodation
Nor restrictions as far as I know
You find all kinds of
accommodation
at:
Mountain Huts
Gear & Mountain Condition
Wassertalkogel from Braunschweiger Hütte
is a hiking tour in alpine terrain with a bit of talus scrambling, steep scree sections, narrow trails and some snow fields – in short: nothing too difficult.
You need good shoes and alpine mountaineering clothes; hiking poles are recommended.
Wassertalkogel from Rüsselsheimer Hütte
(or the whole Mainzer Höhenweg with Wassertalkogel traverse) is a more serious and long undertaking which needs some experience. You have steep routes (Weißmaurachjoch), icy passages under scree and talus, a small but heavy crevassed glacier and steep and exposed rock sections which are secured with iron chains, ropes, pegs and a ladder.
For that you need full glacier and ice gear like crampons, ice axe, rope and harness. I walked the glacier without being roped up but this was September with all snow melted away and all crevasses open.
A
ski tour
to Wassertalkogel requires full ski tour and avalanche gear.
Check the
Tirol avalanche bulletin here
.
Rheinland Pfalz Biwak should be fully equipped for nine people with bunk beds, blankets some camping stoves (without gas cartridges!) and the necessary tableware. There is no water (only snow). Due to the necessity of snow melting for drinking water you should use the separate toilet hut nearby!
Current Weather for Sölden valley:
Current Weather for Sölden mountain:
Map & Guide Book
Map
Alpenvereinskarte, scale 1 : 25.000, number
30/5
,
Ötztaler Alpen, Geigenkamm
; edition 2013, UTM grid, trails and ski routes
Guide Book
Walter Klier:
Alpenvereinsführer Ötztaler Alpen
; Bergverlag Rudolf Rother, München, last edition 2005, unfortunately nowadays out of stock