Overview
This hike starts a few miles to the south of Lake Havasu City, AZ. It takes you from Route 95 through an area of volcanic hills known as Aubrey Hills to The Water Tank, a flat piece of metal spread over the desert floor to collect rain water for the local wildlife. The tank sits near the jagged Peak 1379 ft which is unofficially known as Horse Hoof Peak. To make the hike longer and more interesting, I continued up to the saddle on the east side of Horse Hoof Peak and then descended into a valley that led me down to Lake Havasu at Steamboat Cove.
Getting There
From the south end of Lake Havasu City, I drove 4 miles south on Route 95 past mile marker 173. On the right (south) side of Route 195, I found the gated road that went to an electrical station. I parked at the start of that road.
Route Description
The hike to the water tank is
3.2 miles
long one way and
5.4 miles
to Lake Havasu one way.
From the parking area I went over the gate and hiked the dirt road 0.6 miles to the electrical station. Aubrey Hills were visible to the southwest. Behind the station, the road went into a dry wash. I headed west and found the road exiting the wash.
After a short distance, another road branched to the south. I turned left and headed south on the new road toward Aubrey Hills.
Old car.
View of Bill Williams Mountains to the east.
The road slowly turned west and went up to a saddle among the jagged Aubrey Hills Then slowly went downhill on the other side.
Peaks to the west.
First view of Horse Hoof Peak.
Near the water tank.
The water tank & Horse Hoof Peak.
Beyond the tank, there was no more road or trail. I walked up to the 1100 ft saddle to the east of Horse Hoof Peak. Views from the saddle.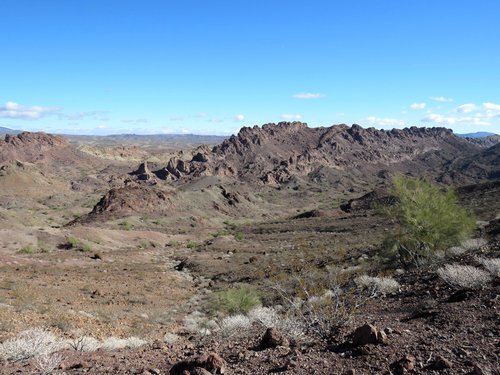 I then descended into a valley to the south of Horse Hoof Peak.
A canyon formed.
Near the lake.
Steamboat Cove on Lake Havasu.
When to hike
Winter is the best time. Summer can get dangerously hot.
External Links
http://www.golakehavasu.com/activities/hiking/trails/water-tank/
.