Overview
Welch Peaks is a group of pointy sub-peaks that are located just south of the extremely popular Mount Townsend, probably the second or third most summited mountain in the Olympics. Though Welch Peaks easily has the same quality of views that Mount Townsend has luckily it doesn't have the same amount of crowds that Mount Townsend has. Often those who do attempt Welch Peaks will have the summit to themselves while their counterparts on Mount Townsend will be sharing the summit with a lot of peak during peak days. Like neighboring Mount Townsend, the true summit of Welch Peaks has amazing of the eastern Olympics and of all the volcanoes in the distant Cascades from Rainier to Baker on a clear day.
So why does this peak receive so much less attention. Well that is because it requires use of a boot path to the summit which can get a little airy as it gets closer to the summit. This boot path with a combination of a occasionally Class 2 moves (with one or two very short Class 3 steps for good measure), an airy but walkable semi-knife edge and some poor footing along the entire off trail scramble due to iffy rocks makes this not desirable to most casual hikers. That all being said for Olympic Mountain off-trail summit this route is considered by many to be a quite easy and fun scramble, though caution does need to be used when climbing this mountain.
The summer route described here is not recommended for early spring snow-climbs. It is too airy and I suspect a great breeding ground for cornices. From what I saw there were a couple descent quality gullies that lead close to the summit. Though for now I recommend this as a summer snow-free mountain, if I gather more information on what I think might a good snow-climb I will pass it on. That being said if you to attempt this peak as a snow-climb, an ice axe is absolutely necessary and route-finding experience and map work would definitely be required before attempting this summit in spring.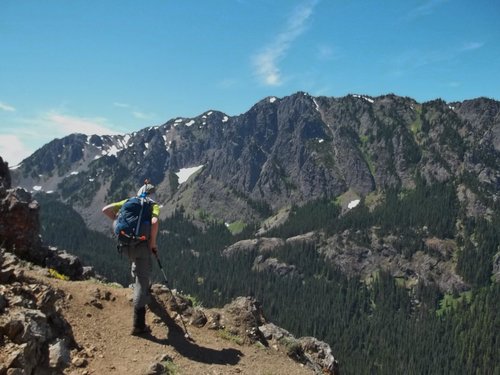 The Route
This route is only recommended in summer and not recommend for winter travel. From the Upper Mount Townsend Trailhead, take the Mount Townsend trail roughly 3 miles to the Silver Lakes Trail. You will pass Camp Windy a set of primitive campsites along the way. The trail gains elevation steadily while at first being in the forest and after 2 miles popping out of the canopy and continues to climb up Mount Townsend through a series of well graded switchbacks. The sets of trails stay in good condition even after it changes over to the Silver Creek Trail. Stay on the Silver Creek Trail all the way to the pass between Welch Peaks and Mount Townsend.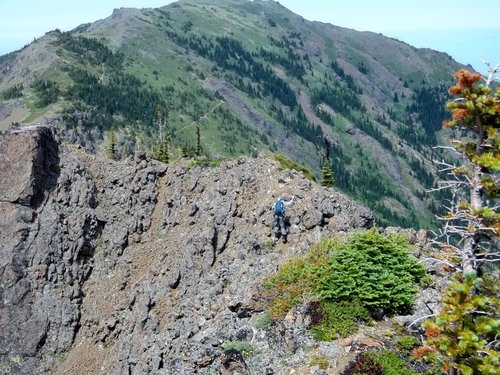 Once you hit the pass look for a boot path on your left hand side. This boot path travels over a ridge to the true summit of Welch Peaks. It should be noted that though a lot of this trip is a boot path there is some minor scrambles and a number of exposed sections on this boot path. Caution needs to be used due the amount of lose rock found on this bootpath. Luckily on most exposed scramble the rock was stable for there was one brief Class 3 move on the way to the summit. The boot path also travels over a walkable but noticeable semi-knife edge. Once passed this section the scrambler can either side traverse a ledge or go down 80 feet down a dirt gully and back up another dirt gully toward the summit. From there the excitement is over and soon the scrambler with be rewarded excellent views on the fairly broad summit of Welch Peaks.
A helmet though not required might not be a bad idea for some of the lose stuff one might encounter. I brought one and wore it during the scramble section.
Getting There
VIA THE LOWER AND UPPER MOUNT TOWNSEND TRAILHEADS:
a) From Hood Canal Bridge. Take 104 until you see the first signs for Quilcene. There is an overpass and a ramp to the exit which is on your right. Take Center Road west straight to Quilcene. Once at Quilcene head left (south) onto US101.
For all directions: Turn west onto Penny Creek Road which is a mile south of the Quilcene ranger station. Make a left on Forest Road 27 (Big Quilcene River Road). Stay on the paved Forest Road 27 all the way to the the second of the two Mount Townsend Trailhead signs. The first one will lead to the lower trailhead. If you do attempt in spring when there is snow below 4000 feet consider this trailhead. Otherwise save a little effort and choose the upper trailhead. Turn on either of the two trailheads which will be a mile on a descent gravel forest road.
Red Tape
Northwest Forest Pass is required for this trailhead.
Camping
A number of very good camping spots can be found at the primitive Camp Windy roughly at the 5100 foot level. Keep in mind though many of these spots will be filled on busy weekends. Remember there are no campfires allowed here and only stoves can be used to cook food here.
External Links
A trip report on this summit
Another brief TR on Welch Peaks