Overview/Approach
This is a 3000'+/- ascent day.
Hike down the Lake O'Hara road approximately 5km to Watch Tower Creek which is flowing down directly from the southwest side of the Watch Tower. You can ascend either bank on the left hand side of the road. We ascended the left bank and descended the right and found them very similar. The left has a faint animal trail. Either way you will be crossing several braids of the creek. Ascend up into the scree basin below the headwall containing the tongue of the
Mount Collier
glacier. There are several scree slopes that ascend on your left up to the Watch Tower. The first and loosest scree slope is the easiest route. However, the next larger scree slope east is more entertaining and more direct. We chose the 2nd scree slope which got us to relatively good quality rock to scramble on. We worked our way slightly left out of a gully or two until we had to climb one short steep section of lower 5th class. I climbed it solo but broke a rope out for my partner.
Once you break out and over the short cliff bands, you will continue to aim for the west base of the Watch Tower. There is one more scrambling section to ascend via a gully to actually get you to the base of the climb. We noticed a rappel station (slings) at the top of this gully that my partner did later use to descend this portion. Continue up left to the base of a chimney with a large black chock stone of sorts that serves like a roof problem.
Route Description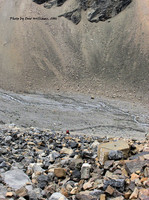 1st Pitch-
This is a 5.7 climb of approximately 25 meters (photo). There is a very loose flake on the right wall.
Beware of placing any gear in this flake.
I turned the chock stone to the left after climbing out of it to the right. Once above this piece, the rest is easy going to under a very loose ledge. Be careful pulling yourself over this ledge and bring up the second using a bomber crack running up a corner on the west face. There is a rappel station at the western most end of this loose assemblage of blocks that form this ledge.
2nd Pitch-
The Selected Alpine Climbs in the Canadian Rockies really threw me for a loop on this one (photos). Either the route I am describing is off route, despite the rappel stations, or Sean picked up some obscure so-so beta, which would not be the first time. The description in the book talks of moving left to twin cracks. It also mentions a 20 meter ledge. We definitely climbed a chimney that seemed like old 5.7 to me to a very identifiable ledge, but is was 20 feet long, not 20 meters. Also, I could never really identify twin cracks, unless he was referring to the large corner with a solid roof on top. But a large corner with a roof on top would have been the only way to describe pitch 2 if in fact this is the same route. In any regard, I moved a little left and started climbing a fairly non-descript face.
Two issues, the route became completely runout after putting in the first piece and it appeared to have never been climbed as significant hand holds were coming apart like dry clay.
I had no choice but to move back right into the corner and take it. It went fine, but was relatively sustained in the 5.8 realm. It does have two cracks in the crease of the corner.
You need large pieces here and I had wished I had more than I did.
What I know for sure was that my 2nd piece was a #7 Metolius and my last of 5-6 pieces up the corner, before working on the roof, was an #8 Metolius. I was reserving my BD #4 and in retrospect should have used it in the corner.
I turned the roof to the right and got sucked further right into another much smaller corner. After a move or two I felt committed and failed to look at going back left over the roof which I suspect was the appropriate move if I was on route at all. Instead I found myself several meters committed to a very run out corner in the 5.10-5.11 range. I did get a 00 Metolius into a strong flake, but it really needed a curved nut, I believe BD #2 (blue micro). Bottom line is I could not make the nuts I had left work. The problem with the cam was the clayish raw feel going into the flake. I pretty much knew it was not going to hold any real fall. The issue at this point, no doubt being off route, was one of strength and commitment. There was no down climbing option and there was no pissing around time wise with nothing but balancing holds to hang on to. I had to do something I hate on a new route and that was rely 100% on one tiny clayish looking foot "nubbin" feature. As I shifted my entire weight onto that hold (the corner was to wide too climb via friction thus I was climbing the right face) and reached for what was the top of the corner and the end of the difficult climbing, it gave way.
We had 30 meters paid out between the belay on the ledge below and the lead climber. I fell straight down slicing my hands on the rock and easily ripping the 00 Metolius cam out. That action caused me to flip falling head first and facing out as I dove clean and relaxed, similar to Superman according to my belayer. Those few seconds seemed like eternity. I ripped the #8 Metolius out first and then several other pieces. I flew past the belayer and the ledge (thank God) and was arrested 10 meters from the base of the climb. This was a 40 meter rope fall, about a 140' dynamic fall. You meet few if any climbers that take that kind of leader fall and avoid serious injury or death. The harness burned holes through my pants and left burnt marks round my waist. My head had one small cut and my hands were sliced. Otherwise, I was just hanging there upside down looking 15 meters up to my belayer.
I had missed the belay ledge and the large chock stone roof object on the first pitch.
I had missed both by just inches.
My belayer lowered me to the ground and I re-climbed pitch one. Although I knew I needed to finish the objective in regard to my future psychological climbing health, my belayer was in no such mood. I climbed back up and took out all the gear below the piece that held, basically being top roped on the #7 Metolius that saved my life. We were using a double rope system, so I had one piece left on a slack rope and two pieces on the rope that took the fall. My belayer's pro (a bomber curved nut) even became jammed into the rock due to the upward force exerted on the belay.
3rd and 4th Pitch-
Supposed to be easy and look it when you step back from the route. Guess I won't know until the next time I get out there which will be soon if for no other reason than raw curiosity about this route.
Descent
We descended by the ascent route that would be described in the guidebook, albeit not well. We zig zagged down a loose ridge that runs to the West Face. There is one rappel set up that my partner used, however I down climbed that section. Continue descending west aiming for a pinnacle of sorts that sits directly on the western col. Once off of this ridge, descend immediately left onto loose scree back to the Watch Tower drainage. We descended the left bank of the Watch Tower Creek which works fine. Either side is about the same.
Essential Gear
One 60 meter rope works on ascent of this route, although I believe the double rope system probably saved my life regarding my particular mistakes this day. Take a full set of cams and
double up on #7, #8 and any larger BD's to use in that corner on Pitch 2.
Larger hexes would work as well. Full set of curved nuts. Harness, shoes and helmet.
You cannot bike on the Lake O'Hara road.
We did, not knowing this, and had our bikes impounded by a disgruntled Parks Canada employee because she almost ran us over. Her "friend" at the wardens office also fined us $115 each for disobeying restricted use on Park land.
So a warning: ride your mountain bikes over the pristine flowers and natural vegetation, but don't dare ride your mountain bikes on gravel roads full of bus fumes, particularly if the bus shuttle is a profit center for several private concerns.
External Links