Mount Gould, West Face Route Overview:
Mount Gould was named for George Huntington Gould who was a friend of George Bird Grinnell, Jack B. Monroe and probably Theodore Roosevelt. Gould was an attorney who advocated for Native American rights and assisted Grinnell in investigating the U.S. government agent who was over the Blackfeet Reservation. Gould was an active outdoorsman. The previous information is from
Place Names of Glacier National Park
by Jack Holterman.
Statistics using the
shortest approach
are listed at 3.5 miles and just less than 3,800 feet in elevation gain.
Fred Spicker has done an excellent job describing
Mount Gould
on the main page.
An up-to-date guidebook for this route can be found in
Climb Glacier National Park, Routes for Beginning and Intermediate Climbers;
Volume 1: Logan Pass, The Garden Wall, and Siyeh Bend
. Purchase it when you arrive in northwestern Montana or purchase it on-line at
Climb Glacier National Park
.
By the way if you lost your keys on Gould's West Face Route on or before 2004 I might have them. There is a key to a Subaru and various house keys on a mini biner key ring.
Special Considerations
:The rock in Glacier Park is widely varied and it is not unusual to find several different types of rock on any given route. Know your rocks and be certain of your safety. J. Gordon Edwards has an excellent section in his guidebook on rock and climbing safety. Be safe and know your limitations as well as those who are climbing with you. Also refer to the following links for further details:
GNP Rock and Grading System
and the
GMS Climbing Guidelines
.
Approach to the West Face Route:
There are actually three approaches to the West Face of Mount Gould. The objective is to reach the saddle between Mount Gould and Haystack Butte on the Highline Trail. All three of the approaches will achieve this goal. Below are the statistics for each approach.
The Highline Trail from Logan Pass:
Lowest total elevation gain at 2,907 feet and the second longest approach at 6 miles total with 4 of those on the Highline Trail.
The Climber's Trail from Haystack Creek on Going-to-the-Sun Highway:
Medium on elevation gain at 3,793 feet and shortest total distance at approximately 3.5 miles with 1 mile on the Highline Trail.
From the Loop through Granite Park Chalet:
Greatest elevation gain at 5,256 feet and greatest total distance at 9.6 miles with 7.6 on the Loop Trail and then on the Highline from the Loop.
To visit Glacier National Park is to enter a place where Heaven touches Earth affording brief glimpses into the Wonders of Creation.
West Face Route Description:
Upon reaching the saddle between Gould and Haystack Butte look up to Gould's massive west face. The most difficult portion of this climb is navigating through the Diorite Sill
(Photo 1)
in the initial portion of the climb. Although not difficult to climb through locating it with Edwards' description is somewhat difficult.
Edwards states on page 294 in
A Climber's Guide to Glacier National Park
that the diorite sill is reached by scrambling "up from the trail toward the broad black cliffs low on the mountainside, angling toward the south to approach the black cliffs at the place where a stream flows down a broken couloir through them."
If this photo is viewed in its original size the route through the sill is easily seen.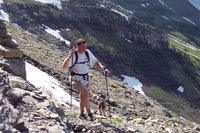 After climbing
(Photo 2)
through the diorite sill route finding challenges abound but fortunately there are many route options. Various degrees of difficulty are available but generally easier routes are found by angling to the north.
Watch carefully so as not to knock the loose scree onto those who might be following behind. Conditions on the mountain may be muddy if Gould is climbed earlier in the season. The snow melt causes the fine powder from the
(Photo 3)
scree fields to get slick and footing becomes poor.
As Edwards notes there are a number of "cliffs of any desired difficulty
(Photo 4)
.
There are also interesting gullies and chimneys
(Photo 5)
, and usually a few snowfields or snowpatches."
Upon reaching the ridge it is just a few short minutes of a fantastic ridge walk to the summit of Gould
(Photo 6)
.
Saintgrizzly adds an important comment that is worth noting on this page: There is an over abundance of cairns on this route. Be cautious especially when descending. A GPS with waypoints was helpful when this contributor descended this route.
Essential Gear:
Hiking poles will aide in your ascent and descent while working through Glacier's wonderful scree on the side hill approach!
Consider bringing scree gaitors and extra water as well, although there is adequate water throughout this route until the actual off trail portion begins. Bring a GPS so you don't have to deal with all of the extra cairns.
As with all hiking and climbing in Glacier National Park use caution and practice good manners with the wildlife. You are in bear country. Carry
bear deterrent spray
, don't hike alone and make some noise. For more information please go to the Park's website for
Bear Information
. The U.S. Forest Service also has helpful information on
Grizzly Bear Management
.
Guidebook and Climb Registration:
GUIDEBOOK:
A Climber's Guide to Glacier National Park
; J. Gordon Edwards
CLIMB REGISTRATION:
You do not have to register for day climbs in Glacier National Park but it is recommended. Backcountry travel regulations can be found at
Backcountry Travel
. There is also information from the Park Service on
Mountain Climbing
in Glacier. Registration for climbing Mount Gould can be accomplished at the Logan Pass Visitor's Center.