Overview
The saddle between the Northgate Peaks serves as the gateway to access the classic
North Guardian Angel
and South Guardian Angel; perhaps that is why the peaks are named as they are. Surely, many a climber en route to one of those more prestigious summits has passed the Northgate Peaks by with hardly a second thought, but both peaks are nice destinations themselves and pair nicely.
West Northgate Peak, a slickrock dome, is the higher of the two by 109', and it is also the more challenging to climb, though a route as easy as Class 2+ exists on the north side. However, the aspect people see the most and the best is the eastern face, and perhaps that is why the peak has the reputation for being harder to climb and seems to see fewer climbers, as evidenced by much less obvious human impact on the west peak than there is on the east peak. Nevertheless, the eastern face does hold a nontechnical route; that and the route on the north side will be detailed in the Routes section of this page.
From the summit, there are outstanding views of the Guardian Angels,
Pine Valley Peak
,
Tabernacle Dome
,
East Northgate Peak
, some of the peaks of Zion Canyon, and more.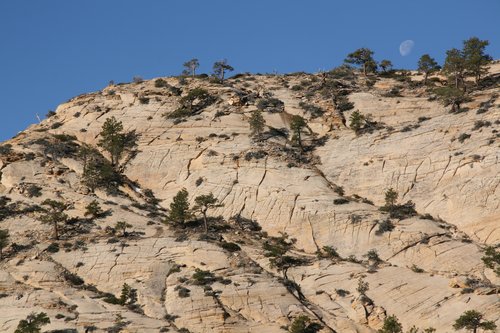 Getting There
From UT 9 in Virgin, turn onto the Kolob Terrace Road. The road is marked with a regular street sign, and there are no big signs (as of April 2011) indicating access to Zion National Park. Drive north about 15 miles to the signed Wildcat Canyon Trailhead. Late fall through early spring, there is a good chance that snow will block access to the trailhead, making the approach longer, perhaps even so long that it is not worth doing.
Route Information
Round-trip distance is about 5 miles with about 500' of elevation gain. Difficulty does not have to exceed Class 3 bordering on Class 4 in some spots, but harder routes do exist.
Begin hiking the trail from the parking area. According to the Trails Illustrated Zion map, it is 1.2 mi to the first trail junction. Park signage indicates the distance is 0.9 mi. The latter feels closer to correct, as I hiked it in about 15 minutes.
Pay attention here.
This first junction, with a trail connecting to the Hop Valley Trailhead, could throw you off the track if you do not have a map or do not know the way already. The right fork seems to head south, and the Northgate Peaks are to the south, but you actually want to take the left branch, which keeps you on the Wildcat Canyon Trail. In 0.2 mi from the junction, there is another junction, and this time you head south (right) on a trail signed for the Northgate Peaks. The trail leads 1.1 mi to an overlook of the peaks and of North Guardian Angel.
From the overlook, descend a climber's trail left (east) to gain a saddle between the Northgate Peaks. Then do some easy bushwhacking and rock hopping to reach the base of West Northgate Peak.
East Face
From the overlook, East Northgate Peak, and the approach, I had noticed and had been examining a line mainly consisting of a gully and adjacent slabs and ledges running up the east face. It seemed that it would go, and I found that it did. The route was a lot of Class 2 and a lot of Class 3 with some moves drifting into Class 4 territory. Under totally dry conditions, following the gully itself might be the best bet so as to minimize tricky moves and exposure, but when I went in April, there were patches of snow and wet rock that made it more advisable to work around the gully proper in places, and this increased the difficulty level and the exposure. Still, I'll stand by my assessment of Class 3 with some stuff bordering on Class 4.
Pictures below illustrate the route.
SP member
cp0915
was my beta source for this peak. He had mentioned descending the peak's east face via Class 3 ledges and slabs (sounded a lot like my route up) only to encounter long cliffs in the 5.8 range near the end (did not sound like my route). My best guess is that he and his partner were using the ledge/slab/gully system just above me, which definitely does end up in bad cliffs, and that they couldn't see "my" route below them. If you happen to be using his beta-- a guidebook no longer in publication-- please keep this information in mind. There
is
a nontechnical way up the east face.
North Slopes
In CP's book, he mentioned a local climber stating that the north slopes go mostly at Class 2 with a couple Class 4 spots. I chose to descend the north slopes in order to experience some variety, and I never encountered anything close to Class 4. It is a broad face, though, so that is not to say there are no Class 4 spots out there. However, my descent route was no harder than Class 2+. If you choose to climb this route, find the way that works best and aim for the prominent false summit and then follow easy slabs to the true summit.
Entering this area of the park does not require the $25 entrance fee collected elsewhere. Other park regulations still apply; read posted information at the trailhead for specifics.
Red Tape
During off-trail travel, please protect the landscape by staying on rock and sand as much as possible. This prevents damage to fragile vegetation and helps slow the proliferation of use trails. When crossing vegetated terrain, please look for existing use trails and use them instead of laying the groundwork for new ones.
Camping
The Lava Point Campground is several miles north and is the nearest NPS campground. It is a small site, and no reservations are accepted. Also, it may only be accessible and open from late spring through early fall. If you are going to camp in the area, it is probably better to use BLM land off UT 9 in the vicinity of Springdale and Virgin. Campsites there are plentiful and free and are in shaded locations by the Virgin River. The Kolob Terrace Road cuts in and out of NPS land, BLM land, and privately owned land; before you try dispersed camping out there, make sure you are not on NPS land (camping only allowed in campgrounds) or private land.