Overview/Approach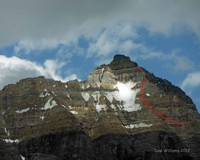 The West Ridge route on Hungabee Mountain is one of the
easier 11,000'er climbs in the Canadian Rockies in terms of endurance and time it takes to make the summit.
After a less than two hour approach to the col at Opabin pass (from the bus stop at Lake O'Hara), the climb itself only took us
four hours to the summit sans rope or gear
(the guide book references 10-12 hours return to col). That being said, Hungabee Mountain is not a very popular mountain among the local peak baggers and guides due to its
less than stellar rock quality
. In mid-August of 2012, we found the route to be in great travel conditions in terms of ice/snow and rock fall. We took off from the col at approximately 3:AM and arrived at the summit at approximately 7:AM and felt pretty comfortable taking a long summit break due to most of the route facing northwest (afternoon sun will cause rock fall). We never donned crampons after the Opabin Glacier (on approach to the col) and witnessed little to no rock fall outside of what we caused ourselves.
This is not a great mountain for multiple ascent parties, as some serious human caused rock fall hazard could develop.
To me the ascent (from the col) broke down into three sections. The first third goes directly up the west ridge to a big traverse left that meets up with the bottom of the dying upper northwest glacier. The second third is an enjoyable 5th class rock ascent up the solid rock that runs along the right side of that glacier. The third section consists of
heinous scree
on rock ledges that continuously traverse back right and up to the final black shale band just below the summit.
Take the Lake O'Hara bus back into the Lake O'Hara "resort" area. If you are not rich nor have reserved a campsite, cabin or hut space many months in advance, you will have a difficult time figuring out how to reserve the bus via telephone (2012) conversations with park bureaucrats. The booking is actually quite simple (2012), but you will have to be progressive when dealing with park employees. I advise simply to show up for the 5:30 pm bus (last one). There were three of us on the entire bus (5:30pm) on a beautiful Saturday afternoon. Pay the parks employee who loads the bus your backcountry permit fee of $10 per head along with your bus ticket of $15 per (2012). She/he can even take Visa/MasterCard on site (2012).
Yes, it is a pain and euro-like in terms of controlled access but take solace that as of 2012, this is the only region like this in the Canadian Rockies.
Hike up the well maintained
East Opabin Trail
around Lake O'Hara and its cabins all the way to Opabin Lake. Ascend a climbers/hikers scree trail around the left side of the lake making for the moraine and center of the Opabin Glacier above. Don crampons and hike up the center of the Opabin Glacier,
careful to avoid crevasses on either side (marked with wands on the right-2012)
, to the Opabin pass (col) above. I was comfortable traveling this glacier sans rope or axe. Bivy at the col if making a two day trip out of it.
Bivy sacks are better suited than tents due to limited space
. A more spacious bivy is located another 500' up the west ridge with snow to melt for water in August. For the col bivy, it would be more prudent to fill up with water below the col versus having to melt snow found on the other side.
Route Description
Follow a faint trail up the west ridge with few hands-on sections. You will go up and over two small bumps along the way (upper bivy is between the two as I recall). Continue up rather mundane ground for approximately 1000' or so. You are looking for a long traverse through a large bowl on the left with a huge obvious vertical wall above. Traverse to the next ridge over. Stay to the left of that ridge as you ascend at a left diagonal until you spot the lower right corner of the upper northwest face glacier. Ascend solid enjoyable rock between the ridge to the right and the glacier to the left for another 1000' or so. When even with the top of the glacier, cut right below the arête above, traversing back right into several large scree bowls. Follow cairns to the best of your ability, but the bottom line is there would be multiple ascent lines through this rubble.
I personally would not want to scramble up this section with more than one partner in terms of rock fall and definitely would not want to drag a rope through it.
You eventually get to one last bowl of an almost pure black shale band. We went up a short 5th class corner on the right, but you can also bypass this bowl by staying low and traversing right. Either way you end up on the lower left shoulder of the final summit northwest face. Do another long scree/ledge traverse right (might encounter snow and ice, we did in mid-August but did not need crampons) all the way over to a cleaner section of rock on the right side of this broad face. Scramble up left on better rock passing a rappel anchor (2012) to the top. Turn right and walk to the summit with close up views of Mts. Lefroy, Victoria and Deltaform. A summit register was in place in 2012.
Descent
We descended the same route, but chose not to take any rappels. There are plenty of rappel stations and I have seen reports of folks taking seven hours to descend using these scattered rappels but the chance of you pulling debris down on yourselves is fairly high. After an hour summit break, we down climbed the entire route in approximately three hours back to the col.
Essential Gear
This will be one of the looser rock routes of the 11,000ers. Helmets are a must. I used crampons up the Opabin Glacier, but did not use an ax. On the west ridge, I used nothing but a light pair of boots. We never took a rap or placed gear.
Depending on when you climb this ridge, ice could easily cover some of the higher traverse sections with severe consequences if you fell. I advise taking your crampons up the mountain
. I would personally rather down climb versus rap, so if I did it again, I would climb sans rope. I hauled up a rope but never took it out of the bag. There was one good water source in mid-August approximately 1000' up from the col on that first long traverse left. Poles are helpful to the col but not needed so much afterwards. Bivy sacks are better for the col bivy spot due to lack of space. A larger tent spot can be located another 500' up the west ridge. A light hard edged boot is best for the 5th class scrambling. You should always want to climb and descend this route in the early morning shade, dress appropriately.
External Links
100's of Canmore and Banff National Park multi-pitch rock climbs, ice climbs, alpine climbs and scrambles, just scroll down to routes
Banff National Park, Parks Canada
Best Coffee/Breakfast/Lunch in Canmore:
Castillos As of 2012, my favorite breakfast/lunch spot. Patio, espresso is strong, food is fresh. Someone there instituted service with a smile, typically unheard of in Canmore anymore.
Best Climbers Hangout:
Summit Café
, most likely place to find me in season or my brethren shooting the bull about beta. Best "large" breakfast in town, good coffee as well, serve Mennonite meats from
Valbella, which is the best place to buy free range products anywhere in the world, right here in Canmore.