Approach
From the South Winfield Trailhead, hike due south to a fork in the trail. Take the right hand fork, toward Lake Ann. Follow this idyllic, padded trail south and west through the conifer forest, overgrown meadows, and small streams. At times you will feel the trail is taking you way too far west, but the idea is to stay far above the main drainage on your left. Just after you break abrubtly through timberline, at mile 4, take a fork to the left and take a rest at Lake Ann. This is a not a particularly good spot to preview the route ahead, however. You can't really see it from Lake Ann.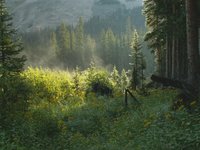 Route Description
The summit is only a mile east of Lake Ann, but there is a network of connecting ridges in between. Climb east, past the first north-south ridge. Reach the second north-south ridge, and climb it steeply south, toward a saddle in West Apostle's main west ridge. From the saddle, it is straghtforward. Stay on or near the ridge crest to the summit.
The day we were there, a lone mountain goat did most of this route ahead of us, and even descended to the saddle between West Apostle and Ice Mountain.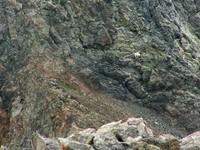 From the summit, you may climb down the steep east ridge to the saddle between West Apostle and Ice Mountain (like the mountain goat).
Then ascend another 1000 feet or so to Ice Mountain's summit. This may be the easiest route on Ice Mountain, but it appears to be, shall we say, non-trivial and very time consuming. Even the mountain goat passed up on this segment (see photo). If you don't have enough time or stable enough weather to be exposed on this ridge for hours, return by the route you came.
Essential Gear
Standard day hiking gear. I left my leather gloves up there somewhere; please bring them down. :-)
Miscellaneous Info
If you have information about this route that doesn't pertain to any of the other sections, please add it here.