Overview
This is the principal route used by hikers to ascend 5,957 foot Mt. Lawlor in the front range of Southern California's San Gabriel Mountains. It starts from the Red Box Ranger Station trailhead. The route described here is 5.8 miles roundtrip with about 1,300 feet of gain.
Getting There
From the 210 Freeway, exit at Angeles Crest Hwy (SR 2) and go north. At 9.5 miles, you will come to the Clear Creek Information Station and the junction with Angeles Forest Highway. Continue straight on SR 2 about 4.5 miles to the junction with the Mount Wilson Road at the Red Box Ranger Station. This is your trailhead and you will find plenty of parking here.
Route Description
From the Red Box Ranger Station trailhead, cross the Angeles Crest Highway and go northeast along the highway for about 100 feet. The Barley Flats Fire Road comes up on your left. Take the fire road about ¾ of a mile to a trail junction also on the left. As you ascend on this route, look southeast and you will get some nice views of Mt. Wilson, San Gabriel Peak and Mt. Disappointment.
From the junction, follow the trail left and in about ¼ mile you will come to the bottom of Mt. Lawlor's south ridge. Continue on the trail past the south ridge as it contours around Lawlor.
At 2.3 miles from the start you will reach the signed saddle between Lawlor and Strawberry Peak (elev. 5,200')
From the saddle, turn right and head up the use trail on Lawlor's west ridge. The sign says that it is 0.6 miles to the summit.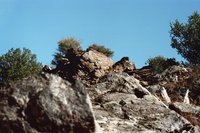 The ridge is moderately steep, and, to keep it interesting, it has a few rock outcroppings to negotiate.
There are some great views along the way.
[img:242055:aligncenter:medium:View West from West Ridge]
Essential Gear
None. The route can be done in trail runners. There are no water sources along the way so take what you need.
Other Information
USGS Topo 7.5 Chilao Flat
External Links
Angeles National Forest