Overview
West Spruce Mountain is the highest summit of the southern half of the Sierra Prieta, hemming in the city of Prescott to the west. The range highpoint is the well-known Granite Mountain and its boulders, while the southern Prieta features more rounded, forest-covered summits. This is a mixed-use area, part of the Prescott National Forest, but containing pockets of private land and mountain towns. Roads of various quality cross the Prietas, as do many trails. This area seems to be more popular for mountain bikers.
The summit, West Spruce, is one of three humps of land nearly equal in height (and not obvious from below which is the highest point). A subsummit called Porter Peak directly east of West Spruce has an elevation of 7,040 feet, and another unnamed summit reaches 7,080 feet. West Spruce's summit is 7,160 feet, with a prominence of 1,160 feet. The three tops can easily be hiked in one loop using a combination of forest roads and a fine trail (Trail 264). Each of the summits require about 100 feet of off-trail bushwhacking, but there are no barriers otherwise. Depending on where you start, the loop hike covers about 2 miles round trip and 700 feet of total gain, including ups and downs and optional side-summits. It can be hiked all year. Snow collects here in winter and may close some roads, but does not necessarily shut out access. Thunderstorms occur in summer.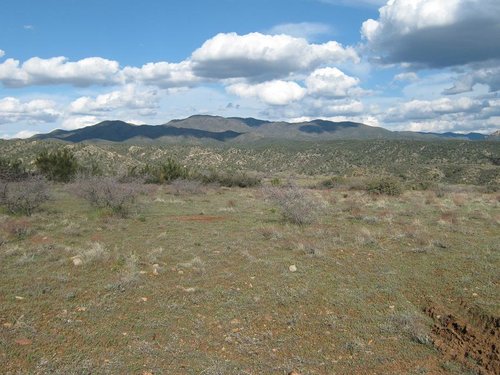 Getting There
Prescott is always minorly confusing, even for me after 19 years living in the state and having visited Prescott many times now.
These directions start from the famous Whiskey Row and courthouse in downtown Prescott, along US-89.
From Whiskey Row, go due north (actual bearing) on Montezuma Road (also signed here as US-89). Stay north on Montezuma while "northbound" US-89 veers east. About a mile later the road bends west and becomes Whipple Road. Stay on this road. It changes its name again, to Iron Springs Road, near an intersection with Willow Creek & Miller Valley Roads. You'll also pass a major intersection with Williamson Valley Road. By now the road you are on, Iron Springs Road, should also be marked as County Road 10. Drive a little past mile-marker 5 and keep an eye out for Skyline Drive on your left (south). The total drive from Whiskey Row to here is about 10 miles.
Turn onto Skyline Drive and follow it up and through the community of Highland Pines. About two miles later the road's pavement ends. Follow the dirt road past the last of the nice homes. Depending on time of year, this road can get rough or may be closed if snowy or wet. If dry, rumble south another 0.4 mile or so to a Y-junction with West Spruce Trail 264 to the right. As of April 2011, the sign was only up for north-bound traffic.
We found this last little bit of road to be rough, eroded and full of rocks. We parked at the Y-junction. The roads continue but aren't the best. You'll be within a mile of the top anyway, so battling the roads to reduce distance probably isn't worth the trouble.
If you park back near the homes, and walk, I'd suggest parking somewhere discreet and perhaps leaving a note in the windshield.
Red Tape
None.
Camping
We camped at the junction of the dirt continuation of Skyline and the Tr-264. It was a simple pullout, nothing more. We saw other open areas where people have camped. The closest developed campground is near Granite Mountain to the north, but as of January 2011 it was reported to be closed. See the Prescott National Forest link below for more information.
External Links
Prescott National Forest Recreation
, includes information on camping.
Trip Report (www.surgent.net)
Hiking Route
From the Trail-264 junction, follow this road about 0.2 mile to a four-way junction. Go right onto FR-47B. The road drops about 60 feet then gains about 250 feet. It makes a sharp left on West Spruce Mountain's northeast slope. I left the road here and plowed up through the trees and scrub to the summit.
Coming down, have Porter Mountain in view. You'll meet a good trail. Go right and follow it to where it bends around, south of the unnamed 7,080-foot hill. Turn left at a junction marked by two posts and a large 5-foot tall cairn. No hiking north, you can make easy runs up to the tops of this and nearby Porter Mountain. Porter Mountain has a nice rockpile with great views, much better than on West Spruce.
This trail eventually comes back to the four-way junction. Then just hike back to your car.