Overview
Distance: 3.5. miles one way
Difficulty: Moderate
Elevation range: 8,288-10,305 feet
Elevation gain: 2,017 ft
This is the best aspen hike closest to Fort Collins,requiring about a 30-minute drive. The trail winds in and out of aspens, which should be peaking about now. From the beginning of the trail to the summit of 10,305-foot West White Pine Mountain, the trail climbs at a steady pace over an old jeep road. The trail takes hikers through a meadow with a small spring at one end. A short, steep climb into lodge pole pine leads to a saddle between East and West White Pine mountains and a trail junction. Take the left junction for the final climb to the summit of West White Pine where you can have lunch and enjoy the views. You may want to wear brightly colored clothing, as big game seasons are in progress.
Getting There
Trailhead: Take U.S. Highway 287 north for 10 miles toColorado Highway 14. Take Colorado14 west to the Stove Prairie Road(Larimer County Road 27). Go (south) on Stove Prairie Road for about 8 miles tothe Buckhorn Road(Larimer County Road44H). Take a right on LCR 44H and go 11.5 miles, just past the Buckhorn RangerStation to the trailhead on the right hand (north) side of road.
Fees: Free
Facilities: Jack's Gulch Campground is located about sixmiles away along Larimer County Road 131. There are campsites, restrooms andwater available
Pets: Yes
Maps: None needed, but you may want to pick up a TrailsIllustrated No. 101 and 112 maps.
Route
The Hike:
This hike provides an opportunity to experience the lovely Buckhorn Valley. Buckhorn Creek flows byMasonville into Big Thompson River, west of Loveland. Masonville was named after James R.Mason who was born in Kentacky in 1849 and overcome great poverty to become asuccessful farmer and cattle rancher in the area.
Follow the road up and north, as it passes throughmany aspen trees and a meadow. Ater 1.8 miles you reaxh a saddle between Westand East White Pine Mountains. A USGS marker lies just northof the road. Follow the road of the road. Follow the road, as it turns up andwest from the saddle. In 0.8 miles from the saddle, the road brings you to theyop of the West White Pine Mountain, which is covered by ruins of an oldlookout structure. Four cement pillars and makeshift Bench mark the summit.
Red Tape
Before you go to this area, just to be on safe side please call Forest Info (970)295 - 6700
High Park Fire
Wikipedia High Park Fire Link.
The High Park Fire was caused by lightning (the strike tree was located) and started in a difficult to access area above the Buckhorn Road in Larimer County Colorado. The fire was reported as a smoke column early on the area early in the morning on June 9, 2012. The area had been suffering from hot and dry conditions and fire danger was extreme. Multiple agencies responded for initial attack, including http://www.rcvfd.org Rist Canyon Volunteer Fire Department (the fire started in RCVFD's area), Larimer County Emergency Services, Poudre Fire Authority, Poudre Canyon Fire Protection District, Colorado State Forest Service, USFS and other local agencies. A SEAT (Single Engine Air Tanker) and Helicopter were ordered immediately. The ignition point and foot of the fire was accessible only via 4wd road that would support apparatus no larger than Type 6x NWCG Engine Standards. The fire was named High Park as this is the local name for the area it fire.
Due to extreme burning conditions, poor access and rapid fire spread it became rapidly clear the fire would impact multiple residential areas and evacuations were called for an increasing area through the day. Areas evacuated include: Buckhorn Canyon, Paradise Parke, Stove Prairie, Flower Road, Rist Canyon, Paradise Park, Poudre Park, Poudre Canyon, Davis Ranch, Whale Rock, Pine Acres and areas included. The evacuation lasted nearly 21 days - much longer than other large Colorado fires. Evacuation was conducted via reverse 911 calls then door to door visits by Fire Department and Law Enforcement. Due to the fact that the area is served by overhead power and phone lines, power and phone were lost very rapidly. Furthermore the area is not served by cellular service. These factors, plus damage to infrastructure were key limiters in re-patriation. Residents would be returning to very dangerous conditions and with no effective communications.
High Park Fire, unlike others, burned very actively and with high intensity for days. This fire did not burn through and settle down, but continued to burn actively. Two weeks into the fire it was still burning so aggressively that over 50 homes were lost as the fire burned into a subdivision north of the Poudre River. This was despite days of preparatory efforts - demonstrating the power of fire in the wildland/urban interface.
While loss of so many homes in the High Park fire is certainly a tragic loss, response to the High Park fire is recognized as a model good response. Agencies in the area have a long cooperative history with established and recognized ability to work together to a common goal regardless of agency boundaries. Fire and local agency response was effective and well coordinated. Furthermore, years (decades) of active work with residents to prepare for fire was effective. Many houses survived due to efforts made by landowners that allowed the home to survive the fire front and gave fire fighters the benefit of time in defending and saving structures. That said, it was a daily battle to same home for some weeks. Critical to that success was the thorough mapping and preparation done by local fire departments which allowed incoming fire fighters to be more effective, more rapidly.
However, further work on making homes in the urban interface ignition resistant is needed. This was a major topic at the NFPA Backyards and Beyond conference held in Salt Lake City in 2013.
More about this natural disaster you can read here, on this website.
Lookout house
White Pine Lookout
Roosevelt National Forest
Elevation: 10305
Status: Removed
Year Built: 1939
Year Removed: 1978
Structure Type: L4
Topographic Map (original location)
Topographic Map (current location)
White Pine was the sister lookout to Deadman Mountain to the northwest. It was built by the CCC when Norman Griswold was the District Ranger (1938-1944). While the lumber was carried by hand to the site, some years later the trail was widened to a jeep trail. Frank Koenig, son-in-law of Hugh Ramsey, the first homesteader in Pingree Park, was one of the people who staffed the tower, followed by Henry (Hank) Martin (1941-1943), his son Lowell (Smokey) Martin (1953-1958), Doug and Cathy Hutchinson (1964-1965), and John and Marilyn Henthorne (1966-1967).
Prior to the 1939 tower there was an earlier tower built when Ken Helmick was the District Ranger (1913-1918). Tom Bennett (1879-1959), a homesteader from England, was the primary builder. The Tom Bennett Campground on the Poudre River was named for him, and his homestead is now the site of the Lutheran Church's Sky Camp. This early tower was a tree lookout with a platform and ladder. Because there was a solar eclipse during the time of its construction, it can be deduced that it was likely built in June of 1918. It was staffed only on an as-needed basis.
The lookout cab was removed by helicopter and placed in Lee Martinez City Park in Fort Collins, Colorado on November 4, 1978. Later, it was transferred to Colorado State University's Environmental Learning Center in SE Fort Collins. The Fort Collins Natural Areas staff moved it on August 25, 2011 a half-mile north to the adjacent Running Deer Natural Area where it is a nice destination spot for visitors. The Fort Collins Natural Areas staff stabilized the cab and opened it to the public in 2012. A few ruins remain at the top of West White Pine Mountain.
How to get to the original location: From CO 14 and US 287, take CO 14 west for 13 miles, make a left (south) on Stove Prarie Rd (Rd 27). Continue south for 10 miles to the gravel Buckhorn Rd (Rd 44H), on your right (west). Take Buckhorn Road 12.5 miles to the now closed Buckhorn Ranger Station. A Jeep track (unmarked FR100) heads north from the ranger station, passing a few houses. High clearance 4WD vehicles can make it all the way to the top of West White Pine, but most will have to park a short ways up the road and hike to the site, a 3.1 mile (one way) trek, with 1900 feet of elevation gain.
Maps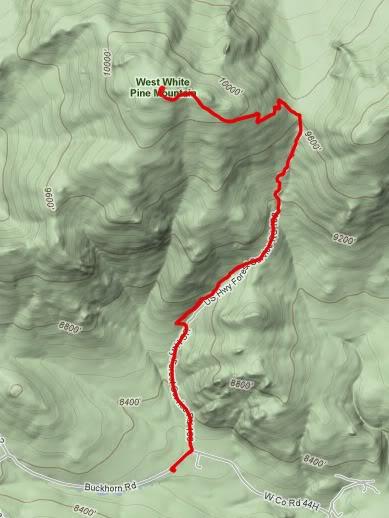 View Larger Map
External Links
ListsofJohn Link