Overview and Route Information
From Dead Indian Pass and the initial drive into Sunlight Basin, White Mountain is a spectacular peak. Although it is far from being anywhere close to one of the giants of the Northern Absaroka Range, its pyramidal form and striking colors demand attention, and its cliffs and gendarmes will fire the climber's imagination. It is not an alpine peak-- no tundra, no summer snowfields, etc.-- and it could actually get unpleasantly hot on some summer days at its elevation, but the route is relatively short and has some enjoyable scrambling and outstanding views of the Beartooth Mountains and the Absaroka peaks around Sunlight Basin. Its elevation of under 9000' makes it a nice destination for a spring or fall climb when the true high country is deep in snow.
Presumably, the name comes from the white ridge and slopes at the mountain's western end. The rock there appears to be
tuff
, a consolidated volcanic ash from an eruption. It is just as bright as snow and just as blinding in sunlight, so if you are not far into the climb and realize you left your sunglasses in the car, go back and get them. I lost mine somewhere near the summit, and on the way back down, I was doing plenty of squinting and looking sideways in the tuff areas.
One very prominent
tower
on the mountain seems to scream out to technical rock climbers, and the rock does not appear to be as loose and treacherous as much of the rock in the Absarokas is, but any climber here should beware the generally untrustworthy nature of the rock in this mountain range.
Climbing the Peak
More than one hiking/scrambling route may exist. The one I describe is the one I took both up and down. It is a Class 3 route. Even though I did go through one Class 4 pitch, that one could have been avoided; the Class 4 pitch just seemed like the path of least resistance, as I prefer things to be as direct as possible.
From where I parked, I simply hiked to the base of the west ridge and used climber's trails and game trails where I could. Upon gaining the crest, I mostly stayed on it until reaching the big tower, occasionally having to drop a little to bypass a small pinnacle. When you reach the tower, stay left unless you feel like finding out how much bighorn sheep you have in your lineage and taking on the ridge or the right-side cliffs. In that case, make sure you've said your goodbyes to loved ones first.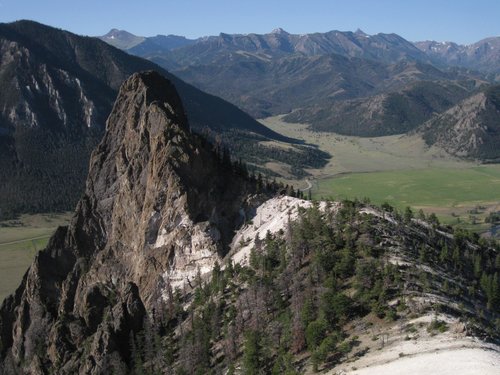 After the tower, reach a white saddle and then continue up the ridge. Again, the ruggedness may force you stay off the crest itself at time, but try to stay as high as possible.
There is a notable false summit before the true one. Before reaching it, there is a fun, somewhat airy ridge traverse over outcrops and small pinnacles.
There is a cairn at the top, but I saw no register.
From where I parked to the summit, this route was 1.4 mi, with almost 2000' of elevation gain.
Alternate
Between the false summit and the true one, there is a steep gully that goes all the way to the basin below. At the bottom, there is a stand of trees, but it is not a large one, and from the basin, the stand does not look dense. While I did not use this route, it
appears
to make a very fast descent possible. There is a lot of steep, loose-looking talus on the route, so even though it is more direct than the route described above, it might not be pleasant to ascend.
Getting There
From WY 296 turn onto the signed road following Sunlight Creek into Sunlight Basin. This road is between Dead Indian Pass and Sunlight Bridge and is actually just before Sunlight Bridge if one is approaching from Dead Indian Pass, and just after it if one is approaching from the Beartooth Highway.
Drive about 6 miles (I bungled this and forgot to write the distance down on my map) and make a right turn onto FR 113. If you reach the Sunlight Ranger Station and Work Center, you have gone too far. Bear right at the junction indicating access for Painter Gulch, Marguerite Draw, and White Mountain Gulch. Make a bridged crossing of Sunlight Creek and reach a gate at the National Forest boundary 1.4 mi from the turnoff onto FR 113. You are now virtually a stone's throw from the base of the west ridge. Park here or go through the gate (make sure to close it behind you) if you want to get a little closer. I parked at 1.5 mi from Sunlight Creek Road.
I recommend high clearance for this drive, but most low-clearance vehicles can make it if the driver is careful.
Red Tape
The peak is on Forest Service Land and is, as far as I can tell, open to the public all year, but the drive to it as described above passes through a wildlife management area overseen by the state of Wyoming. That area is closed to human use from December 16-April 30 in order to avoid disturbing wildlife (probably to ensure that hunters have plenty of animals to shoot in the fall, but hey, that's not very nice of me).
Maps show a 4wd Forest Service road coming in from WY 296, but I have never driven or even looked for it and cannot give much useful information about it. Part of the road passes through private land, and I have been told that there is no public access allowed across the private land.
Camping
The climb will take a few hours for most people, so you won't be camping by the peak. There is, however, plenty of dispersed camping available on Forest Service Land in Sunlight Basin, and there are campgrounds not too far away off WY 296.