Overview/Approach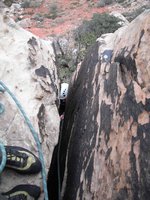 Byrd Pinnacle is an overlooked crag located just to the east of the very popular Solar Slab area at Red Rock. The mostly single pitch crack climbs covering Byrd Pinnacle offer a great finish to the day after climbing some of the
lower Solar Slab routes
and/or combining them with the infamous
Friar (5.9+R)
just to the left of Byrd Pinnacle.
Xyphoid Fever (5.10c) offers one of the better overhanging off-width problems at Red Rock and runs right up the middle of Byrd Pinnacle.
Herbst
and company established Xyphoid in
1977
and the other routes on Byrd Pinnacle way back in
1973
, rather ancient by Red Rock standard. Whoosh is a three pitch 5.8 route to the left of Byrd Pinnacle put in by Joe Herbst and Matt McMackin back in the 70's as well. The first pitch is fun and runs up decent rock,
but through several loose blocks.
The second and third pitches are inconsequential on lesser quality rock. The
second pitch is C4 #6 off width,
although not very difficult. The third pitch is a quick 5th class romp up and right over easy ground.
Park at the Oak Creek trailhead off the loop road. Enter Oak Creek Canyon as you would for the Solar Slab area. The Friar is quite distinguishable up and right: a large boulder teetering atop a tower. It is immediately to the right of Solar Slab gully. To the right of the Friar is Byrd Pinnacle. The Pinnacle is attached to the wall, so it is not nearly as distinguishable as the Friar. Look for the well varnished wall to the right of the Friar and you will be able to make out the Pinnacle. Locate a wide C4 #6 crack through a significant roof: Xyphoid. Whoosh is a very obvious wide crack to the left of Byrd Pinnacle. I found sort of an indistinct trail leading up to the base of Byrd Pinnacle, but in reality there is a lot of braiding going on through this slope.
Route Description
300'+, 3 Pitches, 5.8
1st Pitch- 120'- 5.8/
By far the best pitch on the best rock of this route, but no fixed rap anchor, so you have to go ahead and commit to the walk off if you choose to do the first pitch. There is
quite a bit of noise on other beta sites regarding loose blocks and the like. But in reality, Whoosh is just typical Red Rock adventure climbing.
Start in a deep left facing corner on black varnished rock. The first 10m are actually quite sporty, but well protected. Carefully pass a few loose blocks as you make your way to a
bulge/roof that is pulled (crux) via a large crack (#4 C4) on more delicate terrain
. Continue up to a small ledge where you can build a comfortable belay with 3" gear.
2nd Pitch- 100'- 5.8/
Continue up the whitish rock off-width
(#6 C4)
using chicken heads out left. The climbing eases up as you hit a sloping ledge to build a medium gear belay.
3rd Pitch- 80'- 5th/
We soloed up the last pitch, up and right up a short easy wall to a shoulder where you can change shoes.
Descent
Bushwhack to the east to an obvious gully that is easily descended back to the base of Byrd Pinnacle (A-Crack).
Gear to 6" for the off-width. Several 3" pieces to help build that first belay. Did not place any wires. Helmets advised, seldom traveled route. 60m rope. Mix of draws and slings. Mostly a sunny wall until late afternoon, early evening. Biner your approach shoes for the walk off.
External Links