Grand Staircase-Escalante National Monument
Monument Information
September of 1996 is when President Clinton, amidst opposition from many of the locals, designated this unique and rather large National Monument. The
Grand Staircase-Escalante National Monument
(GSENM) is almost two-million acres of wilderness land set aside to protect scientific history and allow discovery as well as offer abundant recreation. It is different from other Monuments as it is administered by the Bureau of Land Management rather than the National Park Service. The land is divided into three sections: Grand Staircase, Kaiparowits Plateau and the Escalante Canyons. The entire monument is in Southern Utah, with Arizona boundaries to the south, Dixie National Forest to the west and north and Lake Powell to the east. Often people are confused and think Buckskin and other attractions are in the GSENM rather than in the Paria Canyon/Vermilion Cliffs Wilderness area and Coyote Buttes Special Permit Area since the land butts into each other. When driving along House Rock Road in the Paria Canyon/Vermilion Cliffs Wilderness Area, all of the sudden you will see a sign that says Welcome to the Grand Staircase. To make it more confusing, along this road is also the Arizona and Utah state line. Utah's Kane County and Garfield County enclose the monument lands. Kane County claims 68 percent of the monument and Garfield County holds 32 percent. The geography of the Staircase exceeds the monument boundaries including some of the most popular parks in the National Park System; the Grand Canyon, Zion National Park and Bryce Canyon. The geology ascends from the bottom of the North Rim of the Grand Canyon through Zion National Park and topping out at Bryce Canyon and Cedar Breaks. The Monument is important for much more than it's recreation opportunities and it's geology, it also contains a wealth of paleontology, Native American ruins, petroglyphs, and more preserved intact geological history than anywhere else that we know of in the United States.
Willis Creek
Trail Description
- Willis Creek is a narrow and photogenic canyon with walls towering up to 300'. When the sun shines into the canyon it has a gorgeous yellow glow that can be captured by the camera at certain times of the day. This is a wonderful hike for families since there are no obstacles but holds the option for more difficulty by combining it with Sheep Creek and Bull Valley Gorge. To do this route it's better to start at Bull Valley Gorge, which is a semi-technical canyon, and end at Willis Creek. Like most canyons, this one is shaded making it ideal for summer hiking and to keep things ever cooler there is a narrow and crystal clear, year-round stream, meandering through its center. The one drawback, at least for hikers, is that horses often are ridden through the canyon leaving behind what horses tend to leave behind.
Averett Canyon and Sheep Creek
- At about a mile into the route Averett Canyon enters from the left and another mile and half later is the confluence with Sheep Creek where the narrows section has already come to an end and soon the water will usually quit running. Sheep Creek is hot in the summer with little refuge from the sun. You may notice while you are in there that ATV's often drive up and down Sheep Creek. I have never seen or heard them but I have noticed tracks and picked up trash left by ATV or horseback riders that is too heavy for hikers to carry in. Please if you visit these canyons, leave no trace other than foot prints!
Trailhead
- To get to the trailhead you can drive a regular car on the Skutumpah Road, (on the GSENM as Road 500) which is a dirt backway into the Monument. Travel is easy as long as the roads are dry, although it can get muddy directly around Willis Creek due to the running stream. This area can be avoided by just parking and hiking a little bit farther. If Skutumpah Road is wet then it is usually impassable even for 4WD's due to the clay content. Don't try to travel it if there is still snow on the road. Melting snow seems to be the biggest problem on these roads for vehicles getting stuck. There can also be flood damage at times. The trailhead is just off Skutumpah Road, 9 miles from Cannonville, where one of the Grand Staircase Visitor Centers is located. If coming from Kanab, where another Visitor Center is located, or on the Backway through Glendale, it will be 1.8 miles after you drive over the narrow bridge that covers Bull Valley Gorge. This bridge is impossible to miss. You should be quite tentative about driving over it. It looks old, narrow and quite rickety! You can also set your odometer where Skutumpah and Johnson Canyon intersect. The trailhead is 27 miles past this point. The canyon will not be visible from the road but you will see a wash with running water on both sides of the road since the stream crosses under the road. From the Cannonville entrance you will want to follow the wash to your left and from the other direction from your right.
Kiosk and Parking
- The kiosk for the trailhead is off the main road, just south of the creek, and there is parking across the road from the trailhead.
Flash Floods
- Check weather conditions before you go. Never enter a slot canyon if it is raining or there is a chance of rain either at the canyon or upstream from where you are.
"Turn Around Don't Drown"
Monument Roads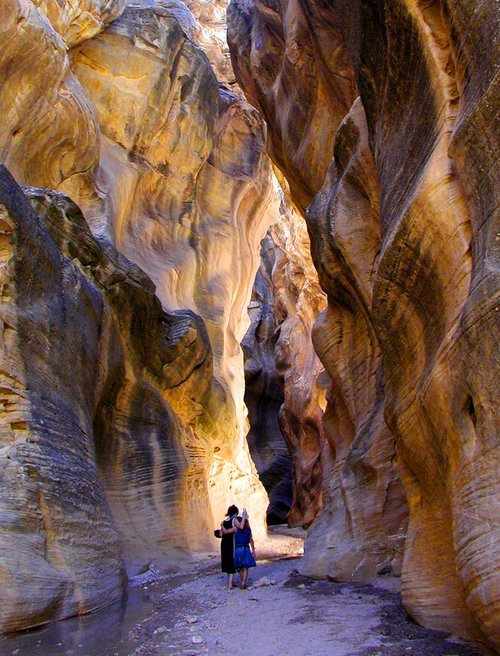 Entrances into the Monument:
Note that dirt backways can become impassable when wet due to the clay and melting snow makes them almost impossible to drive.
Map
from the BLM site.
It's always a good idea to check on the
road conditions
in the Monument since many are dirt.
Grand Staircase
This is the western part of the monument which contains Cottonwood Road and Skutumpah Road.
This is the road you will travel to find Willis Creek.
Skutumpah Road - You can get to Skutumpah Road through Glendale (near the east side of Zion National Park) via the Bench Road, near Cannonville or near Kanab via Johnson Canyon Road. The Johnson Canyon Road is 11 miles east of Kanab and it connects with Skutumpah Road and continues to either Glendale or Cannonville. Visitors can travel Skutumpah Road to get from Zion National Park to Bryce Canyon instead of Highway 89 and see parts of the Grand Staircase along the way. Hikes along this route include: Lick Wash, Willis Creek, Bull Valley Gorge.
Map showing the area. If visiting Zion National Park and Bryce Canyon, visitors can take the backway through the monument to get a glimpse of the wilderness area and to hike along the way.
Grand Staircase Map
Cottonwood Road
- The 46 miles road begins (or ends) near mile-post 18 on Highway 89, 32 miles from Kanab and by Big Water and leads to Cannonville on Highway 12.
Kaiparowits Plateau
Smokey Mountain Road travels through this broad mesa with many narrow canyons and is the highest part of the Monument.
Smokey Mountain Road
- This 78 mile road is the longest of all the backcountry roads that go through the Monument. It goes across the Kaiparowits Plateau toward Escalante.
Escalante Canyons
The Burr Trail and Hole in the Rock Roads travel through this section of the monument.
Hole in the Rock Road
- The road begins 4.5 miles east of Escalante on Highway 12.
Burr Trail
- Allows travel from Lake Powell through Capitol Reef and to the town of Boulder.
Camping
Camping in the Monument
Dispersed Camping
Dispersed camping is allowed in Dixie National Forest and in the Monument. There are several places along Skutumpah Road where you can pull over and camp. Never camp in an area posted as a study area.
Other than dispersed camping, Kodachrome Basin State Park Campground is the closest to Willis Creek. You would also be quite close to Bryce Canyon which has some camping options as well as Red Canyon in Dixie National Forest.
Backcountry Regulations
Free overnight permits are required by the BLM and Park Service.
Fires are permitted as long as you are not in a canyon.
Leave No Trace.
Camp in a spot that has been used in the past.
Pack out all waste.
Driving off of designated roads is prohibited in the Monument.
Kodachrome Basin State Park Campground
Fairly close to Bryce Canyon and nine miles south of State Route 12 near Cannonville. There is water, tables, fire pits, grills and electricity is available. You can rent cabins there complete with showers.
Camp fee: $15 Day use: $6
Group fee: $3/person $50 min
Other areas of the Monument to Camp
Calf Creek Campground
14 campsites near Calf Creek Falls and 15 miles from Escalante. Developed campground with restrooms. Open year-round to camping.
Camp fee: $7 Day use: $2
Phone: 435-826-5499
Reservations: for group picnicking: 435-826-5499
Deer Creek Campground
7 campsites located 6 miles southeast of Boulder, on the Burr Trail. Developed campground with restrooms. Open-year round to camping.
Camp fee: $4
Phone: 435-826-5499
White House Campground
From Page, AZ, drive west on Highway 89 for 30 miles or from Kanab, Utah
drive east on Highway 89 for 43 miles. It is at the White House Trailhead in Paria Canyon. There are restrooms, but no tables, trash collection or water. Open to camping year-round.
Camp fee: $5
Escalante State Park
Located 3 miles west of Escalante. There are showers and water.
Camp fee: $14
Dixie National Forest
Red Canyon has already been mentioned which is nearby Skutumpah Road. Camping in the forest near Hell's Back Bone Road includes; Blue Spruce and Posy Lake. The site has tables, fire rings, pit toilets.
Red Tape
Backcountry Camping requires a permit which can be obtained at any of the centers below or at a trailhead. The closest Visitor Centers to Willis Creek would be the Cannonville Visitor Center and the Kanab Visitor Center.

Grand Staircase-Escalante Visitor Centers
Cannonville Visitor Center
Phone: 435.679.8981
Kanab Visitor Center
Phone: 435.644.4680
Big Water Visitor Center
Phone: 435.675.3200
Paria Contact Station
Located on highway 89 near Big Water. This is also the contact station for Paria Canyon. No phone
Escalante Visitor Center
Phone: 435-826-5499
Anasazi State Park Visitor Center
Phone: 435-335-7382
The Monument is popular with canyoneers, hikers, backpackers and mountain bikers who like wilderness settings. There is some ATV use in the Monument as well.
More Information
Hiking in the Grand Staircase-Escalante National Monument
:Willis Creek, Lick Wash, Sheep Creek, Bull Valley Gorge, Hackberry, Yellow Rock, Cottonwood, Round Valley Draw, Wahweap Hoodoos, Rimrock Hoodoos
General Information
Official BLM Website
Grand Staircase-Escalante National Monument