Overview/Approach
Yankee Doodle is a small canyon objective that has been best described as
"short and sweet".
I believe the standard prediction for 2 hours car to car makes sense. We took three young med students from Wisconsin down Yankee Doodle and it was a great introduction to canyoneering for several of them. It involves one long rappel,
a very cold, but short, swim
and quite a bit of
chimney technique
used in descending its narrow slots. Although fixed gear has been placed in Yankee Doodle before, it has all since been removed in 2008 except for the fixed rap station at the start. It was a great source of angst among locals when some guide bolted it, but thank goodness reason won out and those bolts have since been removed. This is an easy canyon to navigate, even with novices, it you just take the time to teach them proper canyoneering techniques.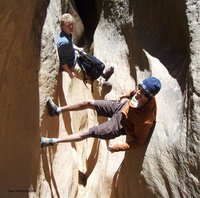 Yankee Doodle is a short slot canyon located in
Dixie National Forest just north of St. George proper as the crow flies. To get to it however, you have to gain a backcountry dirt road. I went back into this area with a partner from Silver Reef, so obviously we came in from this direction (northeast). Exit I-15 at the Leeds exit. Drive through Leeds and to the north of town you drive under the interstate heading west towards Silver Reef. Drive past Silver Reef until the pavement turns into dirt. Follow the winding road for over 7 miles back south towards St. George.
As you head east along a large canyon rim, it takes a big U turn back south.
Look for one of several pullouts on the right, the 2nd being an actual wash. Further up road is a small side road to the left. This road is too far. Turn back and park at the wash. Cross the road to the east and look for a trail that circumvents the start of the slot canyon to the north. Scramble down some easy rock to the base of this start and move left to find the fixed rappel on the left steep wall.
Route Description
Do a single rope rappel (60m) down the initial steep canyon wall to the wash below. Several problems exist from there, none any more challenging than the other really. The first is a nice
squeeze to the right of a boulder down into a fun chimney position
. Chimney down canyon for a few moves. You will walk through some water (March) and encounter several more down climbs. Eventually you come to a deep elongated water filled hole. This was shoulder height for most of us in its deepest spot. The water was quite cold as was to be expected.
We kept our clothes off until we traversed the next, even deeper pot hole, to the left via one person traversing the slick rock to the left and throwing a knotted rope back for the less experienced in our group.
Worked like a charm. Slide down a ramp and make for the sun, as the canyon opens up, before you put your clothes back on.
Ascend out of the wash on the rock to the left, traversing right as you go, but
stay out of the deep cleft gulley
. So as you traverse right, continue ascending west at all times. Eventually a trail forms in the sand and you can easily hike back to the road. Turn left to return to your car.
60m Rope. We utilized no gear (except for one short knotted strand of rope) and in fact left our harnesses tied to the rope after the initial rappel to descend into the canyon. We relied solely on partner assists and/or chimney down climbing technique. It is a wet canyon in March, so canyoneering shoes were nice. We also took one swim, but just stripped for it and sun dried further down canyon. No vehicle shuttle is required as you practically hike back out to the road where you parked.
Red Tape
Yankee Doodle is located in the
Dixie National Forest, outside of any state or national park and thus no permit is required (unless you are guiding of course). The only business in Silver Reef, the Cosmopolitan Restaurant, has quite the reputation for dinner. I have yet to eat there myself, but folks drive all the way from St. George for the cuisine.