Overview
Young Hill
, located on San Juan Island is a historically significant peak. It was located at a site where the United States and Britain were on the verge of a great war due to a pig slaughter back in 1859. The issue the brought both US and British ships face to face until 1872 when the Chancellor of Germany arbitrated that all of San Juan Island belonged to the United States. Luckily cooler heads prevailed and the island maintained relative peace throughout the "Pig War". The camp below Young Hill was the English Camp. There is also a cemetery located halfway up on a side trail from Young Hill summit trail.
Now a 650 foot hill does not sound so exciting. But this hill is a massive exception. Young Hill is a special hill with a great 180 panorama of Victoria Island, the western San Juan Islands, and the Haro Straight that separates the United States and Canada. This summit clearly has a lot of blame for the buck and is a great summit for in shape and slightly more out of shape peak baggers along with historians as well.
Getting There
 Get on Spring Street from the Ferry Terminal. Head on the road two blocks. Make a right on 2nd Street. Make a left on Guard Street and stay on it as it becomes becomes Beaverton Valley Road and later West Valley Road for 8.8 miles to the road turnout or 8.6 miles to the English Camp turnoff. Make a left and go 1/2 mile to the trailhead. 
Route
The official trail that uses a former road and goes all of the way to the summit. It is about 1.8 miles roundtrip and 500 feet elevation gain. The trail travels through nice forest and field before hitting the summit area. The true summit is located roughly 200 feet from the amazing viewpoint off to the west.

It should be noted that I saw a number of people coming up from the English Cemetery via a steeper trail. This shorter and steeper trail travels through in open field and steeply goes all the way to the summit. It is unofficial and not listed on any map therefore as an author of the page I would not recommend taking this route.
One can also link this hike to nearby Mitchell Hill and to Bell Point as well if one desires.  
Red Tape
There is no official red tape on the trail pull out on West Valley Road. The English Camp Trailhead appears to have no fee as well.
When to Climb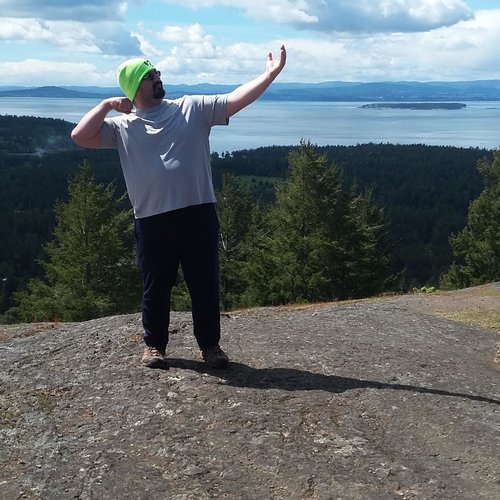 Camping
There is no camping allowed in the
San Juan National Historic Park
.
External Links