Overview
Agulhinha da Gávea
is the best mirador to see the
wind-gliders
jumping from
Pedra Bonita
. Localized in south zone , between
Morro do Cochrane
and
Pedra Bonita
, Tijuca National Park, Sector C.
The mountain is sharp, and have rocky walls by all sides. Atlantic forest cover the top and the base.
From the top , is possible to see São Conrado beach ( Pepino ) , Pedra da Gávea, Pedra Bonita and Favela da Rocinha( South and West ) ; Tijuca National Park Sector B at East and; Sector A to North side.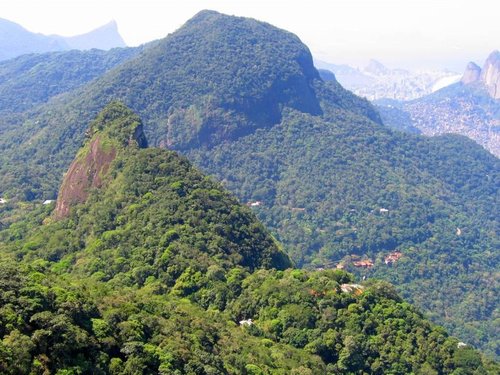 Getting There
Agulhinha da Gávea – São Conrado – South Zone – Rio de Janeiro
From Downtown Rio, Ipanema and Copacabana, take the way to Barra da Tijuca by
Auto Estrada Lagoa-Barra
( Lagoa-Barra Highway ). The entrance of Estrada das Canoas is
after the first tunnel
, passing
Favela da Rocinha
. Canoas is at the
right
side of the highway.
The access to Agulhinha da Gávea is in the Canoas Road, that connects South Zone to Estrada do Alto da Boa Vista, at North Zone. Seek the plates that indicates the way to Pedra Bonita, because the trailhead to Agulhinha is in the parking car to jump with wind-glinding.
Red Tape
No fees or permits to climb Agulhinha da Gávea.
Camping
There aren't camping area in Agulhinha da Gávea . I advise to stay at hotels in
South Zone
( Copacabana/Ipanema ).
Trail Conditions
The trail offers
no shade
on the top of the hill. The crest of Agulhinha da Gávea is very
limited in space
to allow a large number of people at one time.
Length:
350m.
Climbing Routes
Agulhinha da Gávea main climbing routes
| | |
| --- | --- |
| Route | Graduation |
| Alda Pachecho da Rocha | 3°+ A1 |
| George Mallory | A2 |
| Jorge de Castro | 2° IIsup |
| Jubileu de Prata | 5° VI |
| Olimpo, Paredão | 3° IVsup |
| São Conrado | 4° |
| Via Bacuri | 6° VIsup A1 |
Weather
Rio de Janeiro - Current Weather