Overview
What Iceland's mountains lack in elevation, they make up for with stark, wild beauty. Iceland is one of the most active volcanic regions on earth. For this reason, the mountains develop unique step formations, when multiple layers of past lava flows, erode away. On top of this grows the Icelandic grass, which can range from brilliant green to golden yellow, depending on the season. Iceland is truly a dream location for hiking and landscape exploration.
But with so many mountains to choose from, where should you start? If time is of the essence, consider Akrafjall which offers one of the best views in western Iceland. Located north of Hvalfjörður (whale fjord) on the Akranes peninsula, Akrafjall is merely a half hour drive from downtown Reykjavik. There is a trail most of the way to the summit and the time required will be 2 to 5 hours depending on your level of fitness. Views from the summit are extensive and include surrounding fjords, valleys, mountains, and the sea. It's also possible to make out
distant Reykjavic
as well as the town of
Akranes
far below. Icelandic sea gulls nest in the cliffs, so you are likely to see a few while you are up there.
Akrafjall is a mountain with two main summits, divided by the valley Berjadalur which was cut out by a glacier. The north summit Geirmundartindur (643 meters) is the high point, while the more popular south summit Háihnúkur (553 meters) is somewhat shorter. From the town of Akranes these two summits take on a striking appearance. For some amazing photographs of Akrafjall, including the northern lights and all types of conditions, please visit
this gallery.
For those hikers who are not in a hurry, a loop route exists which combines the two main summits along with other minor high points. This loop changes 600 meters in elevation and travels roughly 10 kilometers. There are other hiking options for those who are nor summit-driven. It's also possible to hike near the Berjadalsá River or along the base of the west face of Geirmundartindur where you can find the remains of a military aircraft which crashed in 1955.
Hiking Routes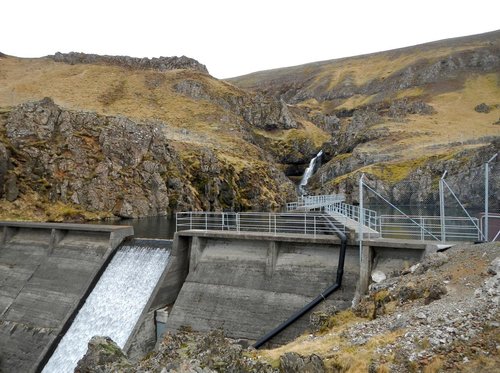 To reach either Geirmundartindur or Háihnúkur, park at Akranes Water Works car park near the dam, in the area of Fosskot. There are two places to park and start your trek so make sure you begin on the correct side of the Berjadalsá River. These trails are easy to follow but they may become indistinct higher up on the mountain so some walking on grasses or spongy ground-cover might be necessary.
Before reaching the top of Geirmundartindur, you will pass several false summits, the first of which
appears very sharp
from a distance. Strangely, there are several
guest registers
located on the mountain, not including the
ones on summits
. Feel free to sign in and mention where you are visiting from. From Fosskot to the summit of Geirmundartindur is a hike of 580 meters.
Driving Directions
From downtown Reykjavic, drive east on Vesturlandsvegur (Hwy 41 / Hwy 1) as it leaves town and curves around to the north. Follow this main road for 13.5 kilometers to where it becomes Þjóðvegur (Hwy 1). Continue north on Þjóðvegur (Hwy 1) for 14.5 kilometers to Hvalfjörður Tunnel. Turn left and drive north through the 5 kilomter long tunnel. Emerging on the other side, turn left onto Kalmansbraut (Road 51) and proceed another 2 kilometers around the south side of Akrafjall. Turn right onto a gravel road which leads to the Vatnsból Reservoir in Fosskot.
Total distance from Reykjavic, 40 kilometers.
Video Clips
Hiking to Geirmundartindur in March:


Háihnúkur Summit at Dusk:


Hiking the Green Grass to Háihnúkur in August: