Overview
Barlow Butte, located just southeast of Barlow Pass is a great hiking summit with good views of Mount Hood. The hike itself at 4 miles round trip and 1100 of elevation gain/loss does not take much time to get and the summit of Barlow Butte. The summit area of Barlow Butte does have plenty of good views through the trees to go around. Despite Barlow Butte not even being the largest summit on its own ridge the peak itself has a trail named after it. That is because at one time Barlow Butte was home to a lookout tower. The trees on the summit have since taken over and the views on the summit are now framed by the trees.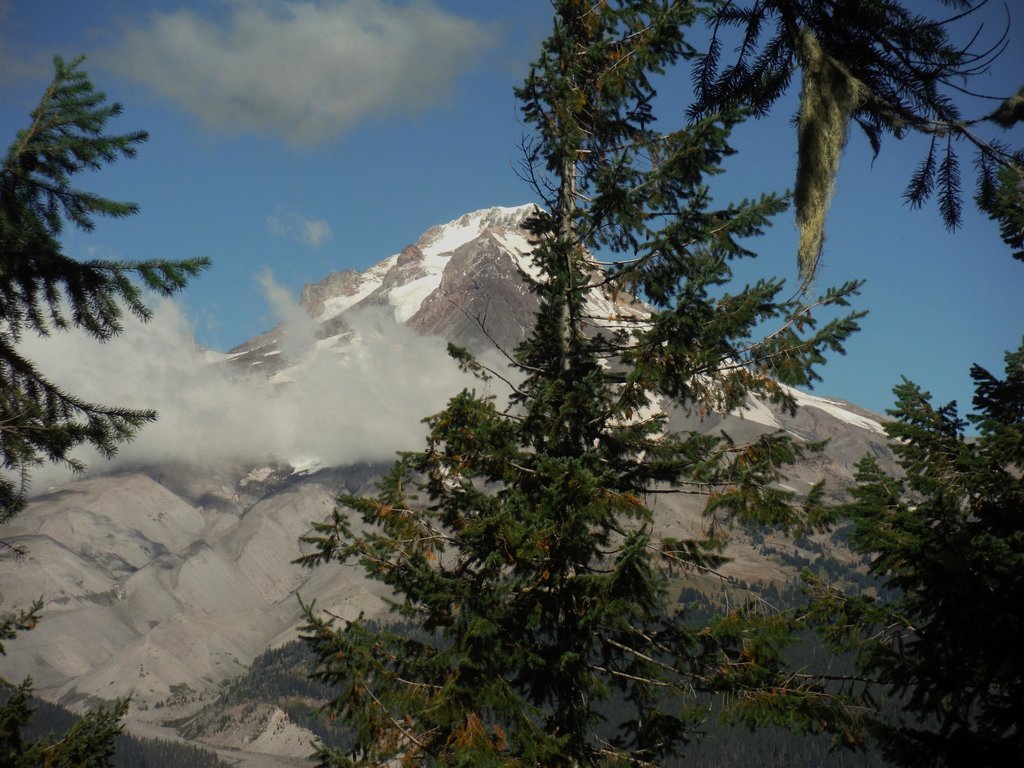 It should be noted that
some people who come to the summit of Barlow Butte miss out on the hidden view of Mount Hood.
This view is a little covered by trees but if Hood is clear the view is spectacular. The trail during the summer time is very short and kid friendly but it can be steep in sections. The whole way up the trail is wooded until you get near the summit where some openings do await. The view to the south and east is probably the most open where you can stare at nearby Barlow Ridge, Bonney Ridge and the dryer eastern side of the Cascades. Though this peak is not the most dramatic peak around, it is a very worthwhile.
Getting There
From Government Camp which is 41 miles east of Portland on Highway 26, stay on 26 east for 3 miles. You will pick up Highway 35 which will go right to Mount Hood Meadows. Take Route 35 roughly a mile to the top of Barlow Pass where the trailhead with be on your right.
Route
From the Barlow Pass Trailhead walk down the gravel road roughly 0.2 miles. You will see the Barlow Butte Trailhead marking on your left. The trail will start by heading downhill for about 150 feet. You hit another junction at about 0.3 miles where you want to make a left (well marked) and head uphill for about 0.3 miles where you will hit another junction. Make a right on that junction where the trail will be more narrow and head straight uphill. It will head up steeply for the next 3/4 of a mile until near the top of the ridge it will then hit another junction. A right will continue you to Barlow Ridge whereas a left will take you to Barlow Point. You will then go pass an open area with very southeast toward Barlow and Bonney Ridge. Continue all the way to the summit rocks where there will be limited views toward the west. For the secret view of Mount Hood follow a faded bootpath or bushwhack north to a rock where a closeup Mount Hood view will await you.
Red Tape
Northwest Forest Pass is required for this trailhead. The Pass is $30 for the year and can be picked up at any REI, or National Forest Station. A Golden Eagle Passport is also good for the trailhead. A
Barlow Pass Sno Park Pass
is needed if one is attempting to do this peak from November 1st to April 30th.
When to Climb
Because of the easy access this trail can clearly be done year round. Make sure you have a Sno Park Pass in winter. Snowshoes are highly recommended in winter as well as trekking poles. Barlow Butte is quiet steep but wooded. Avalanche danger on this mountain should not be too much of a concern though I would not do any snowy summit in winter during high avalanche conditions.
Camping
Outside of a couple small bivy areas I really did not see any desirable camping areas on the summit of Barlow Butte. This really is only a day hike summit with many people doing Barlow Butte in less than three hours. There is however a great back-country closeby on the Pacific Crest Trail. The name of the campsite is call the Devils Half Acre Meadow camping area. There should be plenty of back-country campsite located there. There is also commercial camping and lodging located in Government Camp as well.
External Links