Overview
Henry McCarty, also known as William Antrim, William H. Bonney, and most famously as Billy the Kid, was among the most notorious outlaws of the Old West. In the state of New Mexico, where he was in the thick of the action during the Lincoln County War in 1878 and its aftermath, there are numerous locations where you will find Billy the Kid gift shops, historic markers and other signage.
New Mexico, of course, was still a territory in those days and was embroiled in lawlessness and political corruption. Billy the Kid was immortalized in motion pictures after his time, and opinions differ widely as to what side of the line of good and bad he fell on. By historical accounts, he was both feared and respected, befriended and betrayed, loved and hated.
Arguably the most wanted man in the New Mexico Territory, he had to have places – or hideouts – where he and his gang could "lay low" for awhile. One such place, recently published in
New Mexico Magazine
, is located about 15 miles northwest of Las Cruces, New Mexico at the western foothills of the Robledo Mountains.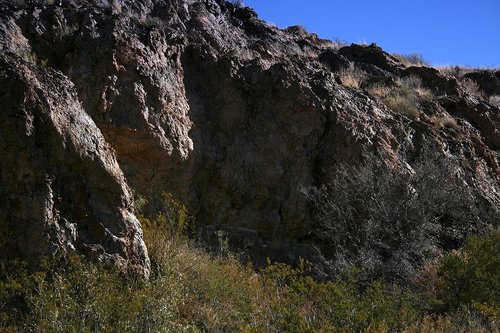 This hideout was a stopover in 1880 for Billy and three members of his gang: Tom O'Folliard, Charles Bowdre, and Dave Rudabaugh. It is nestled in the west side of Black Hill, a prominent formation of volcanic rock. Running along the northern base of Black Hill is Faulkner Canyon Road, a seldom-traveled dirt and gravel road leading south through the Robledo Mountains Wilderness Study Area. But in the days of the Wild West, it was a wagon road running between Silver City and Fort Selden, just outside of present-day Radium Springs.
Black Hill rises about 400 feet from the desert floor on the north side. The hideout is strategically situated, as it provided concealment from passersby and, from a nearby vantage point 200 feet above the old wagon road, allowed the fugitives to monitor those passersby. The location, on a partially sheltered ledge, also provided them with shade and a partial windbreak and cover from the elements.
On the rock wall of the hill are markings – "Bonney," "O.F.," "Bowdre," and "DR" - left there by Billy and his friends in 1880. Today, after the passage of 127 years, they are nearly obliterated and only barely distinguishable at best. To the immediate right of the wall with the names is a hackberry tree, a landmark to assist in finding the wall. Although not a large tree, it is notably larger than the several nearby trees. To the right of the tree, a recess in the side of the hill bears evidence of a long-ago fire that left the rock above it scorched black.
As mentioned above, this area doesn't see too many visitors. But I'm sure many people have passed by the hideout site over the years without even noticing. Others have been to it, unaware of its significance. It was probably used only once as a hideout though, 127 years ago, by four men who spent a lot of time looking over their shoulders. But those who go there now, with the understanding of what it is - and what it was - can enjoy it, and imagine, without looking over their shoulders....there probably won't be anyone else around.
Getting There
From I-25, take exit 19 and head southwest on Hwy 157 for 1.6 miles. You will see Leasburg Dam State Park then Fort Selden on your right before you come to the junction with Hwy 185. Turn right on Hwy 185 and head northwest, passing through the small town of Radium Springs. Hwy 185 will curve to the left and bear west just after leaving town. Turn left onto Faulkner Canyon Road 0.5 miles after the Hwy makes the curve. Faulkner Canyon Road is a maintained gravel road as there are homes to either side of it for about a half mile. After 0.7 miles on this road, you'll see the BLM gate. Pass through the gate; be sure to close and secure it behind you. Proceed southwest on Faulkner Canyon Road for about 2.5 miles and park at the base of Black Hill. You will pass an abandoned stone ranch house and well on your left about 0.3 miles from where you'll park. 2WD vehicles should be able to make it to Black Hill, but there are some large rocks and deeper sand and gravel on the route that you'll have to watch out for. My recommendation, of course, is to not abuse your vehicle. Locate the Wilderness Study Area (WSA) marker at the base of the hill, then follow the wash to the west side of the hill. Follow the slope, which has loose rocks but is not steep, up to the ledge and find the hideout.
style="display:block"
data-ad-format="autorelaxed"
data-ad-client="ca-pub-6523272176520096"
data-ad-slot="7132222476">