Overview
Buttermilk Hill is located in the Tungsten Hills just west of Bishop, California. The area is very popular with rock climbers and the views of the High Sierra are spectacular. Otherwise known as "Buttermilk Country", parts are dotted with tungsten mines from the past. Buttermilk Hill is basically a desert peak with some Class 1-2 boulders near the top. It is a short trip that can be done within a couple of hours. It is one of many hills and boulder outcroppings that can be climbed in a day, with great views of the Eastern Sierra Nevada. From the summit you can see the White Mountains, the Owens Valley and the Sierra. On top there is a USGS marker and a summit register dating back to 1994.
Getting There
From Hwy. 395 in downtown Bishop go west on Line Street (Highway 168) for 7.3 miles and then turn right on Buttermilk Road. Immediately park on the right shoulder. Buttermilk Hill is the high point just to the north. There is a dirt road that goes north from the parking area. Take this road towards the peak and after a half mile you"ll reach McGee Creek. The dirt road now becomes a faint footpath that curves west and crosses McGee Creek. The footpath now veers back north and ascends towards the peak. At this point, there are options for getting to the top. First, you can go straight up or look for a old miner's road that begins on the west side and then steeply gains the summit. Once on Buttermilk Hill there are many options to choose from. Easy cross country scrambling to any of the many interesting climbing opportunities.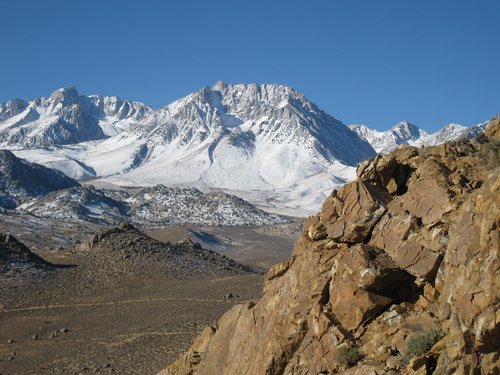 Red Tape
No restrictions for this hike. Parking unlimited.
Camping
Camping is allowed in Buttermilk Country throughout the year. There are many dirt roads with pullouts for camping but no facilities. There are campgrounds up Hwy. 168 near South Lake and Lake Sabrina in Bishop Creek Canyon but these are normally open from June to October.
External Links