A brief overview and history.
There is a place where the erosional power of glaciers meet the cinders of a red hot past. The Three Sisters wilderness of the Oregon Cascades is such a place.
In this location as well as along the whole of the Cascade crest, great composite volcanoes dominate the range. These great volcanoes rose from the base of old ancient sheild volcanoes to great hieghts.
Then about 10,000 years ago the great ice age glaciers would grind there way down these great volcanoes. In the area of the three sisters wilderness these acient glaciers were as long as twenty mile tongues of ice grinding down into the western Cascade foot hills.
Then about three to five thousand years ago as the ice age came to a close. In the north section of the wilderness near the Mckenzie pass large fissures opened up in the earth spewing forth hot ash and cinders creating a vast area of cinder cones and fields.
These numerous cinder cone in turn created prodegious amounts of aa lava which covered the area with approximatly 100 square miles of largely uninterupted flows.
In this area resides the most youthful geology in the Oregon cascades. The glaciers of the present have ground into the soft cinder and ash creating an area of past volcanic fire with some visibly present glacial ice.
Images from the collier cone/glacier overlook.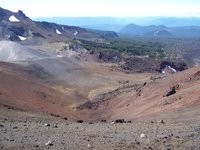 Getting There.
The collier glacier overlook is located in the north part of the Three sisters wilderness area in the Oregon cascade range. It is along the Pacific crest trail at the base of the northwest flank of the North sister mountain.
It is commonly visited in the summer months because of its relative isolation. The Old Mckenzie highway Oregon 242 is the main artery of tranportation and is only open during the summer months. It is a seven mile hike from either scott trailhead at scott lake or from Lava camp lake trailhead for the pacific crest trail. Highway 242 can be accessed from the west by way of Mckenzie bridge,Oregon on state highway 126 or from the east by way of Sisters,Oregon located on state highway 20.