Introduction/Desert Southwest
The Southwest occupies a tract almost a fifth of the total land area of the United States. This arid country stretches from the Salton Sea Basin in Southern California to the Little Book Cliffs of Western Colorado; from the open wastes & steppes of northern Nevada south along the extra-terrestrial highway (hwy. 375) into Arizona, New Mexico and west Texas. This area encompasses more than 401,625sq. miles
(646,214sq.km)
. Quite impressive, especially considering the defining characteristic is rainfall of less than 10 inches
(25cm)
per year and up to 20 inches.
However, when the American southwest comes up in conversation or travel planning, it is usually the National Parks that leaves one intrigued:
The Canyonlands
in central Utah,
the Grand Canyon in northwestern Arizona and to a lesser degree,
Arches National Park
also in central Utah. Because of these giants, most of the lesser known canyons and areas go relatively unseen:
Antelope Canyon
,
Guadalupe Mountains Nat. Park
,
Mesa Verde
,
San Rafael Swell
,
Cedar Breaks National Monument
,
Hovenweep
etc. except for the few who choose to wander from the beaten path to investigate these hidden gems.
Most of the vegetation is characteristic of climes used to no water: cactus, yucca (Spanish Bayonet), Sagebrush and bitterbrush are everywhere. Most of the plants will have a waxy coating on the leaves to retard evaporation. These plants require little in the way of top-soil or water. Wildlife like: bighorn sheep, ringtail polecats, puma and even bear can be found. For what these area's lack in terms of general ecology, they far exceed in other areas like solitude, quietness and tranquility.
Dead Horse Point, which is one of Utah's most popular
state parks
, is among these smaller gems. It offers the plateaus and canyons common to the entire southwest and offers the same range of wildlife and flora to be had elsewhere. However, unlike its behemoth & colourful neighbors, The Canyonlands & Arches, Dead Horse Point excels for those looking for isolation, solitude and silence.
One of the fascinating aspects about 'canyon country' is that one can go back every day to the same location and see a different place. The weather, lighting, time of day and even mood (of the viewer) alter the scene and impression of the vast terrain.
Dead Horse Point is just that, a point. It opened as a state park in 1959 and has an average elevation of 5,900'. It's biggest claim to fame is a topographical feature called the "Gooseneck" some 2,000' below the main escarpment where the Colorado River takes a 180° bend.
The park takes its' name from the extension of the land that was historically used as a natural corral for wild horses. For specifics, read below.
One can think of this state park as occupying a convoluted finger of land protruding into the void of the canyon. Dead Horse Point makes a good, few hours side-trip when combined with Canyonlands since the proximity is so close. And as an alternative, one can take the Gemini Bridges 4x4 road to get there to maximize the scenery potential of this area.
Dead Horse has undergone some much needed improvements by the state parks department. The roads inside the park have been repaved, improvements done to the camping area and a new entrance station now exists.
And yes, as you may have read or heard, the ending scene of
Thelma & Louise
was filmed at Dead Horse Point,
NOT
the Grand Canyon.
Legend of Dead Horse Point
It seems no matter what source one uses to verify or investigate the story behind why Dead Horse is named so, every lead basically states the same thing with surprisingly, not that much variation. Between reading the pamphlet they hand out at the entrance station, roughly cross-checking eight different Internet sites and reading the plaque posted near the Meander Overlook, every version was basically the same. Below is the version taken directly from the plaque at the overlook. This plaque is located at a small parking area akin to The Neck. I thought this version to be more exacting:
'Around the turn of the last century, wild mustangs roamed the mesatop around Dead Horse Point. Cowboys were always looking for ways to catch these sturdy, fleet-footed equines. One of the best ways they found to capture the clever beasts was to herd them into a trap such as a box canyon.
Dead Horse Point was a custom-made horse trap, like a box canyon only in reverse. With sheer cliffs straight down on all sides and only a narrow strip of land for access, it made a perfect place to keep horses. All the cowboys had to do was herd the horses across the neck and out onto the "point". They would then build a fence of pinion and juniper branches across the neck and they had a natural corral! Here the cowboys could sort through the horses, choose the ones they wanted, and let the culls or "broomtails" go free.
Legend tells that one time a band of broomtails was accidentally left corralled on the waterless point. There the horses died of thirst within view of the Colorado River.'
Today's sentimentality would find this behavior abhorring and unforgivable. I would like to think that even at the dawn of the 20th century, even the most calloused of hearts would find this deplorable and disgusting.
Geology
Most of the geological strata found at Dead Horse Point are for all intensive purposes, similar to what can be found elsewhere in the desert Southwest. Differences, where they do occur are usually resulted from various rates in erosion: water, wind and gravity. Standing on the canyon rim of any of the seven major overlooks, seven major geologic formations (strata) and in the lower recesses of the canyon bottom (river's edge) an eighth can be seen. These layers, starting from the canyon rim and descending into the canyon are as follows:
1.)
Entrada Sandstone
- This top layer is responsible for most of the arch formation, potholes and natural bridge formation one sees. Though it can be seen from Dead Hose Point it is not present within the confines of the park.
2.)
Navajo Sandstone
- The best examples of this layer are actually found at Arches National Park. As one approaches Balanced Rock, there are petrified sand dunes off in the distance to the east. These petrified sand dunes are Navajo Sandstone. Arch formation can also occur within this layer. Typically 1,200-1,600ft (366-487m) thick.
3.)
Kayenta Sandstone
- This is what encompasses the plateau at Dead Horse Point. It is a hard surfaced, white rim-rock. It formed from the sedimentation of fresh-water streams. Contains potholes and dinosaur tracks. About 100-180 (30.5-55m) feet thick.
4.)
Wingate Sandstone
- As one gazes out across the depths of the canyon at the opposite massive canyon walls, this formation is what one sees. These canyon walls were once wind blown desert dunes sometimes as much as 500 feet thick. On average, this layer is 250 (76m) feet thick.
5.)
Chinle Formation
- The majority of desert mining is usually undertaken within this stratum. This is also where uranium is usually found. It is in especially large amounts in the Painted Desert in Arizona, which consequently, is also the layer where petrified wood and volcanic ash is usually found. This layer was once part of freshwater lakes, flood plains and rivers. The depth of this layer varies significantly and is usually agreed to be a few hundred (91.5m) feet thick.
6.)
Moenkopi Formation
- Is a large formation nearing the rivers surface. It is comprised of thousands of thin layers of sandstone and shale. It typically is red (with other hues of course) and frequently contains oil shale. It was once part of tidal plains and mud flats. Usually between 250-1,200 (76.2-366m) feet thick.
7.)
Cutler Sandstone
- This is complex 700-1,200 (213-366m) foot thick sandstone and conglomerate strata. Because of the varied composition, arches, hoodoos and spires can also form within this layer. The best example of this layer is the Fisher Towers outside of Moab on the River Road. It typically doesn't make the best rock to climb on because of the soft consistency.
8.)
Honaker Trail Formation
- This is compressed brine and seabed. Gypsum and shale are frequently found within this layer, as are fossils. This layer is not currently exposed at Dead Horse Point. It can range significantly between 300-1,300 (61-396m) feet thick.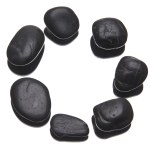 Sediments at the 4,000-foot river level were deposited during the Pennsylvanian period, 300 million years ago. The La Sal Mountains are composed of igneous rocks from an ancient laccolith that formed during the Tertiary period about 25 million years ago. Also during the Tertiary period, uplifting caused by continental drift elevated the entire Colorado Plateau by more than a mile. The Colorado River was born during this regional uplift, and has been carving down through the sediments ever since. Erosion continues today as the river winds from the Continental Divide high in the Colorado Rocky Mountains to the Pacific Ocean at the Sea of Cortez (a distance of 1,400 miles) sculpting ancient rock layers into the spectacular panorama seen from Dead Horse Point.
Because this area consists largely of petrified sand and other soft organic sediments, it should come as no surprise that the landscape is consistently changing. For all the stoic and obdurate beauty, Dead Horse Point is a dynamic landscape. Water, being the primary agent of erosion dissolves the layers in the summer months and fragments the same layers in winter from freezing. Seasonal flooding consistently rearranges the sand bars on the Colorado River and cuts the riverbed ever deeper into the Paradox Formation (beneath the Honaker Trail Formation). Wind scours the Kayenta Formation at the canyon surface ever shifting the miniature sand dunes and rearranging the vegetation into new random patterns as the desert tries to erase the 4x4 roads that dissect it. Water and organic solvents pour down the Wingate Formation to access the lower recesses of the canyon in hopes of joining the Colorado River. In doing so, it tarnishes, stains and gently cuts into the canyon walls leaving evidence of its quiet deluge. The desert and Dead Horse Point has never been more exemplified of the Arc'teryx tag line, "Evolution in Action".
From the visitor's center, Basin Overlook, Pyramid Overlook and Dead Horse Point Overlook, a series of ponds or pools can be seen in an ENE direction towards Moab, a short distance away. These pools of aquamarine water are actually solar evaporation ponds created specifically for the harvesting of potash.
What is Potash?
Potash is an impure form of Potassium Carbonate (K2CO3) mixed with other various Potassium salts. Potash has been used extensively since antiquity in the production of glass, soap, and fertilizer and in the field of agriculture. The following is from a bronze plaque mounted at the canyon rim along a nature trail just behind the visitor's center. It is specific as it is generalized for what you see as you gaze out east towards these ponds:
'The small bodies of water which you now view are solar evaporation ponds. They are owned and operated by Texasgulf Inc. for the solution mining of potash in the underlying area. Potash is a vital plant food used extensively in agriculture.
Texasgulf employs a unique mining technique. Water from the Colorado River is pumped into an underground mine. The water dissolves the ore, creating brine, which is then transported to the ponds. Following evaporation of the water, potash solids remain.

The solids are then harvested by recycling a high-brine concentrate to a nearby processing plant. The very dry climate and low precipitation in the area provide a high evaporation rate, which results in a potash production of approximately 260,000 tons per year.
A total of 23 separate evaporation ponds cover 400 acres in all. Each pond is lined with a polyvinyl chloride material. The liners serve as environmental protection against the possibility of brine leaking into the Colorado River. In no way does the mining operation physically pollute our environment.'
Directions/How do I get there?
Dead Horse Point is approximately 33 miles from Moab, Utah. From Moab, drive north on Hwy 191 for 10 miles to the interchange with state road 313. This interchange is in between mile markers #135 and #136
If approaching from I-70 or from the north, take exit #180 and turn south onto Hwy 191 and drive for 19.2 miles to the SR 313 interchange. From this intersection, Dead Horse Point lies at the terminus of SR 313 some 22 miles further. Hwy 313 will turn sharply left at a small posted byway called, "The Knoll". Other than location and topography, I have no idea why this place is labeled as such. At The Knoll, SR 313 turns left and continues onward to Dead Horse Point. The road will actually continue straight also but this will dead end into The Canyonlands.
While driving on Hwy 313 heading up seven-mile canyon, which, by the way is a state of Utah designated scenic byway, you'll see two prominent buttes that rise significantly off to the right. There are various 'view areas' sporadically put in off the highway in which to pull over safely and well, view. There is a view area for these buttes. They are Courthouse and Merrimac Buttes and worth ~15 minutes to look upon.
Alternative Route:
If you happen to be driving a Jeep, truck or other four wheel drive vehicle which, out here seems to be more of the norm, there is a considerably shorter route but just as long (driving time- if not longer) that will be bring you to The Knoll. This Jeep road is called the
"Gemini Bridges Road"
and is named for the natural bridge that it accesses. This is actually quite worth a trip onto itself to see.
The
Gemini Bridges
Road is marked with one lone green sign. There is a large parking area located here just off Hwy 191. It is currently being expanded even more to allow more staging room for rock crawlers and OHV. Coming from Moab, Gemini Bridges Road is exactly 1.1 mile
BEFORE
SR 313. So, close to mile marker #134.
Gemini Bridges Road is a mixture of hardpan, sand, ledges and washes. Fact, the first 3 miles of this road as you leave Hwy 191 would be a phenomenally BAD place to roll your vehicle over! Eventually, the Jeep trail will calm down and leave these exposed ledges for intermittent wash crossings and sand and hardpan. It steadily traverses through Arth Pasture and will parallel Little Canyon and Bull Canyon. At certain points along this Jeep trail, the route can become confusing to follow. If you find this happening to you, simply follow your logic and look for the path of heavier traffic. There are multiple Jeep trails that criss-cross the main through-fare.
Gemini Bridges is actually a double arch over a deep canyon. Though until you walk out onto the bridge, you can't see the split that divides it into two. It is wide and sturdy enough to support 3-4 Jeeps at once. However, because of a Jeep's short wheelbase, I wouldn't take anything else out onto the bridge other then your feet. Gemini Bridges Road will deposit you back out onto SR 313 roughly 1.4 miles from The Knoll. Dead Horse Point is then an additional 4.2 miles SE of The Knoll.
The Knoll: 38° 59.16 N, -109° 93.44 W. (6,188')
Dead Horse Entrance Station: 38° 30.27 N, -109° 43.82 W. (5,963')
Extra Credit- In the Area:
I mention this because as one drives to Dead Horse Point after passing The Knoll, the curiosity to investigate this dirt road will gnaw at you, as it did me! SR 313 will bend prominently towards the SW and keep going. At this bend, the road actually continues onward straight. This dirt road will eventually lead you to Pucker Pass and down into
Long Canyon
. The maps call this a 4x4 road AFTER the road starts to descend off the canyon rim down into the Long Canyon. Personally, I believe you could get by fine with a 2-wheel drive vehicle on this road but 4x4 is strongly recommended. How are your driving and negotiating skills?
In the winter, there are portions of this road that do not see daylight for any longer than an hour or two at most. From SR 313, Long Canyon road is 4.8 miles to the canyon rim. There are limited places here to park and some great photo opportunities. Secluded camping is available here as well for those wanting to stay off the main. Beyond the canyon rim, the road will start to descend sharply into Long Canyon and continues for an additional ~4.2 miles to its terminus with SR 279
(also called Potash Road, locally)
. From this intersection with SR 279, one can drive two miles south to the small town of Potash and get some more information on what they do there (potash mining) or continue onward to the left (north) and access Hwy 191 thus creating a loop. The last (or first) 3 miles of SR 279 are especially scenic as the road parallels the Moab Rim high above.
The entrance to Arches National Park is only two miles from this point.
There are considerable atractions, arches, natural bridges, fins, climbing and mountain biking opportunities etc. in an incredably condensed area.
But because of the terrain, if one doesn't have a Jeep/truck or other 4x4 vehicle, it takes a significant amount of time to get from point A to point B.
Many canyons in this area have roads that pass through that shorten the distance but without a 4x4 vehicle, don't try. Simply because one can never count on ideal conditions in the washes or across the ledges. Many of these Jeep trails become impassable even with a 4x4 vehicle when wet or when drifting occurs. So I would recommend do some research before you venture off the pavement down into the lower canyons. However, you'll be well-rewarded if you put forth the time.
Trails in the Area
Dead Horse Point offers trails only on the canyon plateau. The canyon rim and sentinel walls that guard it are entirely too steep to allow anything to descend down into the canyon.
Using the embedded map below as a reference, as one heads south TOWARDS the visitor's center and Dead Horse Point Overlook, the trail offerings are as follows:
Nature Trail
— This is a paved interpretive walking trail with marked plants and
geological features. This is best for those with a limited amount of time at their disposal or for those with young kids. Find an informational brochure at the trailhead or at the visitor center. The trail is roughly .25 mile.
Pyramid Canyon Overlook
- This is actually a 3.75-mile loop trail. It can be accessed from the group site (reservations required) or from the visitor's center. It offers views of Pyramid and Basin Canyons, Chimney Rock, Shaffer Basin and decent views of the potash evaporation ponds.
Basin Overlook Trail
- This is accessed from either the visitor's center where it basically continues onward from a short nature trail or from the Dead Horse Point overlook. It is roughly 2 miles long (one way) and hugs the canyon rim for most of its length. The views from this particular portion are wonderful. Recommended.
Dead Horse Point Overlook Trail
- This is a very short .5-mile trail that skirts around the perimeter. It offers some of the better views of The Gooseneck, the Colorado River, Pyramid Butte and Musselman Canyon (Canyonlands). There is a sun shelter located here, as are multiple picnic tables and restrooms, rated easy. Recommended.
Shafer Canyon Overlook Trail
- This is another highly recommended trail. It can be accessed from three different locations: either from Dead Horse Point Overlook, a small parking area located at The Neck or from the campgrounds. One-way mileage from the campgrounds to Dead Horse Point Overlook is just shy of three miles. This trail offers fantastic views of Shafer Canyon both the middle and east forks, The Gooseneck, Bird's View Butte and Crow's Head Spires. There is also a .25-mile spur that ends at the Rim Overlook that offers closer views of the aforementioned.
Bighorn Overlook Trail
- This is essentially a two mile there and back spur off the Shafer Canyon Overlook Trail. It offers the best views of Bird's View Butte and is seldom visited. This trail is rated easy/moderate.
It is possible to link all the aforementioned trails into one long 9.75-mile loop. The most convenient starting point would probably be Dead Hose Point Overlook and then the visitor's center. One can expect slightly rolling terrain through hardpan, sand, scrub and pinion. All the trails mentioned do not vary significantly in altitude departure. The Kayenta Formation, which makes up the base of the plateau doesn't erode easily.
When hiking on or off the advisable path, please remember the following:

1.) Tread lightly when traveling and leave no trace of your camping. Drive and ride only on roads and trail where such travel is allowed; hike only on established trails, rocks, or in washes. Camp in designated sites or, where allowed, at previously used sites. Avoid placing tents on top of vegetation and use a camp stove instead of making a campfire. Unless signs indicate otherwise, leave gates open or closed as you find them.

2.) Help keep Canyon Country clean. Pack out all your trash and recycle it. Please clean up after less thoughtless visitors and dispose of human waste properly.

3.) Protect and conserve scarce desert water sources. Camp at least 300ft. from isolated water sources to allow for wildlife access. Where possible, carry your own drinking water. Leave potholes undisturbed and wash well away from wells or springs.

4.) Allow space for wildlife. When encountering wildlife, maintain your distance and please remain quiet. Teach children not to chase or pick up animals. Keep pets under control.

5.) Leave historic sites, Native American rock art, ruins and artifacts untouched for the future. Admire rock art from a distance and never touch it. Stay out of ruins and report all violations.
Intrepid Trail from Tyson Swasey on Vimeo.

The Intrepid mountain biking/hiking trail is a new addition to Dead Horse Point and is the culmination of cooperation by the state and the local potash operations. Intrepid offers 16.6 miles of single track on the mesa with amazing views.
The Intrepid Trail System has three primary hiking and biking loops ranging from one to nine miles with varying degrees of difficulty. The easiest and shortest loop is Intrepid, followed by Great Pyramid, with Big Chief as the most challenging.
The nested loop trails will offer opportunities for visitors of all ages and abilities, and provide breathtaking views. Through the cooperation of the Intrepid Potash Co. and the state of Utah, Intrepid donated $20,000 to assist in having the trails built. Which, was constructed with donated hours by the group, Trail Mix, an all volunteer mix of different organizations.
Weather
Since this is the desert, temperatures, espacially in the summer months are extreme. It is common to experience day time temperatures as high as 105°F (40.5°C) while the mercury drops as low as the 50°s (10°C)in the night hours. There is less temperature deviation in the winter months, as to be expected but still plan on temperatures being cold, 20°F to 30°F (-6.6°C to -1.1°C) on average. Because there is no infrastructure out here, passively absorbed heat (from the earth) will dissipate into the atmosphere at a higher rate then in the city.
Concrete and glass have a tendancy to retain the heat (UV rays) that they absorb throughout the afternoon thus releasing it more slowly throughout the night. This is the primary reason why cities are usually warmer then the rural countryside in the evenings. So evening temperatures will always drop quickly until a balance is reached. Speaking of which, when camping out in the canyons, and this advice works also for mountainous terrain, if not more so.
Cold air sinks. So naturally, one would want to stay away from the canyon floor when camping. However, the upper atmosphere layers become equally as cold. These two 'cold air layers' will trap the warmer air in between like a sandwich. It may only amount to 3°-5° but sometimes, as most of us know, that's all it takes for a comfortable night!
Use the following table as a guideline as what to expect. The values are recent, taken from 2006 data.
Temperature Historicals
Moab-Dead Horse Point weather
NOAA
One can also tune into weather forcasts if you have a NOAA radio. This is broadcasted on frequency 162.475MHZ. and is accessed from Thompson Springs on I-70 to as far south as Monticello. The actual tower is located up in the La Sal Mountains.
When hiking in Canyon Country, it is of the utmost importance to have fluids with you. The recommended is 1 gal. of water per day. It would actually be better to have something along the lines of Gatorade or Powerade-something that contains electrolytes. Heat stroke and
hyponatremia
is as real as it gets out here.
Wear a hat


Wear sunscreen


Wear sturdy shoes


Bring a compass if not familiar with the terrain


Stay away from canyon rims and spires during thunderstorms


Pay attention to your surroundings. In Canyon Country, it is remarkably easy to become disorientated and lost.
These are not the mountains so down is rarely the way home

Use this for temperature conversions:

Camping
The Kayenta camping area is .25 mile south of the visitor's center on the right side of the road. It has potable water, designated campsites and picnic tables.
Permits are obtained at the visitor's center and a maximum of 8 people is allowed with 2 vehicles per site. Camping permits can also be obtained by calling the 1-800... number as well.
Charcoal fires are permitted,
wood fires are prohibited
. Camping permits are $25.00 per night and check out is 2:00pm the following day.
There are a total of 21 campsites with modern restrooms, dishwashing facilities and sewage disposal stations. One site is wheelchair accessable with advanced reservations. As reservations
ARE NOT
required, during the busy months-March through October, it would be a good idea to reserve a site. It is normally first come, first serve. All sites have picnic tables, camping grill pits and pets are allowed.
There are no fire pits
. This is a great place to set one's 'base of operations' as it is generally less busy than what's offered at Canyonlands. Plus it is slightly closer to Moab.
There is also a new 'Pony Expresso' coffee shop at the park. It is open through October.
KAYENTA CAMPGROUND INFORMATION
Reservations- #1.800.322.3770
At Dead Horse Point Overlook, there are restrooms, multiple picnic tables and a large shade pavillion.
Official stuff
Address inqueries to...
Dead Horse Point State Park
PO Box 609
Moab, Utah 84532-0609
Phone
: 435.259.2614
Utah State Parks and Recreation
PO Box 146001
Salt Lake City, Utah 84114-6001
(801)538.7220
Visitor's Center Hours
#435.259.2614
:
Summer
(Mar 15 to Mid-Oct)
- 8:00am to 6:00pm
Winter
(Mid-Oct to Mar 14)
- 9:00am to 5:00pm
Camping Reservations
- #1.800.322.3770
Camping reservations are $20 per night at the Kayenta Campground.
$10.00 Entrance fee
$5.00 Bicycle/Motorcycle/foot
$35.00 Senior Pass
$75.00 Utah State Parks Pass
Cell phone coverage is available. I have found Verizon to work reasonably well, as long as you have line of sight with the La Sal Mountains to the east.
Topographic Map
View Larger Map
External Links