Overview
Introduction
This page is centered on the Gospel Hump Wilderness of north central Idaho. They are the highest mountains in Idaho north of the Salmon River and east of the higher bitterroots on the Montana border. Elevations vary dramatically from 1,970 feet at the Salmon River to 8,939 at the summit of Buffalo Hump. The area straddles the divide between the South Fork Clearwater River to the north and the Salmon River to the south. The higher peaks are concentrated in two groups, one in the east central area and the other near the west boundary.
The divide is often broad and plateau like with many meadows and open subalpine forests. To the north large glacially carved valleys drain into dense forests of fir, spruce and pine in the lower elevations. To the south conditions are much more arid with open, sparsely vegetated pine forests. The topography of the south is very dramatic with many deep canyons cutting to the Salmon River. The northern and southern areas are more primitive and are generally only reached by extended backpack trips or by packing in with livestock. The areas around the west and east peaks get much more use due to their scenic nature, numerous subalpine lakes and better access. All areas see increased use during hunting season.
Gospel Hump Wilderness
The 206,053 acre Gospel Hump Wilderness was designated by Congress in 1978. The wilderness area occupies the high country on both sides of the Clearwater/Salmon Divide, extending north near roads of the 492 road system and south to the Salmon River. There are two roads entering the general wilderness area and thin areas of non-wilderness follow these for their routes. From the west the 444 road accesses Square Mountain with a small spur down to near Slate Lake. In the east a broad lobe around road 223 is excluded. This area is roughly 2 by 8 miles and includes numerous old mines. Some of these may be active from time to time.
The wilderness is bounded by fairly primitive country and there are only a few access points. However, some adjacent areas have seen some timber management and mining activity. It is situated to include all the high points in the expansive southern Clearwater Mountains in the area. The area connects across the Salmon River with the Frank Church River of No Return Wilderness, which along with the Selway Bitterroot Wilderness forms a continuous wilderness area of over 4.3 million acres, the largest in the lower 48 states.
Peak List
The following list includes peaks over 8,000 feet in elevation that are named or have greater than 300 feet of prominence. The calculations for prominence are approximate and though the list attempts to be all inclusive, it is possible that something may have been missed. When making future mountain pages, some of the points may be more appropriately grouped due to proximity. There are also many peaks below 8,000 feet in the area that are worthwhile, but not included in the table.










| | | | |
| --- | --- | --- | --- |
| Peak | Elevation | Prominence | Lat./long. |
| Buffalo Hump | 8,938 | 3,415 | 45.621N 115.699W |
| North Pole | 8,818 | 958 | 45.647N 115.684W |
| Mineral Hill | 8,500 | 700 | 45.590N 115.665W |
| Oregon Butte | 8,464 | 904 | 45.522N 115.669W |
| Quartzite Butte | 8,371 | 731 | 45.515N 115.743W |
| Pyramid Peak | 8,369 | 1,189 | 45.633N 115.933W |
| Peak 8353 (Quartzite Ridge) | 8,353 | 313 | 45.521N 115.735W |
| Shining Butte | 8,348 | 708 | 45.556N 115.731W |
| Gospel Peak | 8,345 | 365 | 45.621N 115.940W |
| Concord Hill | 8,333 | 693 | 45.578N 115.699W |
| Peak 8289 (Quartzite Ridge) | 8,289 | 489 | 45.530N 115.722W |
| Peak 8258 (Lake/Whistling Pig divide) | 8,258 | 408 | 45.619N 115.650W |
| Drumlummen Point | 8,211 | 411 | 45.535N 115.654W |
| Peak 8197 (Jumbo/Whistling Pig divide) | 8,197 | 357 | 45.595N 115.654W |
| Beargrass Ridge | 8,128 | 728 | 45.626N 115.757W |
| Gospel Hill | 8,121 | 381 | 45.630N 115.957W |
| Peak 8119 (Knob Lakes basin) | 8,119 | 300 | 45.619N 115.926W |
| Marble Butte | 8,079 | 779 | 45.541N 115.849W |
| Hanover Mountain (central point) | 8,047 | 1,107 | 45.545N 115.933W |
| Square Mountain | 8,020 | 640 | 45.599N 115.863W |
| Peak 8010 (Knob Lakes basin) | 8,010 | 310 | 45.624N 115.923W |










Research Natural Areas
A manifestation of the ecological significance of the Gospel Hump area is the presence of three Research Natural Areas (RNAs) within the wilderness boundary. The Forest Service designates and manages RNAs that are permanently protected and maintained in natural conditions, for the purposes of conserving biological diversity, conducting non-manipulative research and monitoring, and fostering education. Included in this network are high quality examples of widespread ecosystems, unique ecosystems or ecological features and rare or sensitive species of plants and animals and their habitat. These RNAs help protect biological diversity at the genetic, species, ecosystem and landscape scales. RNAs in common landscapes are representative of ecosystems in natural condition and serve as baseline or reference areas to improve practices on similar managed areas.
Square Mt. RNA
Square Mountain Creek RNA is located in the center of the Gospel-Hump Wilderness on the north side of the Clearwater/Salmon divide. The area is formed by a glaciated cirque basin containing number of aquatic features including a lake, a stream that drains the lake, meadows, and wet meadows. Elevations in the area range from 6,635 feet where Square Mountain Creek leaves the RNA to over 8,000 feet on Square Mountain. Geology of the area is complex since it occurs at the contact point of sedimentary Belt quartzite rocks and the igneous, granitic rocks of the Idaho Batholith. Much of the RNA is exposed rock in the form of cliffs and talus slopes on bedrock. The entire area burned in 1919 and partially burned again in 1933. Tree cover is minimal over much of the RNA as a result of the lack of adequate soil development and fire. Whitebark pine-subalpine fir habitat types occur within the RNA, along with at least six other subalpine fir types. The soils in the valley bottom are poorly drained and support wetland vegetation. The rare plant Idaho Douglasia is found within the RNA.
Fish Lake RNA
Fish Lake RNA is located in upper Lake Creek in the Salmon River drainage in north central Idaho. The RNA is located approximately 5 miles due east of Buffalo Hump in the Gospel Hump Wilderness. Fish Lake RNA is a steep-walled glacial trough containing a 29-acre productive lake and wet meadows vegetated primarily by bluejoint reedgrass and beaked sedge. Elevations in the RNA range from 5,605 feet where Lake Creek flows from the RNA to the 6,400 foot contour lines east and west of Fish Lake. The RNA contains several habitat types including subalpine fir/beargrass, which occupies the greatest area, and the subalpine fir/bluejoint reedgrass and subalpine fir/twisted-stalk habitat types of the moist spruce bottoms. Fish Lake is one of only two lakes in the Buffalo Hump region that is naturally stocked. The lake contains rainbow trout and brook trout.
The extensive coverage of lodgepole pine in the RNA is due to past severe wildfires. Areas along Lake Creek and Whistling Pig Creek occupied by older stands of Engelmann spruce and subalpine fir did not burn or only slightly burned in the last major fire in 1910. The vegetation surrounding Fish Lake is an excellent example of plant succession associated with lake filling, progressing from aquatic communities through wetlands dominated by bluejoint reedgrass and beaked sedge to Engelmann spruce stands on saturated stream alluvium. The Douglas-fir/pinegrass type occurs on the driest sites in the RNA.
Elk Creek RNA
Elk Creek RNA is large watershed that drains south into the Salmon River. This area encompasses a large amount of topographic diversity, and hence, has high ecological diversity. It spans several thousand feet of elevation; this is reflected in the plant associations present. Elevations in the RNA range from 2,000 feet at the high water mark of the Salmon River at the southwestern corner of the RNA to 8,371 feet on Quartzite Butte. At the highest elevations rock and scree, whitebark pine and subalpine fir associations are present. Mid-elevation slopes within the site provide a wide array of grand fir and Douglas-fir plant associations. The lowest elevations, which are largely canyon breaklands, provide representation of grassland, mountain mahogany, spiny greenbush and ponderosa pine communities. Two subalpine lakes, Quartzite Lake and Hurst Lake, occur in the RNA on either side of Quartzite Ridge. Idaho Douglasia, a rare plant species endemic to central Idaho, occurs in the RNA on Quartzite Butte and Quartzite Ridge.
Wild and Scenic Rivers
Johns Creek, which drains much of the north section of the wilderness, has been proposed as a Wild and Scenic River. The subalpine headwaters of this stream are included in the Gospel Hump Wilderness. Several glacial valleys come together to form the main stem of Johns Creek at the north wilderness boundary. From this point to its confluence with the South Fork Clearwater River, Johns Creek forms a deep, rugged canyon. Though this lower section is not included in the wilderness area, it is very remote and can only be accessed by trails or difficult cross country hiking from roads to the west. The headwaters of Slate Creek, which drains the west part of the wilderness has also been proposed as a Wild and Scenic River.
The main Salmon River borders the south side of the wilderness and is a designated Wild and Scenic River through one of the deepest and most remote canyons in the United States. However, this canyon can be very busy with hoards of people who float its world famous rapids each summer. A rough road (1614) from the small town of Riggins provides access up the canyon to the southwest corner of the wilderness, but the only way to see the interior of the canyon is to hike up or float down from the east. Unlike the high country that dominates the Gospel Hump, this canyon is very low elevation and arid with abrupt, steep canyon walls. These rocky slopes support grasslands and open forests of ponderosa pine and provide important habitat for deer, elk and bighorn sheep.
Access
Most visitors use road 444 or road 223 to access the higher peaks and lakes of the Gospel Hump Wilderness, but there are a few additional secondary entry point. The following is a summary of these access routes:
Northwest
• Road 444. This road enters the wilderness on the northwest corner and extends into the wilderness to Square Mountain near the center of the mountains. From its west end on the paved forest road 221, the 444 road rises steeply to the high country near Gospel Peak. Parts of this road are narrow and steep. A small spur just east of Gospel Peak descends to near Slate Lake and access trails over the western ridges of the wilderness area. The junction of road 444 and road 221 is approximately 31 miles south of Grangeville. This is an excellent paved road, but in places can be very nasty with abrupt curves.
Northeast
• Road 233. This road enters the northeast part of the mountains via Crooked River and Orogrande Summit. This road leaves the paved Highway 14 just before mile marker 43, approximately 45 miles east of Grangeville. The road is sometimes narrow but good until the small summer town of Orogrande where it becomes very rough and narrow and is not suitable for low clearance vehicles. From Orogrande summit a road goes to trails near Wildhorse Lake, but the main road continues south into the wilderness exclusion lobe east of Buffalo Hump and North Pole. This road is extremely rough and becomes virtually impassable a ways beyond the Lake Creek trailhead. Somehow a few crazies get their cars up the canyon and onto the plateau above, but this is very dangerous and destructive to vehicles. See the Getting There section of the Buffalo Hump page for a more detailed road description.
North
• Road 492. This road leaves Highway 14 a few miles east of Golden on the South Fork Clearwater River to access the north central part of the wilderness from near the summit of Sourdough Peak. The trails from this area enter the primitive Johns Creek basin. Another trailhead provides access to the remote Ten Mile Creek canyon. There are few noteworthy mountains or lakes in this area so people are few, but during hunting season packers use this area heavily.
Southwest
• Road 1614. This road heads up the main Salmon River Canyon east of Riggins and terminates at Vinegar Creek on the south side of the river. Approximately two miles before Vinegar Creek trail 312 crosses the river and enters the wilderness area via the Wind River Canyon. This trailhead is used mostly by packers as it is a long ways through steep arid canyons to reach the high country by this route. The deep canyons are formed by interesting rocks that are frequented by bighorn sheep.
East
• Road 311A. This road turns off road 222 approximately 4 miles south of Dixie on the east side of the wilderness. This point provides access into the large canyons of the remote Crooked Creek basin, but is far from lakes or noteworthy mountains.
There are other trails connecting to secondary roads in the Orogrande, Dixie and Florence vicinities. Many of these trails may not be maintained or are hard to follow. Also the secondary roads used to access the trails may not be suitable for travel or may have access restrictions. If considering use of these its recommended to review a map closely and seek specific location information from the local Forest Service offices.
Geology
Approximately 280 million years ago belt sediments that were deposited from 1,500 to 700 million years ago formed mountains that reached a height of approximately 20,000 feet in north central Idaho. These Protozoic and Paleozoic rocks formed part of the North American plate that was intruded by the Cretaceous Idaho batholith. This molten body baked the belt formations to form gneiss and schists. The early mountains collapsed and spread mostly to the east leaving some metamorphic rock in the general granitic rocks of the batholith.
Most of the core area of the wilderness is formed of hornblende biotite granodiorite of the batholith. A large segment of the western portion is formed of the Gospel Peak Roof Pendant, which are Paleozoic/Proterozoic metasedimentary rocks. Much of the east margin, the highest peaks and a small part of the northwest are formed of metamorphic rocks of the Elk City sequence. These are calcite gneiss and quartzite schists.
An unusual rock found in the Gospel-Hump area is orbicular granite. Orbicular granite rocks are ellipsoidal-shaped masses of rock consisting of successive shells of dark minerals (biotite) and light minerals (feldspar). The occurrence of orbicular rocks is rare. There are fewer than 200 known localities throughout the world. In Idaho, the Gospel Hump Wilderness is one of just three localities where these rocks are found.
More recently Pleistocene glaciation has left the uplands carved into some spectacular peaks and valleys. The U-shaped valleys headed by cirques with lakes are more common on the north side of the Clearwater/Salmon divide. The final activities influencing the mountains was the eruption of Mount Mazama 6,950 years ago that contributed moisture holding ash in the soils resulting in lush vegetation and the ongoing local deposition of surface material that has form large meadow systems in the western and northern canyons.
History
The Gospel Hump area was first used by the Nez Perce Indians possibly as far back as 6,000 BC. These native people entered the high country to seasonally hunt elk, deer and bear. Some game trails were used to provide access to the Salmon River for fishing.
The area remained virtually unknown to non-Indians until 1861 when placer gold was discovered just west of the mountains at Florence. The gold rush was intense and gave rise to a significant community, but did not last long. In 1898 an extensive quartz vein was discovered at the base of Buffalo Hump in the east portion of the mountains. This discovery started one of the last major gold rushes in the United States and thousands of prospectors moved in. Two wagon roads were built over the mountains to provide supplies and access to numerous communities such as Frogtown, Humptown and several others. This mining boom subsided in 1903, but was revived during the depression as the unemployed tried to strike it rich. Remnants of placer mines, diggings and abandoned boom towns are still evident. Mining is not permitted in the wilderness today, but some mining activities still occur in adjacent areas. This is perhaps the only designated wilderness where one can stand in places formerly inhabited by thousands of people, but virtually all traces of these communities are now gone.
Climate
The area is under a transitional zone between dry continental climate to the south and the moist maritime flow from the coast to the north. This combines to give extreme temperatures and high precipitation, which falls mostly as snow in the winter when the average temperature is about 19 degrees Fahrenheit. Continental air prevails in the summer giving reduced rainfall, cloud cover and humidity. Only about 13 percent of the precipitation falls during this time.
The topographic extremes of the Gospel Hump yield extremes in daily conditions. Temperatures in the southern canyons near the Salmon River are often over 100 degrees, but frost may occur at high elevations at the same time. Dailey temperature variation of 50 degrees Fahrenheit is not uncommon. Generally from July to early October the mountains are accessible and provide clear weather, but conditions can be highly variable with snow potentially occurring any month of the year.
Flora
Due to the extreme variance in elevation, the Gospel Hump Wilderness is characterized by highly diverse vegetative zones. The low elevations are dominated by hot and dry canyon grasslands with mountain mahogany, celtis, greenbush, sage and other desert shrubs. Open dry forest of ponderosa pine form savannas that eventually give way to more closed mixed conifer forest of Douglas fir and grand fir. Higher mountain slopes support forests of lodgepole pine, western larch, grand fir and Douglas fir. Higher up the central plateau is dominated by open parklands of subalpine fir, spruce and whitebark pine. Open montane grasslands and meadows are common intermixed in this forest type.
The highest vegetative zone is found on the tops of the mountains and typically associated with rocks and barrens. Trees are present but generally represented only by stunted whitebark pine and subalpine fir. Vegetation is sparse and typically of a low compact growth form that enables survival in the harsh environment found on the exposed peaks. At peak bloom these provide beautiful rock gardens for those who time their summit hike right. There is no true alpine community in the Gospel Hump, but a small fellfield cap on the summit of Buffalo Hump and adjacent north slope that holds snow late into the summer provides some habitat approaching alpine conditions.
There are several noteworthy plant species in the Gospel Hump. The endemic Idaho Douglasia (
Douglasia idahoensis
), is found on only a few mountain tops in central Idaho. North Pole, Quartzite Butte and Square Mountain are good place to see this spectacular species. Unfortunately it is an early bloomer and many years it's gone by time access is clear of snow. Tall swamp onion (
Allium validum
) is a species disjunct from a main range in the Sierra and southern Cascade Mountains. Look for it in high elevations wetlands and stream courses. Payson's milkvetch (
Astragalus paysonis
) occupies open slopes in grand fir forests and is only found in north central Idaho and western Wyoming. The endemic Idaho ground strawberry (
Waldsteinia idahonis
) occurs mid-seral forests and edge habitats along roads and meadows in the lower cool valleys found on the north slope of the wilderness. And candystick (
Allotropa virgata
) is an unusual parasitic plant in mid to high elevation lodgepole pine forests. It is disjunct from the Sierra and Cascade Mountains.
Fauna
The diverse vegetation of the Gospels provides a wide array of habitats for several species of wildlife. The high open slopes and glades provide summer range for big game that calve and winter in lower elevation meadows. Good populations of whitetail deer, mule deer, elk and moose make these mountains their home; however the elk and moose populations are somewhat in decline. There are also reports of the rare lynx. The open canyons to the south are very steep and rocky providing good habitat for bighorn sheep. Mountain goats are also found in low numbers on the higher cliffs, but occasionally can be seen on rocks at lower elevations along the South Fork Clearwater and elsewhere.
The elk and moose populations are likely in decline due to several factors including a natural correction after years of being higher than natural, open habitat to provide forage has declined after decades of fire suppression and recent curtailment of logging and the rapidly increasing wolf population that requires high numbers of these prey animals to sustain itself. There are several (at least 5) wolf packs now documented to be active within or partially within the Gospel Hump Wilderness. Other predators known to be present are the black bear, cougar and wolverine.
The larger streams of the Gospel Hump Wilderness provide spawning habitat for Chinook salmon and steelhead trout which enter the mountains from the Salmon and South Fork Clearwater Rivers to end their long migration from the ocean. In the appropriate season it is not uncommon to see these magnificent fish congregating in pools and jumping small falls throughout the area. The higher mountain streams also contain endangered bull trout, cutthroat trout and introduced brook trout. The lakes are stocked with various trout and generally provide a good fishing experience. Few high lakes in north Idaho have native populations of fish, but Fish Lake in the east portion of the wilderness is one exception that did (and continues) to have native stocks. This is because its large inlet stream allows spawning habitat that generally is lacking is most glacial cirque lakes.
Lakes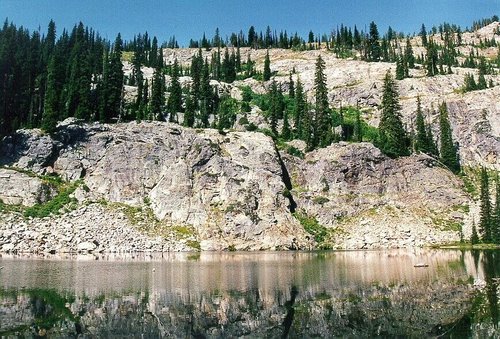 The following table lists 65 lakes and larger ponds in the Gospels. This list attempts to be fairly inclusive but there are several larger ponds or small lakes excluded. This is because the topography of the high central plateau provides many seasonal lakes and catchment areas in the wet meadows that cannot all be accounted for. Most of these lakes provide excellent (though sometimes sporadic) fishing and great camping locations. Just be sure to camp away from meadows and fragile vegetation often found adjacent the lakes.
Lake
Elev.
Lake
Elev.
Lake
Elev.
Bear Lake
7,335
Kelly Lake (lower)
7,655
Square Meadow pond
7,320
Beargrass Ridge ponds (3)
7,640
Kelly Lake (middle)
7,860
Square Mountain Lake
6,980
Brandon Lakes (5)
7,500
Kelly Lake (upper)
8,011
Squaw Lake
7,364
Concord ponds
7,600
Kelly pond
7,980
Twentymile Lake
6,420
Crescent Lake
7,609
Knob Lake, Lower
6,616
Twin Lake (lower)
6,660
Crystal Lake
7,315
Knob Lake, Middle
6,939
Twin Lake (upper)
6,820
Deer Lake
7,304
Knob Lake, Upper
7,540
Unnamed (east Bear Lake)
7,260
Emerald Lake
7,110
Lost Lake
6,462
Unnamed (Knob Lake Basin, west)
7,300
Fawn Lake
7,260
Mirror Lake
7,880
Unnamed (Knob Lake Basin, east)
7,660
Fish Lake
5,684
Moores Lake
6,325
Unnamed (2)(Marble Butte)
7,500
Gospel Lake, East
7,425
Oregon Butte Lake
7,375
Unnamed (N. Star Basin) 7,220
7,320
Gospel Lake, Lower
6,725
Quartzite Lake
7,192
Unnamed (Pk 8258)
7,220
Gospel Lake, Upper
7,199
Rainbow Lake
6,995
Unnamed (Porcupine Ck)
7,300
Half Acre Lake
7,240
Rainbow Lake (upper)
7,260
Unnamed (Rock Ck Pt)
7,260
Hidden Lake
7,020
Round Lake
7,370
Wildhorse Lake
7,340
Horseshoe Lake
7,640
Ruby Lake
6,985
Wiseboy Lake (lower)
7,620
Hump Lake
7,850
Shining Lake
7,410
Wiseboy Lake (upper)
7,701
Hurst Lake
7,400
Slate Lake
6,735
Indigo Lake
7,316
Slate Lake, Upper
7,125
Camping
There are nine primitive campgrounds at or near the boundary of the Gospel Hump Wilderness. These have few services, but generally have vault toilets and some have water. These small campgrounds are free. These are summarized by geographic area as follows:
West
• Rocky Bluff. This small campground has four units and is on road 221.
North
• Sourdough. This campground has four units and is near the end of road 492. It is near most of the trailheads accessing the north parts of the wilderness.
• Six Mile. This small campground only has two units and is less than half way up road 492.
Northeast
• Orogrande. This campground is found about 11 miles up Crooked River from Highway 14 and has 11 units.
• Orogrande Summit. This primitive campground has five units and is on the northeast border of the wilderness area.
• Wildhorse. This primitive campground is two miles west of Orogrande Summit at the end of road 2331. It has 6 units.
• Five Mile. This campground has 4 units and is up Crook River about 2 miles north of Orogrande Campground.
East
• Sams Creek. This campground has 3 units and is on the 222 road about three miles south of Dixie.
• Halfway House. This campground has 4 units and is at the end of road 311A south of Dixie.
Good camping may also be found at any number of dispersed sites in or near the wilderness. Some more popular areas are along road 221 to the west and road 233 up Crooked River. There are also numerous at large camping spots off road 444 entering the west side of the wilderness. Other campgrounds are found in lower Crooked River and near Grangeville. Refer to the mountain page for the summit you wish to visit for more camping information.
Red Tape
There are no permits or passes required for either backpackers or persons with stock. The only permits necessary are fort those planning to float the Salmon River along the south boundary of the wilderness between June 20th and September 7th. However standard wilderness regulations apply for wilderness users. Among other things these include limiting your stay to less than 14 days, traveling only by foot without any wheeled or motorized equipment and restricting group size to 20 or fewer people. Contact local Forest Service offices for more information.
Additional Information and Current Conditions
Nez Perce National Forest Headquarters
Route 2, Box 475
Grangeville, ID 83530
(208) 983-1950
Salmon River Ranger District
HC 01, Box 70
White Bird, ID 83554
(208) 839-2211
Red River Ranger District
Box 416
Elk City, ID 83525
(208) 842-2150
NOAA Forecast
References
Northwest Exposures. A Geologic Story of the Pacific Northwest, by David Alt and Donald W. Hyndman.
ISBN: 0878423230
Gospel-Hump Wilderness, A guide to wilderness recreation opportunities. Publication available at Nez Perce National Forest offices.
Florence Tells Her Secrets, A self-guided tour of the Florence Basin. Publication available at Nez Perce National Forest offices.
Digital Atlas of Idaho website.
http://imnh.isu.edu/digitalatlas/index.htm
Research Natural Areas website.
http://rna.nris.state.mt.us/