Overview/Approach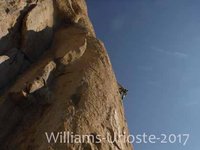 This is one of my favorite remote locations to climb in North America, if not just for the lack of humans, then for the beauty of Boundary Peak overshadowing high desert with mini oases spread throughout. Not to mention the quality of this stone is as good as any found on desert granite. Many do not realize that remote Joshua Tree climbs, those not trafficked, are quite dirty when virgin. Granite Basin's most popular climb, Hair Raiser Buttress (5.9), is incredibly clean. However the lessor climbed routes resemble remote Joshua Tree climbs in terms of grittiness.
The grades seem a little soft for California and some routes are similarly over bolted in comparison, but some have kept the old style run-outs. You can tell it is definitely a mix of FA contribution. Bottom line, this is a great break from Tuolumne Meadows climbing,
particularly on a cooler or rainy day.
To cap the day off, continue heading southeast on Hwy 120 and take a right for the Owens River Gorge (Benton Crossing Road) at the winter gate before you drop down into Benton. Before you reach 395 to the south of Mammoth, visit the free
Whitmore Hot Springs in the middle of a cow pasture
. Clothing optional, just one tub but during the week, usually not crowded.
Take 120 south of Lee Vining and drive 16 miles to the Sage Hen Summit sign on the hwy. Continue for 3.6 miles further and turn left on a dirt road. Drive this for over a mile and turn left again, you can now clearly see the broad east face of Granite Basin formation (photo). Make another left after half a mile and drive this road to the end just minutes' walk to the base of the wall. Decent camping to be had sans water.
Route Description (s)
South Face, Routes Listed Left to Right
Spuds Gurgling Cock Holster- 130'-5.10c***/
To Buoux or Not to Be- 2 Pitches-5.10c*/
Steppin' Stone- 2 Pitches-5.10d*/
Hair Raiser Buttress- 3 Pitches-5.9R*****/The crux is off the deck due to the exposed start. Overall the moves are soft for a California 5.9. Most of it is 5.7-5.8 face climbing on stellar rock. The first pitch is through 6 bolts at 115'. If you keep your head down, the second pitch can easily get off route heading up and left following bolts up an unnamed route (as of the last published guide). I did this unknown route's 2nd pitch and it is actually quite fun hitting some excellent steep rock (with features) at its end. From the top of HRB's first pitch, it takes a full 200' to reach the anchor on this unnamed route. This anchor has chains so you can easily clean and rap back to the top of HRB's first pitch. The 2nd pitch of HRB is actually up and right following 7 bolts through 165' with nothing out of the ordinary. The 3rd pitch is well bolted enough. Gear is optional on this last pitch but not needed if you led the first pitch no worries, 4 bolts through 115' to below the summit blocks. Take three double rope raps back to the ground or walk off left. The top rap is slung and rodents are taking a toll on what was there as of 2017. Dow
East Face, Routes Listed Left to Right
Mr. Brownstone- 3 Pitches-5.10c*/
Clevenger Route- 3 Pitches-5.9**/Start up the obvious right facing corner. It starts out chossy but improves near the end of the pitch. This first pitch is stout for 5.7 (via the topo) and is the crux pitch of the route as there is nothing more difficult above despite the guide calling the 2nd pitch 5.9. Continue up the corner until under the roof. There is plenty of gear as you traverse out right with decent feet under the roof. You land a comfortable ledge with a medium gear belay. I stopped where the guide topo shows the first pitch to end and it was a full 200' if not a meter or two more. For the 2nd pitch, you can head back down the ramp you came to tackle the slightly overhanging 5.10 corner or take the unprotected arête directly above (more like 5.7 vs 5.9). I combined the last two pitches for a full 200' finishing pitch. After the arête, traverse left on easy ground and start up the head wall anywhere you want. As of 2017, there is a bolted face at 5.6/7 that leads to the top on excellent rock. Rap Hair Raiser Buttress in three double rope raps or walk off west. Standard rack. Dow
All Along the Watchtower- 3 Pitches-5.10a**/
Firefall- 3 Pitches-5.9**/
Ordinary Route- 3 Pitches-5.8**/
East Tower, Routes Listed Left to Right
Shaft- 135'-5.10b**/
Deadline- 200'-5.7*/
Grape Nuts- 2 Pitches-5.9***/
Tecate Crunch- 2 Pitches-5.9*/
Frosted Flakes- 2 Pitches-5.7R*/
Never Mind the Bullocks- 200'-5.9R*/
Post Nasal Drip- 200'-5.9**/
Tube- 50'-5.9**/
Northeast Face, Routes Listed Left to Right
Desperado- 5.10d*/
Dick Van Dyke-5.8***/
Plate of Fate-5.11a**/
Granitology- 180'-5.11c*****/
Community Service- 170'-5.10d****/