Overview
Griffin Mountain is a mid-elevation peak located southwest of Mount Rainier in Washington. Despite only having 5283' elevation, the peak has 1803' of clean prominence and is one of the top 200 most prominent peaks in Washington. Griffin Mountain is near popular hiking, biking, snowshoeing, and cross-country skiing roads and areas, yet remains a seldom visited peak in the region. There are fantastic views from the summit and south ridge, especially to the northeast, east, and southeast directions.
Driving Directions
FROM ASHFORD, WA:
1) Starting at the intersection of 314 Avenue Court East & Highway 706, drive east along Highway 706 towards Mount Rainier.
2) After 1.7 miles, turn right (south) onto Forest Road 52/Kernahan Road.
3) After 1.4 miles, where Forest Road 52 bends left (east), turn right onto Osborn Road and then immediately turn left (south) onto Forest Road 85.
4) After 9.2 miles, immediately prior to where Forest Road 85 bends sharply left (east), there will be two decommissioned roads on the right side of Forest Road 85. The first (north) road is Forest Road 101. The second road is lesser-used and has a fire pit area just inside its entrance. The second road is a bermed road that leads towards Griffin Mountain.
5) Park on the side of Forest Road 85. Elevation: 3280'
Route
1) Start hiking west along the decommissioned road. The road has some slide alder.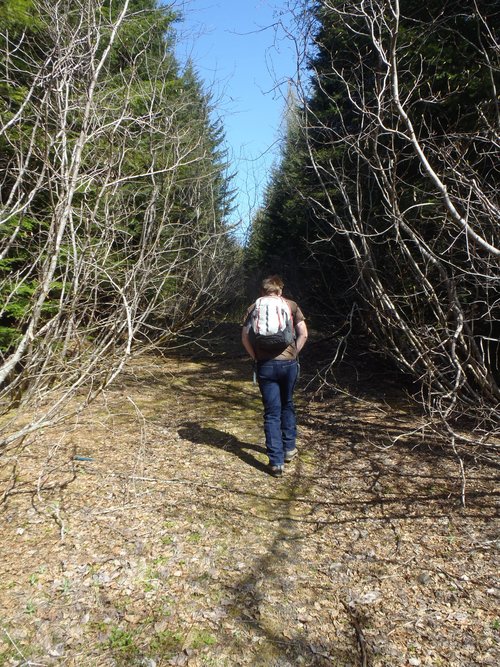 2) At approximately 3750', the road becomes more overgrown as it bends sharply left and uphill. Do not go uphill. The correct road actually continues straight (west), is shown on topographic maps (Forest Road 405), and is much easier to follow during the descent than ascent. This section of road is very overgrown and in thick forest. Some orange-colored forest boundary stakes might be found, too.
3) As the road gradually gains elevation, the roadbed changes from some washouts and slide alder to a decent roadbed with little vegetation.
4) A large old sign (for the Mount Tahoma Trails Association) is passed a short distance prior to a major three-way road junction at 4050'.
5) At that road junction, turn left (south) and follow the road along the western side of Griffin Mountain.
6) At approximately 4750', southwest of the summit, leave the road and hike up steep slopes to the ridgetop above.
7) Once on the ridgetop (approximately 5000'), turn north and follow the ridge to the summit.
8) A short distance prior to the summit is a minor Class 2 scramble section. The summit has a similar minor Class 2 section, as well.
NOTE
: Just prior to reaching the summit, a large natural rock formation is encountered that has the shape of a griffin.
ROUNDTRIP STATISTICS
: 7.0 miles, 2250' cumulative elevation gain
------------
Another possible approach is via Mount Tahoma Trails Association (MTTA) roads. Although these roads are in much better condition than the hiking approach mentioned above, the distances can be far greater. Contact the MTTA to find the closest MTTA roads for accessing Griffin Mountain: http://www.skimtta.com/
Red Tape
At this time, there is no red tape for visiting Griffin Mountain via the route mentioned on this page.
When to Climb
The peak is technically accessible year-round. However, due to its elevation and being in a low-visitation area, the peak is greatly avoided during Winter months. Late Spring is a good time due limited brush, as is mid-to-late Autumn. Summer typically has better weather but more growth and bugs.
Camping
The closest official campground is Big Creek Campground, located near the Nisqually Ranger Station approximately 5.5 miles due north of the peak.
Another possibility is "The Yurt" (which is exactly what its name implies), located at Point 4100 only one mile northwest of Griffin Mountain. The Yurt which might have availability with permission, reservation, and regulations from the Mount Tahoma Trails Association (MTTA). Contact the MTTA for details: http://www.skimtta.com/
style="display:block"
data-ad-format="autorelaxed"
data-ad-client="ca-pub-6523272176520096"
data-ad-slot="7132222476">