Overview
Hierve el Agua (Spanish for 'the water boils'), situated in the central Mexican state Oaxaca, are a series of mineral springs on top of a cliff that is characterized by a two huge rock formations called 'cascadas petrificadas' or 'petrified waterfalls'. These are created by small amounts of water bubbling out of four springs that run over the cliff. The calcium carbonate and magnesium that doesn't evaporate form enourmous stalactites and stalagmites like in caves, but in this case on the outside of a cliff. They also contain sulphur that creates nice yellow accents in some places of the petrified waterfalls.
The tallest one is 30 meters high, the other one 12 meters. Above the latter one two springs near each other on a platform (also called 'El Anfiteatro') have been dammed creating pools (also called 'ojos de agua') that allow for some relaxing with a great view of the surrounding mountains. Unlike many people believe, the bubbling water isn't hot but it still has a pleasant 22 to 25 degrees celsius. It is claimed that there is only one other similar place in the world, namely the ancient site of Hierapolis, now known as 'Pamukkale' (Cotton Castle) after the famous calcareous terraces, in Turkey.
Hierve el Agua has been open and closed a few times 2004-2006 due to financial disputes among the nearby villages of San Bartolo, San Isidro Roeguía, and San Lorenzo Albarradas. Entrance fees had been collected by San Lorrenzo Albarradas so the other communities were also insisting on receiving benefits from the tourism that passes through their communities to the site. Nowadays there is only a small entrance fee of twenty pesos to be paid at the entrance.
There is a trail that takes you to the bottom of the petrified waterfalls. From the parking lot, go right. There is a trail going down past some big cacti. You'll reach the tallest petrified waterfall first. The trail then goes round the whole site at the bottom where you can see some of the ancient irrigation channels.
Archaeological site
Hierve el Agua is also an archeological site. The Zapotecs are believed to have built an extensive irrigation system about 2500 years ago to irrigate their terraced crops. Parts of it, near the bottom of the tallest petrified waterfall can still be seen today. Don't expect any ruins like in Mitla however. It's the irrigation system that has been of great interest to archeologists. Some studies also point out that salt production was an important activity at Hierve el Agua in those days. Today the springs continue to produce up to two liters of water a second (much more in the summer than the dry winter months).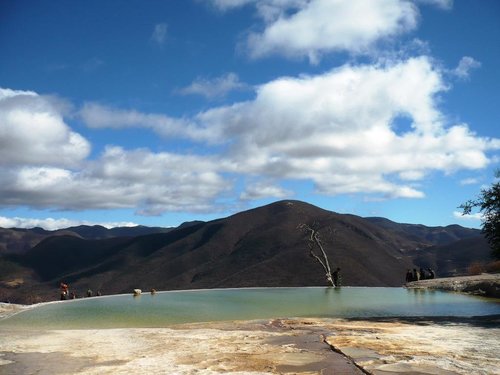 Getting there
Hierve El Agua is situated 70 km east of the town of Oaxaca, in the central Mexican state with the same name. From Oaxaca, take highway 190 towards Mitla, for another 32 km to San Lorenzo Albarradas on a dirt road, and from here a few more kilometers to the small community of Roeguía.
There are several travel agencies in Oaxaca city that organize day tours that include the most interesting sights in the area. One of the day tours includes the Tule tree, some smaller archeological sites, Mitla and Hierve El Agua. If you don't have a car, this might be the easiest way to visit it all, and it's not that expensive either. I went on my own, first taking the local bus to Tule, which leaves you at the main square right where the tree is at. From here you can walk back to the main road and hop on the bus to Mitla. Where you get off the bus there is usually someone with a pickup truck offering a taxi service to Hierve El Agua. I teamed up with four more foreigners so we ended up paying only fifty pesos each if I remember well. Some cabins can be rented at Hierve El Agua if you prefer to spend the night there.
Before reaching Mitla, don't miss the 'El Tule tree' in the town of Santa Maria del Tule. This Ahuehuete tree is more than 1500 years old, 36 meter high with a diameter of about 10 meter. You'll also pass the small archaeological sites of Dainzú, Lambityeco and Yagul and the weaving towns of Teotitlán del Valle and Santa Ana del Valle. So a day trip to Hierve el Agua can also include several other interesting sites. This area is also the heart of the mezcal region, and it's possible to visit a mezcal factory.