Ma, una volta di qua ed una di là, la parete nel punto della sua massima altezza, ovvero il settore Orientale, non é ancora completamente vinta. E così sarà anche nel 1940 allorchè Anselmo "Ansel" Falcoz con Massimo Mila, percorrendo il Canalone Centrale, usciranno ancora più in là ad Ovest. Ed anche la Guida Giulio Adolfo
Ourlaz con il tenente Emanuele Tosana farà ugualmente: ad Aprile del 1942, compiendo una bella impresa, salirà tramite il
che divide la parete dal Triangolo Nero per poi concludere da sopra il Triangolo tramite lo Spigolo Nord-nordest; in Autunno effettuerà una via
attraverso una crestina nel Canale Centrale con successiva traversata a sinistra sul Pilastro Est ed uscendo come la cordata del 1927. Questo lasso di tempo tra le prime salite e quelle svolte durante gli anni del conflitto era stato offuscato dalle tragedia che si verificava il 25 Agosto del 1929 quando i fratelli Alessandro "Dino" e Jean Charrey insieme a Cino Norat precipitavano sulla Parete Est nel tentativo di effettuarne la prima salita. Saranno il friulano, ma torinese d'adozione, Giusto Gervasutti
insieme all'Accademico Renato Chabod della Valsavarenche ad effettuarla il 26 Giugno 1935, perdendo però a causa di questa ascensione la
, come la chiamava Amilcare, che nel frattempo moriva nel 1933 con Gaspard ed Ollietti al Cervino dopo aver realizzato la prima della Cresta Sud-sudest o Cresta De Amicis. Qui pare concludersi la storia di queste due pareti che vede ripetere la Est da Pietro "Piero" Rosset con Franco Garda e la prima solitaria di Giovanni Matteo "Agostino" Zulian nel Settembre 1961; ma la Nord sembra proprio cadere nel dimenticatoio, mentre la corsa si sposta sul Triangolo Nero
verticali. Il problema sarà risolto da Piero Rosset insieme all'altra forte Guida di Valpelline Angelo "Angelino" Bozzetti il 10 e 11 Settembre del 1960, dopo un tentativo in Agosto tale da portarli a superare i primi duri
. Ma della Nord non se ne parla più.
Fino al termine degli anni Settanta, quando Camillo Roberto Ferronato ed Osvaldo Cardellina, entrambi di Pian Felina Frazione di Charvensod, pensan bene che sia giunta l'ora di provare la prima invernale sulla Nord. Sarà una delusione, perché sono annate di grandi nevicate e tali da
la parete d'uno strato enorme. Non riescon neppur ad effettuar l'avvicinamento alla base respinti, tra l'altro senza sci e nemmeno racchette, da metri di neve alta e farinosa che li fà sprofondare fino alle ascelle ad ogni passo. Una vera follia, per la quale cosa mestamente, coda tra le gambe, rientrano a casa. Pensano che sarà compiuta da qualcuno altro, più bravo e sicuramente anche un pò più fortunato.
aprono una via diretta alla Sommità, a fianco delle vie del 1926 e 27. In giornata da Pila a Pila. Nel primo tratto trovano un chiodo di color rosso di tipo
, che fà capir che altri sono arrivati dopo le salite del 1940 e 42, poiché la Quendoz-Trevisan attacca decisamente più a destra alla base del Pilastro Ovest. Si saprà che era di altri due tentativi senza buon esito con ritorno dentro il canale obliquo a corda doppia. Comunque, a prescindere dalla via del 1970, é un ritorno a questa parete. Dopo ben trentotto anni, tentativi a parte. Due anni dopo, nell'Autunno 1982, i due bravi alpinisti di Aosta Roberto Arbaney e Danilo Chatrian, partendo da quel poco che resta del vecchio Rifugio Peckoz, ripetono la Via del '70 che definiscono
North Wall Exit out to Summit in "Direct" 1980, by Camillo Roberto Ferronato.
Il 28 Luglio 1984 i due di Pian Felina si ripetono aprendo, insieme a Sandrino Casalegno detto "Lupetto" ed a Maurizio Castellan, una via ancora più a sinistra nonché più diretta. Ma é un errore di percorso ed una volta in ballo
"continuano a ballare"
, in mezzo a grandi scariche di pietre che spazzano in una giornata di forte vento la parete per oltre due ore. Dalle 10,00, ora dell'attacco, fino oltre le 12,30 quando escon dal canale obliquo approdando alla parte superiore. Dan la
"colpa"
agli amici di Fénis e Saint Marcel che simultaneamente stan salendo lo Spigolo Nord-nordest e dei quali ogni tanto si sentono, lontane, le voci.
"Per dio smettete di mandar giù pietre!"
Invece di darla a sé stessi in merito all'ora della partenza. Ma nel 1980, partendo sempre a questa ora e con il tempo anche brutto, non era sceso neppur un sassolino, come racconta anche Amilcare per le sue due ascensioni. Oggi invece sembra proprio una trincea della Prima Guerra Mondiale con l'Emilius armato di potenti ed inarrestabili mitagliatrici. Daltronde questa è una scalata fatta
"su commessa"
. Come su ordinazione? (scusate se faccio un inciso personale, ma purtroppo e per fortuna c'ero anch'io) Si perché quando l'amico Enrico Mauro, Dolomitista d'Auronzo e Guida Alpina del Cervino, mi viene a chiedere di effettuar sta scalata in occasione del posizionamento del Bivacco Federigo Zullo al Colle Carrel poiché il padre del ragazzo vuol fare un film mentre altre cordate salgon lungo lo spigolo, non sono capace a dire di no. Si và, compatibilmente con gli impegni di lavoro. Così quando arriviamo, partendo a Mezzanotte da casa, al colle ormai é notte fonda. Se del "Rifugio" Peckoz si trovavan dei resti, adesso non ci son più neanche quelli. Ci riposiamo all'addiaccio su quattro tavole sgangherate, usando per cuscino due sacchi di cemento semi aperti. Più o meno alle 9,15 un rombo potente ci sveglia: l'elicottero é sopra il colle e sta posando il bivacco appeso a funi di acciaio. Stavamo dormendo così bene! Bando all'ozio si parte. Ecco perché arriviam alla terminale che son oltre le ore 10,00. Non siamo dei Pigroni! Soltanto un fattore contingente ... In ogni caso in entrambe le occasioni facciam la salita in men di sei ore, quest'ultima volta un qualcosina in più. Ma questi giovani non venivano mai sù e quando da sopra gridavo avvisandoli delle scariche in arrivo, si raggomitolavano nel canale come gattini riparandosi sotto l'elmetto. L'Emilius impietosamente li mitragliava ed i proiettili segnavano la neve tuttattorno a loro. Non han preso neppur un sassolino. Questo per farvi capire cosa sia la Parete Nord.
L'anno dopo o 1985, il 29 Giugno giorno dei "Fuochi di San Pietro e Paolo"
, il bravo Alpinista aostano Alberto Sciardi, mentre il fratello lo osserva dalla Becca di Nona, sale in solitaria il Canale Centrale, quello di Falcoz-Mila del 1940; scende tramite la Cresta Ovest (attuale
"Via Ferrata"
con inizio dietro al Federigo) fino al Mont Ròss de Comboè e poi all'omonimo colle ed al Plan di Valé, dove si riunisce al fratello. Una bell'impresa, anche se esula dal nostro discorso delle vie aperte sulla parete nel dopoguerra. Il giorno dopo, dalla Sommità dell'Emilius, scendo per un tratto la Cresta Ovest e vedo le orme nella neve in uscita dalla Nord. Sarò in seguito informato del fatto. Complimenti ancora!
L'ultimo giorno dello anno 1984 registra la prima invernale della parete.
Sono le due Guide della Valpelline Alberto Chéraz e Corrado Framarin ad ottenere questo bel successo ed a festeggiare l'anno nuovo con un bel botto. Il 30 Dicembre arrvano al nuovo Bivacco Federigo Zullo ed il giorno appresso realizzano questa bella impresa salendo la Via Quendoz-Trevisan del 1970, compiendo quindi anche la seconda ripetizione della medesima. Una decisione oculata e saggia, poiché questa via, che sale lungo il Pilastro di Destra od Ovest, é sicuramente molto meno esposta alle scariche di pietre ed alle slavine. Hanno anche fortuna perché non ha nevicato ed i venti han spazzato tutto, tanto che é più
"nera"
di quanto non lo sia in estate. La Dea Bendata aiuta gli audaci. Bravi! Mi dirà Alberto al telefono mentre scrivo per SP "33 ROUTES OF EMILIUS (3559m) First part" nel Giugno del 2009:
"Un tiro di corda veramente difficile ..."
Lo avevo conosciuto nel Luglio 2008 in ospedale, quando m'ero operato per la rottura del tendine di Achille. Veniva a trovare Carlo Ziggiotto un'altra Guida Alpina di Courmayeur, suo amico, che aveva avuto un incidente in montagna. Mai avrei immaginato di sentire della sua morte due mesi dopo, stroncato in una doppia in discesa da un masso che aveva tranciato la corda, così salvando il suo cliente. Sul Pilier Barnazat alla Tour Ronde, il giorno dopo Ferragosto 2009. Gli ho
"perdonato"
di avermi
"fregato"
la prima invernale. Riposi in pace. E pure ho
"perdonato"
il Corrado, che é stato un mio calciatore nella U.S. Aosta Calcio 1911. Semplicemente son stati più bravi di noi, che questo sogno da lungo tempo tenevamo dentro al cassetto.
Perchè nella Vita non si può sognar troppo a lungo ...


Winter North in December 23th, 1977, by Osw.
Ma adesso un passettino indietro nel tempo e nella scansione degli eventi lo dobbiam fare. Perché se é vero che il settore di sinistra era stato rivisitato dopo la bellezza di trentotto (
38!
) anni, l'opposto non vedeva più gente dal 1897! Ovvero settantatre (
73!!
). Quando la comitiva Daniele-Devalle con le loro Guide di Valtournanche Anselmo Pession e Luigi Bich, partita dall'Alpeggio d'Arpisson aveva effettuato la Nord sotto al Piccolo Emilius; una via di traverso che, dopo l'
"assaggio"
di Martino Baretti & Company del 1878, li aveva visti uscire in alto tra questa Sommità e quei gendarmi rossicci della Cresta Ovest.
"Dopo una bella arrampicata per una serie di cornici e di camini, essendo la parete per un buon tratto coperta da neve fresca, la comitiva dovette ripiegare a destra, portandosi sulla cresta Ovest assai aldisotto dei primi gendarmi che sorgono su di essa e cioé ad una cinquantina di metri circa più in alto di quella specie di mano formata da caratteristici spuntoni della cresta Nord dall'altra parte della parete ..."
(Si tratta del vertice del Triangolo Nero a
3378 m
). Così in
"RM C.A.I. 1897"
, alla pagina 385. Continuarono sulla stessa passando con alternanza sul versante Arbolle (Sud) e
"girovagando"
per brevi tratti sulla Nord ed infine nuovamente sull'altro. Uscirono quindi a
circa 3430 metri ovvero a 130
dalla Sommità, il che corrisponde più o meno anche a quanto scrive il Baretti in
Bollettino C.A.I. 1878, pag. 565: " ... un pericoloso e faticoso lavoro di 4 a 5 ore, per quelle roccie tutte coperte di ghiaccio e tagliate ovunque da pareti impossibili da superarsi, difficili a girarsi, ci portò a 100 m. dalla cima. Impossibile prendere più in alto per la condizione delle roccie battemmo in ritirata ...".
Omaggio al coraggio di Questi Intrepidi e Valorosi Alpinisti
, a quanto pare i primi in un serio tentativo sulla Parete Nord dall'Arpisson, dopo la Seneva del giorno prima.
Quindi questa é la situazione temporale quando il 26 Settembre 1970
Renato Quendoz e Giuseppe "Pino" Trevisan arrivano al vecchio Ricovero Peckoz al Colle Carrel; lo stesso può ancor ospitare alpinisti, poichè le mura sono intatte ed il tetto non é ancora crollato. Hanno un progetto ambizioso e qui dormono. Un progetto che avevam già da lungo tempo in mente noi: salire il Pilastro di Destra od Ovest. Ma quando il 13 Agosto 1967, dopo aver scalato la Becca di Nona per la Parete Nord ripetendo la Via del 1966, arriviamo sulla Sommità della stessa abbiamo una duplice brutta sorpresa: la parete é ricoperta da un fine strato di neve farinosa e, secondo e più importante, Ilario non si sente bene ed ha un pò di febbre. Niente, si ritorna a casa. Sarà per un'altra volta. Ma ora che Renatino e "Pino" son qui, Ilario é già morto da giusto un anno. Il 29 di Settembre 1969 insieme a Gianni Junod sull'Aiguille J.J. Croux, Via Ottoz. Anzi son qui per questo motivo, per dedicare una via agli stessi. Renato ha già effettuato la quarta ascensione della Parete Est proprio con Ilario il 18 Luglio 1969, mentre "Pino" è un giovane che s'é inserito non da molto tempo nella nostra compagnia. Con lui avevo aperto una via sulla Parete Ovest della Roccia Viva nel Luglio 1968 e fatto altre belle vie nel 1969; ma adesso tutto é cambiato e lui và con Renato, che é sempre uno dei nostri ma con un
"giro"
un poco diverso. Insieme da breve tempo, il 27 di Agosto, hanno aperto una bella e difficile via (IV°+ e V°+) sulla Parete Est della Cima Sud della Arolletta Superiore o Settentrionale
(3117 m)
, più diretta ed a fianco della Via Cristiano-Danusso-Fornelli del 28 Settembre 1969. "Renatino" é un arrampicatore di piccola statura ed anche "mingherlino"; non possiede potenza ma supplisce con una tecnica sopraffina che consente a lui di arrampicare sempre tranquillo e con grande serenità. Misurato nei movimenti, é padrone della roccia fino al massimo dei gradi ed inoltre é equilibrato, modesto ed é capace, se é il caso, di rinunciare. Di lui ho potuto sempre ammirare la semplicità, la modestia e la moderatezza. Scuola "Angelino" Bozzetti, C.A.I. di Aosta. Il 6 Agosto del 1967 ho fatto insieme a lui una via nuova sulla Vierge de l'Arolletta
(2924 m)
, sul Pilastro Est a destra delle vie Picchiottino-Robino del Maggio 1965, della Carena-Cristiano-Fornelli-Balmamion-Rattazzini e della Variante Manera-Giglio entrambe del 1966 e di altre vie realizzate ad Ottobre, nonchè a sinistra della Parete Est-nordest realizzata dalla forte Guida Pietro "Piero" Rosset con Enrico Donadoni nell'Agosto del 1953. Si tratta d'un grande pilastro di
oltre 400 metri
. Un'idea di Renato che ha già provato la salita con Ruggero Busa, il cugino di ilario. Ma sono tornati indietro, come siam ritornati pur noi a
circa 200/220 metri
, dopo aver superato passaggi di IV°+, V° ed uno veramente ostico di VI°. Ma la notte aveva piovuto e la roccia da bagnata era diventata pur sempre umida. Così Renato ha deciso, raggiunta la via 1966 a lato, ch'era meglio rientrare, vista l'ora tarda. Siam scesi, dopo una corda doppia
"balorda"
, perchè non avevam ben pareggiato le corde, in
"arrampicata libera"
nella gola subito a destra. Anzi, io ancora 10 metri sopra, perchè le corde non scorrevano più ed ho dovuto liberare Renato. Un'avventura nell'avventura, considerata una
"défaillances"
, perché tale era, a quei tempi, se non raggiungevi la Sommità. Tanto che quando nel 1971 uscì
Alpi Pennine Vol. I°"
di Gino Buscaini non era nemmen citata. Renato l'aveva già messa nel dimenticatoio. Ho dovuto ricordargiela. Se la era quasi scordata. Ma era bravo anche in ghiaccio, come ho potuto apprezzare il 7 Luglio 1968 sulla Nordovest del Gran Paradiso: in testa alle due cordate aveva tagliato gradini per
80 metri
sul
"verglass"
a 60°; con i nostri ramponi da misto a otto punte (più o meno come quelli di Amilcare e Compagni nel Luglio del 1930) e con due chiodi semitubolari, che oggi farebbero morir dal ridere. Per sicurezza una gamba dentro fino allo inguine in una crepaccina di meno d'un metro. L'altra fuori a penzoloni. Mentre "Renatino" tagliava buttando ghiaccioli grandi come una mela giù per lo scivolo. Tecnica laterale sopraffina e doti di grande equilibrio statico-dinamico. Il "Pino" era un buon secondo e così bene assecondava il "Renatino". Con lui ed altri ho rifatto la Nordovest il 22 Giugno 1969 ed altre belle salite, soprattutto in ghiaccio. Ho rivisto Renato in montagna il 9 Settembre 1973: lui andava al Grand Combin con il C.A.I. di Aosta per la Normale della Spalla Isler, noi alla Cresta Ovest. Tutti partendo dalla Cabane di Valsorey, in una giornata terminata in mezzo a gran temporale. Poi credo che abbia smesso di andar in montagna. Quando ho rivisto il "Pino" nel 1998, dopo aver fatto da solo il Canalone Ovest di destra appena a lato della loro via, mi son sentito rispondere:
"Ma fai ancora quelle cose?"
Son rimasto perplesso.
Proprio vero, nella Vita tutto passa ...


Western Pillar, an old Idea of Osvaldo, by Ilario Antonio Garzotto & Osw.
Ma non quella mattina del 27 Settembre 1970, perché "Renatino" ed il "Pino" son motivati al punto giusto ed in forma. Attaccano alle ore 7,00, aggirando in basso gli unici crepacci del Ghiacciaio Occidentale d'Arpisson arrivando alla base nella massima depressione. Iniziano tramite un diedro-cengia in diagonale destro, fino ad altri due diedri paralleli, sfruttando quello di sinistra tramite una fessura e raggiungendo delle rocce rossastre. Passano a destra toccando con
40 metri
un'ampia cengia con terriccio, quindi seguono una rampa a sinistra raggiungendo la vera base del pilastro-sperone. Aggirano a sinistra una paretina grigiastra. Qui lo spigolo, di rocce brunastre, si delinea nella sua eleganza e l'attaccano sulla sinistra per rocce non buone e sfruttando fessurine entrano in un diedro grigio e difficile (V°-, 1 chiodo lasciato) fino ad un punto di sosta; tramite una cengetta attraversano
due metri
a destra e per placche fessurate (1 chiodo) raggiungono il bordo contro il canale a destra raggiungendo un terrazzino al di sopra tramite rocce arrotondate scars d'appigli. Quindi superano una placca seguita da fessura con sassi instabili. Continuando in verticale per rocce più facili ma insicure raggiungono una terrazza con spuntone caratteristico sulla sinistra, ove costruiscono un ometto; seguono lo spigolo per un'altra lunghezza di corda fino ad una fessura con licheni ed a sinistra un diedro verticale di 4 metri, ben appigliato. Una successiva fessura molto esposta (III°+/IV°) conduce ad un primo torrione rossastro che si attraversa a sinistra tramite placca con lichene (IV°+, 1 chiodo lasciato); raggiungono così la caratteristica
"boite à lettre"
a destra; questa li costringe a toglier lo zaino raggiungendo a sinistra il culmine della torre. Proseguono per rocce più facili e placche a destra verso una fessura che salgono uscendo sopra un terrazzo (IV°). Le restanti placche ed un altro canalino li portano ad una successiva (1 chiodo d'assicurazione); proseguono in successione verticale per un altro canale e fessure più facili fino al di sotto d'una zona con placche nere, delimitata sulla destra da un secondo grande torrione rossastro. Continuano tra placche ed il medesimo tramite un diedro rosso seguito da rocce più rotte e dalla terrazza soprastante seguono quasi integralmente il filo dello spigolo raggiungendo la Cresta Ovest ad un
centinaio di metri
dalla Cima. La via é fatta, il Pilastro é vinto. Per sempre. Mi dirà il "Pino":
"Ma gli ultimi 200 metri, quelli più facili ma con tutti quei massi accatastati in bilico. Non vedevo l'ora d'esser fuori!". Perchè, Signori, la Parete Nord é anche questo ...


Mountain Guide Cogne Aldo Cambiolo, by Roberta Vittorangeli.
E veniamo agli Anni 90. Così era stata sintetizzata in
"33 ROUTES OF EMILIUS (3559m) First part"
questa salita che apre le porte a questo decennio riguardo la Parete Nord dello Emilius: (12) *** N-NW Face ("Couloir Fantasma"-"Phantom Gully", new route): Aldo Cambiolo and Pier Luigi Sartore; Jun 16/17th, 1990; d. in lev. 460m; (45°/85°); TD-/ED/TD+. Ormai, dopo la salita di Sciardi del 1985, sono cinque anni che non si verifica più nulla, sei rispetto ad una via nuova se teniamo il conto partendo dalla
"Superdiretta"
del 1984. L'idea di questa via viene al ghiacciatore di Aosta Aldo Cambiolo, Aspirante Guida dal 1988 e poi Guida Alpina dal 1991. Una linea alla quale avevo pur pensato anch'io fin dal 1968, quando da ragazzo fantasticavi, magari su d'una cartolina, sulle salite che avevi in mente di compiere (
vedi foto in B&N sopra
); ma con altri obiettivi, ovvero pensando di tracciare una via diretta alla Sommità. Allora si era ben distanti dall'
Era dei Ghiacciatori
e le attrezzature dell'epoca non avrebbero certamente consentito una tale
performance"
. Una grande scarica di pietre durante la scalata del 1980 per la
"Via Diretta"
, tramite però il canale obliquo nella parte inferiore, mi aveva distolto completamente da quest'idea un pò folle. Proprio appena sopra, presso un torrione, avevo visto staccarsi la medesima e prendere con grande fragore quella direzione. Meglio così che non giù pel canale ove stavam salendo noi. Cancellata per sempre ogni velleità in quel senso. Roba da matti o da suicidi. Invece ad Aldo, forte ghiacciatore (ha pubblicato tre libri in merito, tra i quali uno con il
"Maestro"
Gian Carlo Grassi) come il suo compagno di Aosta Pierluigi Sartore, viene in mente questa linea, come lor le chiaman nello specifico gergo. Sarà una salita interamente su ghiaccio lungo quell'esile "budello glaciale" accompagnante il Triangolo Mero sulla sua destra od Ovest. Tra questo ed il
"Mammellone"
salito da Ourlaz nell'Aprile del 1942; anche
"Dulo"
aveva attaccato qui per poi traversare subito a destra su questo grande avancorpo che si infrange tra i due Ghiacciai di Arpisson. Per la qual cosa questa via é divisoria il Triangolo vero e proprio dalla Parete Nord. Direbbe "Piero" (é mancato ad Ottobre):
" No, no, questo non é Triangolo"
, come diceva per la Via Libera Marlier del 2006, più a sinistra.
"Il vero Triangolo é quello che abbiamo fatto noi nel 1960; lo vedi dal disegno geometrico. Quello più in là ti sembra un triangolo?"
. Tagliando la testa al toro, diciamo noi, che non é neppure Parete Nord. Signori mettetevi daccordo su quello che é. Daltronde, con le dovute proporzioni e rispetto, anche il Grand Pilier d'Angle ha una faccia rivolta a Nord ed una ad Est, ma sempre e comunque Grand Pilier d'Angle é. Mettiamo questa via con quelle della Nord e poi la metteremo di nuovo anche con quelle del Triangolo in una futura pagina. Salomonicamente, con buona pace di tutti. Sicuramente però é una bella via che ...
"Deve essere affrontata esclusivamente in presenza di ghiaccio"
, come dice Aldo. Come la chiama Lino Fornelli in
"Emilius Rosa dei Banchi parco del M. Avic"
ad opera dello stesso con Giulio Berutto, Ed, C.A.I./T.C.I., alla pag. 124:
"Durante la stagione primaverile, quando inizia il processo di scioglimento della neve in parete, si forma sulla destra una colata di ghiaccio effimero (couloir fantasma) che segna la parete come volesse dividere lei in due. Questa é l'unica salita di questo genere del gruppo. Il sottile strato di ghiaccio non ..."
. Una salita che, a nostro avviso, deve rimanere effimera e non più ripetuta poiché troppo pericolosa, anche se consente di effettuare una chiodatura sulle rocce a lato. Come hanno fatto i due, che la hanno realizzata di notte trovando un
"buon ghiaccio, poroso ma delicato"
per arrivare poi, piegando a sinistra (Est) sul Triangolo ed infine scendere a corda doppia nel canale obliquo.
Passano oltre otto anni senza che succeda nulla.
Fino al 12 Luglio 1998 quando Christian Cardellina compie la seconda salita solitaria della Via Binel-Crétier 1927, dopo quella del Luglio 1967 di Gianni Pais Becher; si tratta della terza solitaria della parete considerando anche l'ascensione di Alberto Sciardi nel 1985. Viene compiuta in giornata da Pila a Pila, partendo da casa alle 9,00 ed arrivando puntuale per l'ora di cena alle 19,00. Come fà di solito Christian, "Granpa", Grivola ed Herbetet compresi. Solo per la Nord della Gay si ferma al Bivacco Martinotti con il forte Roberto Marchisio di Torino (tutte le vie della Nord dello Eiger da solo in una settimana), compagno di camera sotto la
"Naja"
. Il padre, che come tutti i padri vien sempre a saper le cose per ultimo, informato dal "Peppino" Lamazzi in occasione dell'inaugurazione del Rifugio di Arbolle il 19 Luglio, punto nell'orgoglio non vuol esser da meno. Così un mese dopo apre da solo una via nuova e molto pericolosa nel Canalone Ovest o di Destra, quello a fianco della Via Quendoz-Trevisan 1970, che già conosceva dal 1974 nella parte finale arrivando in traversata dalla Cresta Ovest. Sempre in giornata da Pila. Perbacco, dov'é andato a finire il rispetto? Così sempre in
First Part
: (3) N Wall and W Arête (Right Couloir, new route): Osvaldo Cardellina, solo; Aug 09th, 1998; in day from Pila; diff. in lev. 720m (640+80m); (50°, 60°, 65°) D+/TD-/D-.
Ezio Marlier on Northwest Wall Black Triangle in October 2006, by Rossano Libera.
Siamo all'Epilogo con gli Anni 2000. Quando Ezio Marlier, forte ghiacciatore di Pollein e Guida Alpina di Cogne, apre il 19 Novembre una nuova via solo nel settore destro, tra il canalone Occidentale e quello spigolo arcuato, che la separa dal tratto di minor altezza e sottostante il Piccolo Emilius ed il Mont Ròss de Comboé. Così in
First Part"
di SP: (2) N Wall and W Arête (Right Route-"Spirito Libero" - "Free Spirit",new route): Ezio Marlier, solo; Nov 18/19th, 2006; diff. in level 720m (610+110m); (IV°, 4, M4); TD-/TD.
Così dice Ezio:
"In occasione della salita di Bocconi Amari sul Mont Emilius, con Rossano Libera, ci rendemmo conto delle future potenzialità possibili su quella parete: un dedalo di righe bianche che aspettano la prima salita. Dopo Bocconi Amari e quanto riportato dalla ripetizione dello straordinario e fortissimo Robert Jasper, mi sento appagato, orgoglioso, ma l'ennesima "situazione particolare" non si fa aspettare e bussa alla mia porta, e mi ritrovo con lo zaino carico attraverso il vallone di Comboé a pestar neve per raggiungere la base della parete nord del Monte Emilius.
Devo solo scegliere da dove salire, le possibilità sono diverse, ma quale sarà la più fattibile? Quanto sarà difficile? Riuscirò a passare? Non so niente di questa via! Non ho nessuno con cui consultarmi e condividere incertezze e paure. "Mica te lo ha ordinato lo psicologo di venire fin qui… decidi… sali o torna a casa!" Sono in cima alle 15.00… dopo 9 ore di salita, è appena nata "Spirito Libero" (600 m. IV/4/M4).
Per l'ennesima volta ci si sente forti e indistruttibili, un sentimento che però dura quanto un battito di ciglia, fino alla "situazione particolare" successiva, a quella che fa ricadere nelle proprie fragilità, e come un muro si pone di fronte fino a farti sbattere la faccia.
Ancora una volta il sudore bagna il viso. Percorrendo sentieri nella neve e nella solitudine più totale, lo zaino sempre più pesante mi accompagna alla base di un'altra sconosciuta parete, con l'idea di scovare nei suoi anfratti una possibilità di salire in vetta.
Valle d'Aosta - Monte Emilius
SPIRITO LIBERO
Prima salita: Ezio Marlier in solitaria 18-19/11/2006
Difficoltà: IV-4-M4
Lunghezza: 600m
La via: Bella linea in ambiente straordinario e isolato (vedi Bocconi amari).
Materiale: Alcuni chiodi in posto. Serie di friend fino al rosso camelot, nuts e chiodi.
Avvicinamento: Come per bocconi amari fino alla base della nord, invece di proseguire verso il triangolo nero dirigersi alla base della linea.
Discesa: lungo la ferrata che riporta al bivacco Federigo.".
Con questa salita si chiude la nostra disamina
, anche perché non credo che altro sia stato realizzato in questi ultimi otto anni. Per la Parete Nord del Monte Emilius si é quindi realizzata una evoluzione con questi
"geroglifici"
tramite i quali s'esprimon sti giovani
"moderni"
, anche se Ezio, che é stato mio alunno a scuola, giocatore di pallamano nonché un mio slittinista, tanto più giovane non é più neppur lui.
Noi siam rimasti dal Primo (I°) al Sesto (VI°) Grado: era la "Nostra Epoca"
. Questa bell'impresa, insieme a quella del Triangolo Nero della quale parleremo in futura e specifica pagina, era comunque per lui più che
"doverosa"
, poiché é nato, cresciuto ed abita ancora in quel di Pollein.
Proprio ai piedi della Faccia Nord dell'Emilius.
Facciamone rapidamente un profilo dal punto di vista Storico-Cronologico.
27 Settembre 1970: Renato Quendoz e Giuseppe "Pino" Trevisan, con partenza dalla vecchia Baracca Peckoz presso il laghetto omonimo.
31 Agosto 1980 ("Via Diretta"):
Osvaldo Cardellina e Camillo Roberto Ferronato, via diretta alla Sommità nel settore Orientale, in giornata da Pila.
Metà Ottobre 1982:
Roberto Arbaney e Danilo Chatrian, prima ripetizione della Via 1970 tramite identica partenza.
28 Luglio 1984 ("Via Superdiretta alla Sommità"):
Osvaldo Cardellina con Camillo Roberto Ferronato e Alessandro "Lupetto" Casalegno con Maurizio Castellan, via diretta alla Sommità più a sinistra e sempre nel settore Orientale, in giornata da Pila.
30/31 Dicembre 1984:
le Guide di Valpelline e Quart Alberto Chéraz (+ 16 Agosto 2009 Tour Ronde Pilier Barnazat) e Corrado Framarin, prima invernale della Via 1970 e prima invernale assoluta della Parete Nord, con partenza dal Bivacco Federigo Zullo.
June 17th, 1990 ("Couloir Fantasma"):
la Guida di Aosta Aldo Cambiolo con Pierluigi Sartore, partendo dal Bivacco Federigo Zullo presso il Colle Carrel.
09 Agosto 1998:
Osvaldo Cardellina, solo, via nel Canalone di destra nel settore Occidentale, in giornata da Pila.
18/19 Novembre 2006 ("Spirito Libero"):
la Guida di Cogne Ezio Marlier, solo, nel settore Occidentale tra il canalone ed il Piccolo Emilius partendo dal Bivacco Federigo.
Photographing the Routes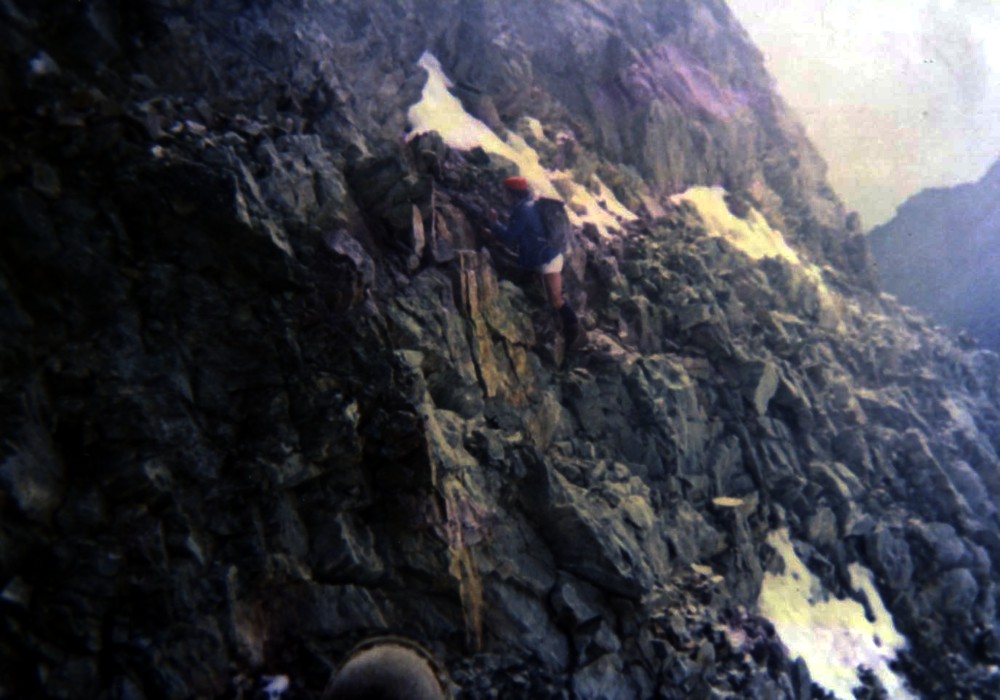 North Wall into Western Couloir towards West Ridge 1974, by Osw.
During "Direct Route" in August 1980, by Camillo Roberto Ferronato & Osw.
After "Direct Route" in August 1980, by Various Authors.
Lower part "Superdirect Route" in July 1984, by Alessandro Casalegno & Camillo Roberto Ferronato.
Steps in Middle part on "Superdirect Via" 1984, by C. Ferronato, M. Castellan & buxlex.
At beginning on Upper part "Superdirect Via" 1984, by Camillo Roberto Ferronato & Maurizio Castellan.
Terminal part 1984, by Camillo Roberto Ferronato & Emilio Bertona.
North Wall exit out from Upper part of Right Couloir to Top 1974, by Osw.
M. Emilius North Wall: All new routes of the postwar period / Ten part-2)
Route
75 Images
0 Climber's Log Entries
0 Comments
0 Additions & Corrections
Geography
Nearby Routes
Interactive Map
Routes in Italy