Going through the whole valley by Les Druges towards Mulàc and Grande Chaux Hunting Houses: from Les Druges "Low"
(1567m)
a last bend in the road asphalt leads to the "High", where shortly afterwards becomes paved farm road not more (signs in brown at the last house). From Les Druges "Alte" suddenly into the forest leads to the
Picnic Area
beyond which a short descent leads to the cartel prohibition for the cars just before the Pouria Pasture (
1586m
; no more than three cars). Continuing uphill the private dirt road reaches, with soft ascent, a grassy esplanade at the edge of the forest with to the North an ancient ruined alp and in South the construction known as
"Garages"
below the ruins of the
"Trèves Furnace"
, just before the fork in the torrent (still many yellow signs up at the furnace in left and down at Viplana Village in right
(1346m)
with path
n° 3
). Continuing on the farm road to the West through a long diagonal leading to the location Vargney
(1676m)
at some dumps of ore burned. Take Southbound the small path
n° 16/18
addressed to the Coppermine of Servette and then to Lavanche Pasture (
2071m
; suggestive way to transport the mineral with high stone walls and connecting with the Mines Praborna) and Crotey Dèsott Alp
(2348m)
, under Mont Roux
(2277m)
. Also starting from the small and last lay-by beyond the rocky-wooden dump of the above abandoned Coppermines Chuc-Servette, and after rounding the cape entering the real vallon. A short descent leads to the base of a small trickle of water (not drinking dirty because with the sour taste of soil and copper) with the foot a rocky escarpment that rushes to the Torrent de Saint Marcel. Keep going towards South flexing a little to the right (South-southwest) with beautiful views of the overlying dry stone walls and the stone buildings designed to house the miners. Pass a new short ascent with beautiful views of the Group of Rouèses and wild Vallon Arpisson. Another descent, after leaving to the left (East) deviation
n° 16
for Servette, leading to the end of the same. After passing a small gate (signals of private property and border of the
"Preserve of Grand Avert"
by Marquis Turati of Turin ex Baron Giuseppe Antonio Beck Peckoz of Gressoney) and after a short descent bypassing Eteley Pasture
(1750m)
and abandoning Northwest the crossroads with path n°
n° 4G
towards the Alp Choulet and Arpisson Vallon, remount passing through Mulàc Hunting House (
1937m
; beautiful fountain with wooden steinbock) boarding on the right (Northwest) the ancient Manganesemine of Praz Bornaz also Prabor(g)na, reached from alternative
1836 metres
through deviation
not numbered
and abandoned for years now (
1882m
;
E/F; 2h'00/2h'30
). This must be considered the
Basic Itinerary
from which branch all variants for Mines Servette and Praborna, they exclude the underlying Chuc Copperminne.
Specific and direct route
: before making the descent to the waterfall, goes up, instead through the trail
n° 16
above the dirt road, reaching the various upper mines amongst the renovating
Miners Village
. From these, however, you can also be reached through other paths of entry, continue with the path which now becomes exclusively
n° 18
. But abandon it when the same direction varies from Southeast to South in altitude of
about 2050/60 metres
and,
without forced trail
inside the thick forest, following a small dried torrent by
2059 to 2202 metres
(caution for presence of wild boars!) to reach the small saddle
2260 metres around
, from which join with the previous route through Fontanafredda, Bren, prapremier Pastures and by the Southern Crest from Alp Corquet (
EE/F; 1h'30/2h'00
from the highest Coppermine of Servette;
2h'45/3h'15
in all).


Just before we must abandon the dirt road taking the path n° 16/18 towards Servette Coppermines,

by Osw 2015
Via B)- (Da Les Druges "Alte" transitando dalle Miniere di rame di Servette e Versante Occidentale)
Percorrendo l'intero vallone: da Les Druges
"Basse" (1567 m)
un ultimo tornante della strada in asfalto conduce a quelle
"Alte"
, dove poco dopo si trasforma in strada poderale non più asfaltata (cartelli in colore marrone presso l'ultima casa). Da Les Druges
"Alte"
un tratto nella foresta conduce all'
Area Pic Nic
, oltrepassando la quale una breve discesa conduce al cartello di divieto per i mezzi appena prima della località Pouria (
1586 m
; non più di tre posti auto). Continuando in leggera salita la strada poderale raggiunge una spianata erbosa ai limiti della foresta con a Settentrione un'antica alpe diroccata ed a Sud una costruzione cosiddetta
"Garages"
appena prima della biforcazione del torrente (ancora vari cartelli gialli, in alto in direzione della soprastante
Fornace Trèves"
nonché delle abitazioni dei minatori ed in basso verso il Villaggetto di Viplana
(1346 m)
con sentiero
n° 3
). Continuando sulla poderale verso Occidente un lungo diagonale porta alla località Vargney
(1676 m)
presso alcuni piazzali sovrastati dalle discariche del minerale combusto. Prendere verso Ovest il sentierino
n° 16/18
indirizzato dapprima alla Miniera di Servette e poi agli Alpeggi Lavanche o lavanché (
2071 m
; suggestiva strada per il trasporto del minerale con alte mura in pietra su di un ponticello e collegamento con le Miniere di manganese di Praborna) e Crotey Dèsott
(2348 m)
), con percorso sempre al di sotto del Versante Occidentale del Mont Roux
(2277m)
. Oppure a partire dalla piccola piazzola al di là dell'ultima discarica dell'abbandonata miniera di rame Chuc-Servette, e dopo aver doppiato il promontorio roccioso-boschivo entrando nel vero e proprio Vallone di Saint Marcel. Una breve discesina conduce alla base di un rivoletto d'acqua proveniente dalle miniere di rame (non bere perché sporca di terriccio e con il sapore acidulo del rame) con ai piedi una scarpata rocciosa precipitante verso il Torrent de Saint Marcel. Proseguire ancora verso Mezzogiorno flettendo un poco più a destra (Sud-sudovest) con bella vista sui soprastanti muraglioni di pietra costruiti a secco e sulle abitazioni in pietra atte ad alloggiamento dei minatori. Superare una nuova breve risalita con bella vista sulla Catena delle Rouèses e sul selvaggio Vallone di Arpisson; un'altra discesa, dopo avere lasciato a sinistra (Est) la deviazione
n° 16
per le Miniere di Servette, porta al termine dell'area medesima. Dopo aver superato un cancelletto (segnalazioni di proprietà privata e confine della
"Riserva del Grand Avert"
di proprietà del Marchese Attilio Turati di Torino, nonché ex Riserva di proprietà del Barone Giuseppe Antonio Beck Peckoz di Gressoney) e dopo una breve discesa superando l'Alpe di Eteley
(1750 m)
e lasciando a Nordovest il bivio con sentiero
n° 4G
per l'Alpe Choulet ed il Vallone d'Arpisson, rimontare passando affianco alla Casa di Caccia di Mulàc (
1937 m
; bella fontana con stambecco in legno), con immediatamente sulla destra (Nordovest) l'antica miniera di manganese, raggiungibile dal bivio con deviazione
non numerato
ed abbandonata ormai da molto, di Praz Bornaz o Praborna od ancora Praborgna (
1882 m
E/F; 2h'00/2h'30
). Questo deve esser considerato l'
Itinerario di base
dal quale si dipartono tutte le varianti per le Miniere di Servette e Praborna, esclusa quindi quella di Chuc.
Via specifica e diretta:
prima d'effettuare la discesa verso la cascatella, proseguire invece tramite il sentiero
n° 16
soprastante alla poderale raggiungendo le varie miniere superiori presso le abitazioni del ristrutturando
Villaggio dei Minatori
. Da queste, peraltro raggiungibili anche tramite altri sentieri d'ingresso, continuare con il suddetto, che diventa esclusivamente
n° 18
, ma abbandonarlo quando varia direzione da Sudest verso Sud a quota
2050/60 metri circa
e
senza percorso obbligato
dentro la fitta foresta, seguendo un torrentello essiccato da
2059 a 2202 metri
(prestare attenzione causa la presenza di cinghiali!), raggiungere la piccola Sella
2260 metri circa
, donde congiungersi con il precedente itinerario dall'Alpe Corquet e tramite la breve Cresta Meridionale (
EE/F; 1h'30/2h'00
dalla miniera superiore di Servette;
2h'45/3h'15
complessivamente).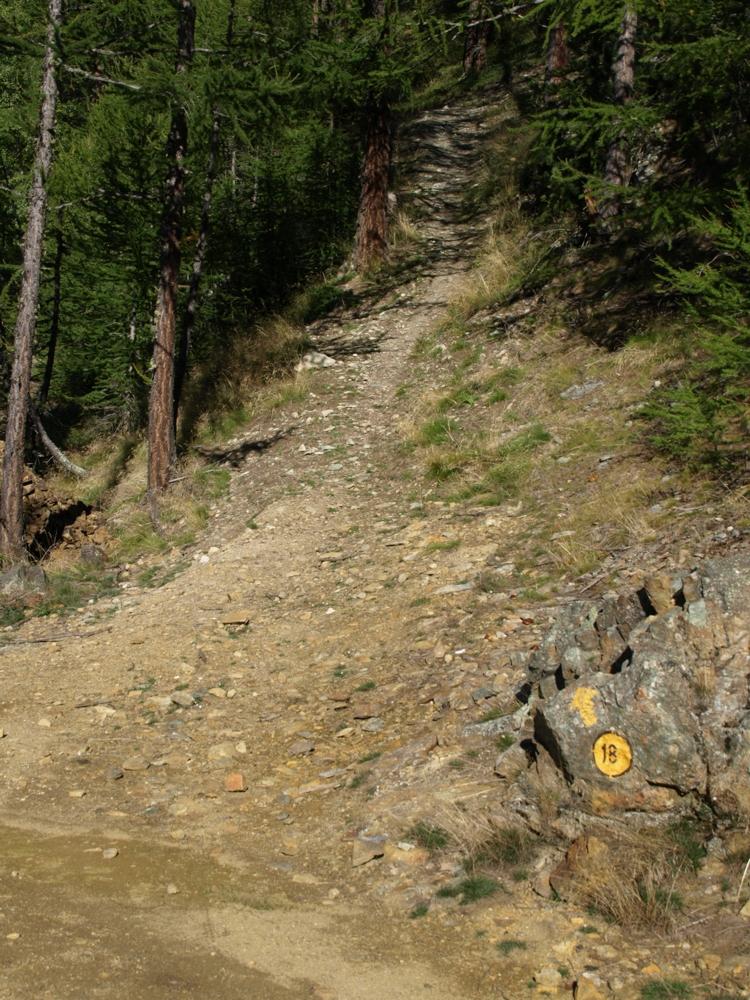 Just after the Upper Mine taking the path n° 18 towards Crotey & Levanché Alps always below the Western slope Mont Roux,

by Osw 2015
Difficulty & Equipment
DIFFICULTIES
These routes can be considered
E/F or EE/F+ (Experts Hikers)
in winter (even by snowshoes or Ski), but require ability to track the path.
Gli itinerari sono da classificarsi in
E/F oppure EE/F+ (Escursionisti Esperti)
in inverno (anche tramite Racchette da neve od in Scialpinismo), ma richiedono capacità di rintracciare il percorso.
Northern Slopes above St. Marcel high hill, by Maria Grazia Schiapparelli
EQUIPMENT
Hiking gear, in winter as for Ski-Mountaineering or with Snowshoes.
Da Escursionismo, in inverno da Scialpinismo o con Racchette da neve.