Overview
Mount Catherine is a semi-popular summit located just south of the Hyak ski area near Snoqualmie Pass. The summit is especially popular in winter because it can be (provided you find the correct route in snow) be an easier summit to do in winter and the fact that there are no fees at the trailhead. The mountain is though a good destination in summer because the mountain a trail all the way to the summit, has only a 1500 foot elevation gain, and the footing on the trail is very good. As for the views on a clear day they are decent views of Silver, Tinkham, and much of the Snoqualmie Region. This mountain used to be an unknown gem however it has seen a dramatic gain in popularity in recent years due to it relative proximity to Seattle and the ease of the trail.
Route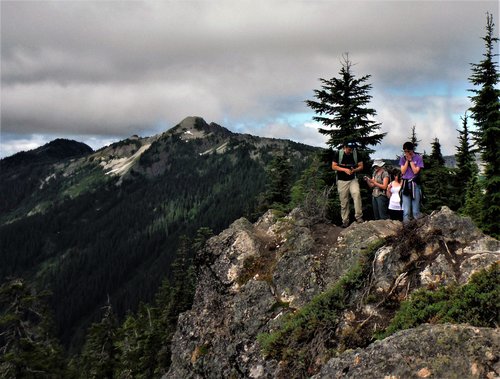 The YDS Class 1 trail starts off of Road 9070. In winter this road is snowcovered and is used for cross country skiing and will add at least 9 miles roundtrip to your plans. The roughly 3.5 miles roundtrip with 1500 feet of elevation is mostly a moderate pace containing a large number of switchbacks on the first half until the ridge is attained. On the second have the trail follows the ridge and then continue along the eastern side of the mountain. The trail then hit the final summit block. There is a 50 foot Class 2 scramble it complete with a cable attached to it. There is no real exposure to the low impact ending however the summit is someone airy with west facing cliff. This is the where the views of Silver and Tinkham can be found.
Getting There
VIA THE SUMMER TRAILHEAD: From I-90 take exit 54. Head south on the road toward the the Hyak Ski Area. Make a right onto Hyak Drive E. Head all the way thru the ski area to the gravel road. This gravel road will change into Road 9070. Follow it about four miles until just before the Olallie Meadows. The trail will start on your righthand side.
Red Tape
No Forest Pass or Permits are needed for this mountain.
Camping
Backcountry bivy spots can be found on the side of the trail however this mountain is easily a day hike. In fact I am not the most in shape hiker and I tagged Mount Catherine in 35 minutes. Though not as popular as Si or Mailbox, this mountain does receive traffic and would not make for the most private of camping areas.
External Links
Evening hike up Mount Catherine
Another trip report
Weather Conditions
alt="Click for Snoqualmie Pass, Washington Forecast" height=60 width=468>
style="display:block"
data-ad-format="autorelaxed"
data-ad-client="ca-pub-6523272176520096"
data-ad-slot="7132222476">