Overview
Ever heard of Olallie Point. Neither had I until I decided to head up searching for Hall Point and stumbled on what I thought of Hall Point but what turned out to be Olallie Point. Yes that is right, that towering rock that lies right above the Deception Crags climbing area is Ollalie Point. It is impressive to look at from the John Wayne trail. And though it is little more than a mile and a half to get to the views from the top of Olallie Point are clearly great and well worth the effort. You can see clearly down I-90 including McClellan Butte, Web Mountain, Mount Defiance, Mailbox and Dirtybox. 
It should be noted that many mistake this as Hall Point even though there is a sign on the trail showing Ollalie Point and later up the trail a sign showing Hall Point. Olallie Point is even listed as Hall Point on Peakbagger.com but that is clearly incorrect. Hall Point is a small rock outcrop on the way up to Hall Creek Trail which features a good view of Oliallie Point and the I-90 corridor. Because it has zero prominence and there is no real good scrambling routes up Hall Point I will not write that destination as a page. Olallie Point is very different in that Olallie Point clearly stands out from the saddle connecting the ridge to Hall Point and Point 4320, the highest point on the ridge. The prominence is a little more than 50 feet but it feels like a lot more when you consider the short challenge you have to go through to get there. The final scramble to the top requires in parts a somewhat forested knife edge traverse to the highest part of the point. Though very brief, this exposed Class 3 section should be taken with caution and should not be attempted in snowy, wet or icy conditions. A fall from the short scramble section would be fatal.  Once on top enjoy what is a dazzling view of the surrounding area. 
Getting There
VIA Exit 38 on I-90: Once off of the road head east for about one mile until you see a parking area for Olallie State Park on your left (1 mile). Park there and walk to the east 200 yards to the gated trailhead on your righthand side. 
Route
Start from the trailhead of Zig Zag Trail and take it up to the John Wayne Trail, which was formally a railroad that cut through Snoqualmie Pass. You will notice it by the very large bridge that goes over Hall Creek. From there go over Hall Creek and go past a number of good sport climbing areas. From there you go over another small bridge. If you look carefully you will see the Change Creek Trail that goes up behind the bridge. Take this trail go up as it steeply switchbacks up a steep wooded slope. From there this trail will continue to rise up this slope. As you go higher there will be a number of good views off to the east. Continue on the trail as it steeply rises all the way to the saddle separating Hall Point and peak 4360 and Olallie Point. There is a well marked path stating Olallie Point from trail (There is also a trail cut up from the north end that avoids this sign. Use the path.)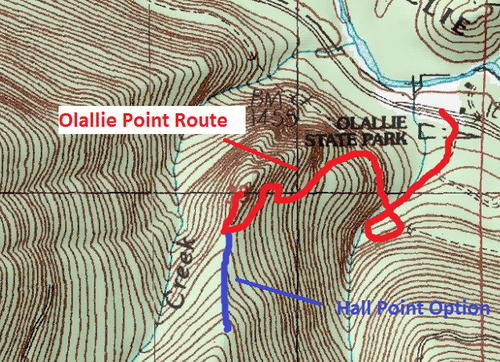 Once you hit the sign showing Olallie Point take the path north to the end toward Olallie Point. This path gets very narrow and there are a number of very short yet very scrambly areas where a fall could be fatal. All of these sections are one or two knife edge moves but caution is definitely needed on this section which is why I am listing it as
Class 3
. Once pass the knife edge section from there it is a clear hike to the end where dazzling views await.    
Red Tape
Discover Pass required which is $10 for the day or $30 for the year. 
Here is the link to the Discover Pass
When to Climb
You can head up Olallie Point at any time of the year. The last little scramble to the summit can be
very dangerous in wet or icy conditions and should not be attempted in snowy conditions
. If you run into these conditions than press on a 1/2 mile to the Hall Point rock outcrop instead.
Camping
No camping allowed at the park. Parking is only available from dusk until dawn. 
External Links