A CampTrails external frame backpack bought in the mid-1970s. Unlike the cheap, screw-together external frame packs available today, this one has a welded aluminum frame (no screws), its made of high quality aircraft aluminum, and has survived numerous falls, being tossed around through airports and on third-world buses, and still keeps going. The actual nylon sack has been repaired many times over the years, mostly due to squirrels tearing through it to get to food (amazing how fast those little varmits work when you turn your back for just a few seconds!). Its easy to adjust the hip belt and shoulder straps for different size loads, too. I've got an internal frame pack, but if I'm going on a trip thats just trail hiking or easy off-trail stuff, its the pack I'll choose first. This picture is off of Ebay, and its in pristine condition compared to mine. The seller wants $75 for it.
About that same time I was working in the SF Bay area and purchased a 'factory-second' North Face Superlight sleeping bag (5 degree F) and a North Face Westwind tent (a three hoop tunnel-style tent) from the old outlet store in San Leandro. Still use the sleeping bag occasionally in summer, haven't used the tent in a few years (kinda heavy). Picture of a similar tent (no, its not my rifle either).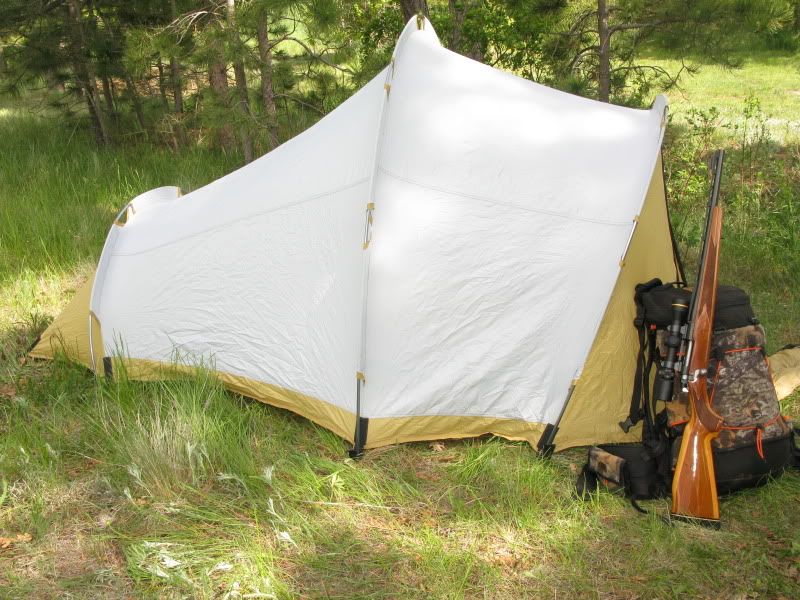 I did have a SVEA 123 stove from the early 1970s, but it got crushed when I backed over it with a car in the late-1990s.
Not a lot of heat output for its size/weight, and eavier than today's stoves, but it was extremely reliable.