Overview
Raccoon Creek State Park is one of western Pennsylvania's finest areas for outdoor recreation. Started in the 1930s as a National Recreation Area, the park has grown in notoriety through the years. Although there are no mountain peaks in this part of the world, you'll find a vastly undulating terrain that provides some beautiful hiking opportunities. The highest elevation in the park is just over 1,200 feet and the valleys drop to about 800 feet.
The park is most well known for its abundant number of wildflowers, to which, it also has a Wildflower Reserve on the eastern side of Route 30. In the spring and summer there is no more naturally beautiful place in the Pittsburgh Metro Area. With over 40 miles of trails, you are sure to find some beautifully secluded places. Some of the better known trails are the Forest Trail, Heritage Trail, Mineral Springs Loop, Valley Trail, Appaloosa Trail and Lake Trail. When combined, the Forest, Heritage and Appaloosa Trails make a fantastic 19 mile loop hike that circumnavigates the park.
There are also two sizable lakes in the park, the largest being Raccoon Lake which is about 100 acres, fed by the Traverse Creek. There is also another smaller lake on the western side of the park.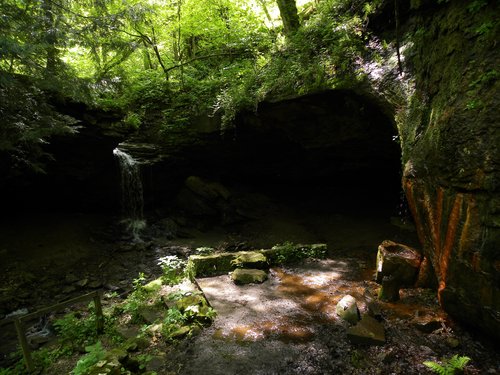 Getting There
Accessed from East and west, PA Route 30 (The Lincoln Highway) runs past the eastern edge of the park.
The park is bisected by PA Route 18 (north to south) which can also be accessed via Route 30.
The western side of the park may be accessed by PA Route 168.
Red Tape
There is no admission fee to the park as with the rest of PA's State Parks and there is plenty of camping available for more information please click
here
.
External Links
PA State Park Page
Weather
Camping
Camping is available all year round at Sioux Rustic Campground, just be aware that winter access may be difficult at times.
For more information click
here
!
There is also group camping available at the Sioux and Pioneer Campgrounds.
Also, the Lakeside Lodge is available for rent from the State Park Service. Click
here
for more info.
Frankfort Mineral Springs
Mineral Springs is a well visited location in the central part of the park which includes a waterfall and large cave. Just over the hill from the springs was at one time the Frankfort Springs Hotel, which opened in the early 19th century. The springs were visited for their healing qualities and it is believed that the Native Americans also believed in the spring's healing powers because a well used path led through the area.
The hotel burned in the early part of the 20th Century after years and years of hosting at capacity and has since been a popular short hike within the park. The loop leaves the park's main office and is a short, but beautiful 1.2 miles.
Wildflowers