Overview
Honeymoon Hump (Point 7690) is a prominent summit along the western part of Ragged Ridge. This famous Ridge, whose western slopes lie within North Cascades National Park, contains some of the most rugged peaks in this wilderness area. Honeymoon Hump gives particularly good views of nearby
Kitling
, as well as fantastic views of Mount Logan, Eldorado Peak,
Mesahchie Peak
, and
Graybeard Peak
.
Being somewhat close to Easy Pass, it is likely that Honeymoon Hump sees at least a few ascents every year. It is much closer to the Pass than the more formidable
Kitling Peak
, not to mention the very foreboding
Mesahchie Peak
. Furthermore, the climb itself is much less demanding without all of the loose rock that would be encountered on an ascent of
Kitling Peak
. It is therefore probably climbed more often than most of the other summits in the vicinity of Easy Pass.
Don't be put off by the fact that this peak has no official name (yet). It is still a fairly impressive vantage, and the views from this peak are every bit as good as from the nearby higher (and officially named) peaks.
Getting There
Drive the North Cascades Highway (SR-20) east from Burlington through the towns of Marblemount and Newhalem, and past the series of dams at Diablo. Continue past mile-marker 150 to the Easy Pass trailhead (elevation 3800 feet) and park here.
Cross Granite Creek on a very well-built log bridge, and then start climbing. The trail to Easy Pass is 3.5 miles long and gains 2,700 feet, but it is well-graded and a good trail. Approximate hiking time to Easy Pass(6500 feet) is about 2 hours. Easy Pass is a beautiful parkland with lovely larch trees and grassy meadows.
From Easy Pass, climb grassy slopes to the northwest, gaining 700 feet to about 7200 feet. At this point, the best option is to climb directly along the ridge. While there will be some ups and downs, it is far better to do this than to traverse low. The western slopes of Ragged Ridge are some of the most unstable anywhere, and sidehilling is a most unpleasant option. In about 3/4 mile from Easy Pass, climb relatively stable Class 2 and Class 3 rock to the summit. From here, great views of
Kitling
, Mt. Logan, and
Mesahchie Peak
await.
Red Tape & Camping
A Northwest Trailhead Parking Pass ($5/daily, $30/year) is required to park at the Easy Pass trailhead. You can also purchase an Interagency Pass ($80/year) which is good at any Forest Service trailhead, or for entry into any US National Park.
There is no camping allowed at the Easy Pass trailhead or at Easy Pass itself. Easy Pass is the boundary for North Cascades National Park. The only permissible camping in the area is in Fisher Creek Basin, about 1300 feet below and 2 miles from Easy Pass. The Park Service keeps a very tight rein on those wishing to camp in this area. Don't be surprised to find rangers lurking about who will give you a citation if you don't camp at the Fisher Creek camp and camp elsewhere in the area. You have been warned!
External Links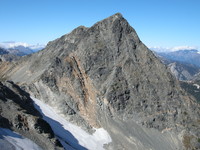 The North Cascades Highway is closed with the first major snowfall until the late spring. Normal operating dates are late April to early November. Be sure to check with the Washington Department of Transportation.
Also, webcams are available from the Washington State Department of Transportation at:
WSDOT Webcams
For camping or other information from the National Park, you can access the Park Service website:
North Cascades National Park
To contact the Ranger Station directly, write or call:
North Cascades National Park
7280 Ranger Station Road
Marblemount, WA 98267-9755
(360) 873-4590