Overview
Alvand
(3575 m.), one the most famous mountain of Iran, is placed near to the city of Hamedan, west of Iran. Mountain of Alvand are belong to pro-Zagros range mountains. Its view from Hamedan is a beautiful conical. Alvand and Damavand are holy mountains in Iran. Kalagh-Laneh, Daem-Barf (English pronunciation: Dyem-Barf) and Ghezel-Arsalan mountains are situated at the west side of Alvand.
About the meaning of Alvand, historical linguists have several ideas. Maybe
Alvand
is newer form of "Arvant" (from Indo-European > Aryan root of "auravant"), means "quick". In this way, Alvand means the mount with quick streams. Although some scientists don't recognize the same derivation for Alvand and Aurvant. And some other say "Alvand" is familiar with "Alborz" and "Elbrus" < Albruz/Harburz. (
more: Alborz, Elbrus)
Climbing
Starting point is Ganj-Nameh, the end point of Ganj-Nameh valley. The major route to the Summit is divided in these tree steps:
1) Ganj-Nameh to Meydan-Mishan plateau.
2) Meydan-Mishan to Takhteh-Nader plateau.
3) Takhteh-Nader plateau to Alvand summit.
During summer is possible to reach the summit less than 3 hours withough long pausing.
Details:
1)Ganj-Nameh to Meydan-Mishan plateau.
1-1) Ganj-Nameh to Kivarestan:
At the north side of Ganj-Nameh square there is a clear narrow route, upward to the west, where the river is coming. After a quarter you rich a wide confluence flat, its name is Kiwarestan, a big camp for student is there, between two narrows at a flat. Meydan-Mishan plateau is at the north side and the building of first shelter is seen. There are two choices to reach Meydan-Mishan plateau from Kivarestan; each of them takes 30 to 50 minutes during summer and 1 to 1.5 hours during winter:
1-2) Kivarestan to Meydan-Mishan plateau:
1-2-1) Aabshaar (means waterfall) route. It's straight but gradient.
1-2-2) Ghaleh-Deaw (means demons' castle) route. In front of the camp's bridge turn right and find the clear route, this route is the best choice during winter.
• Meydan-Mishan plateau and shelters:
Meydan-Mishan is a wide flat, has two shelters. No.1 and no.2. During winter it is the end point for beginners and in a stormy weather for professionals too. The first shelter has a dorm for climbers during winter and a keeper is always there but second shelter at nights is closed, except holydays.
2)Meydan-Mishan to Takhteh-Nader plateau:
The route is clear seen, through a valley, goes upward along the river. It takes 40 to 60 minutes during summer and 40 to 90 minutes in winter to pass this beautiful part.
• Takhte-Nader plateau:
when you rich there, you see a wide flat, covered with colored plants. Alvand summit is seen left side. Sit down please beside a watery spring, enjoy and take water. This spring is start point to the summit, but if your target is Kalagh-Laneh summit, round the flat to reach opposite side of Takhte-Nader.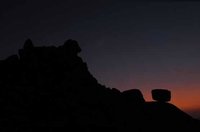 3)Takhteh-Nader flat to Alvand summit:
Starting point is the watery spring. Then you find a route between granite stones. The route is the most beautiful and it takes about one hour during summer or 1 to 2.5 hours during winter to the summit. The peak is a huge stone that looks like a lion in a sitting position. This Third part of route is a holy part for people. You see very lovely shaped granites. Some of them have a name and a myth. Those are holy.
Facilities
Camping:
Everywhere is free, but using the dorm or taking a place at shelters has a low charge.
Water:
There is a spring nearby each shelter. Alvand mountain has various springs, so refreshing water is ready everywhere. Even about 50 meters lower the peak at south, there is a wonderful spring, following through a huge rock. Its name is Behesht-ab (means the water of paradise). Between December to March, or when ever the earth is covered with snow, upper than Meydan-Mishan there isn't any spring to use, except nearby Kalagh-Laneh shelter.
Shelters:
There are two shelters in Meydan-Mishan plateau; each of them has a keeper, under Climbing Federation of Iran. Food is ready. Shelter no. 1 has telephone line and a dorm to accommodate. The charge is cheep for climbers.
Dangers
Wind:
a) Each time that normal wind blows in the city, Alvand has strong wind, anyway whenever is windy must to choose the waterfall route (see: 1-2-1) to reach Meydan-Mishan plateau.
b) During winter if is stormy, it's better to stay in the shelter and drink tea. Reaching the summit in winter is hard and below the peak usually is icy and the summit is windy all times.
Avalanche:
Normal routes, that I noted, don't have Avalanche. But toward Kalagh-Laneh summit, after Takhte-Nader plateau, it's needed to traverse a steep narrow, with several avalanches. Must be worry of avalanches cutting. Its name is Duzakh-Darreh (means the narrow of hell).
How to reach Hamedan
Travel in Iran to Hamedan. From Tehran to Hamedan (330 km.) takes 5.5 hours by bus. You can stay in Hamedan a few days; rest and enjoy. Hamedan is oldest alive city of the world. It was the first capital of Iran (700-530 BC). Take a taxi in the city and go to Ganj-Nameh (5 KM from the city center).
Visual leading
Step 1:
Starting point to Kivarestan camps.
Kivarestan bridge.
Meydan-Mishan plateau.
Shelter no1
Shelter no2.
Step 2:
After Meydan-Mishan plateau to Takhte-Nader.
Takhte-Nader plateau.
Alvand Summit, view from Takhte-Nader plateau.
Step 3:
Toward the Peak.
Alvand Summit.
Continue to Kalagh-Laneh mount
Opposid side of Takhte-Nader plateau to Kalagh-Laneh shelter.
Kalagh-Laneh mountain.
Kalagh-Laneh shelter.
Kalagh-Laneh summit.
Map; view of Ganj-Nameh.