Approach
See the main section how to reach the upper station of Mallnitz cable-car, 2631 m! Or, if you are on a longer trek Over Hohe Tauern, you can start the tour also in Hannoverhaus, 2719 m. The hut is standing on the main ridge, just above the cable-car upper station.
Route Description
From the upper station of cable-car follow the marked path towards the east, which descends a little till it reaches the Goslarer Weg (path), No. 502, coming down from the nearby Hannover Haus. Proceed towards the east to distinctive rocks of Grauleitenwand, after which our ascent leaves the Goslarer Weg (it proceeds horizontally) and goes up till the snow rests (small glacier) of Lassacher Kees.
This ice field has no dangerous crevasses. After crossing the ice field we reach the Radeckscharte, 2874 m. Not very much of height have been gained so far in 1 h 30 min! Northern horizons open, while towards south and west we were enjoying panorama all the time so far.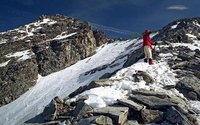 From Radeckscharte the marked ascent goes over the broad rocky shoulder of Kleiner Glockner (Lower Ankogel) to its summit, 3097 m. Climbing is not difficult, nor exposed. A narrow ridge and we reach the base of the main summit rocks. On the right we see a couloir where in spring people ski down on Radeck Alm.
From the base of summit rocks marks lead us just below the west ridge, always keeping on the southern side. It goes steeply, but in good conditions no real climbing is needed. In some 30 minutes we reach the main summit, 3246 m.
From Radeckscharte to the foresummit and over it to the main summit the path is rocky, but in summer it offers no difficulties. In good conditions it is also used in spring, when tour skiers ascend the Kleiner Ankogel from which you can ski down towards north in Anlauftal or the main summit from which they ski down towards east to Osnabruecker Huette. From the cable-car station 2h 30min.
Altogether from the cable-car station we need some 3 hours.
On the Swiss scale for Hiking Tours, the difficulty of route would be graded T4.
Essential Gear
For summer tour you need only normal hiking equipment, poles can be useful. In winter the ridge can be icy, so you need a complete winter equipment. In spring on a ski tour take crampons and ice axe, for the final scent consider to rope the unexperienced.