Overview
The south ridge of the
Piz Balzet
is an easily accessed ridge climb, 300 meters in length which is very popular because of the good quality granite and low technical difficulties. This makes it a good route for the novice alpinist. But while the route is technically not very difficult it does require some experience with placing your own protection, making belays, downclimbing and abseiling. Although there are some bolts, basic alpine rock skills are still demanded to complete the route safely.
Getting There
From the Albigna hut follow the trail which takes you in a northernly direction above the hut. After passing the small
Piz dal Pal
which stands between the hut and the Balzet make your way leftwards towards the foot of the south ridge. The start of the route can be recognized by looking for the very large chockstone halfway up the first pitch. Head towards this and tie in. The approach will take you about 45 minutes to an hour.
Route Description
The route follows the ridge, at times you can find some pegs or a bolt to show you the way. Keep the guidebook with you for the specifics but sticking to the sharp edge of the ridge will see you through. The difficulties are mostly around 3c. The crux length is a slightly more difficult 4a/b slab. Several bolts are in place to make protecting this part easy.
Getting down from the summit is not very difficult, however locating the second abseil can be tricky. It is just on the north side of the east ridge. Do not be tempted to abseil into the broad colour just below the summit as this is not the actual way down and there with a distinct danger of rockfall when several parties are on the mountain at once.
To get down the proper route you need to reach the east ridge and to get there you can abseil from near the summit and then downclimb towards the east ridge. Once there locate the abseil which is about 15metres in length. From there downclimb and follow the red markings to the second abseil which takes you down about 22 meters. After that continue in a southernly direction to make your way back to the hut.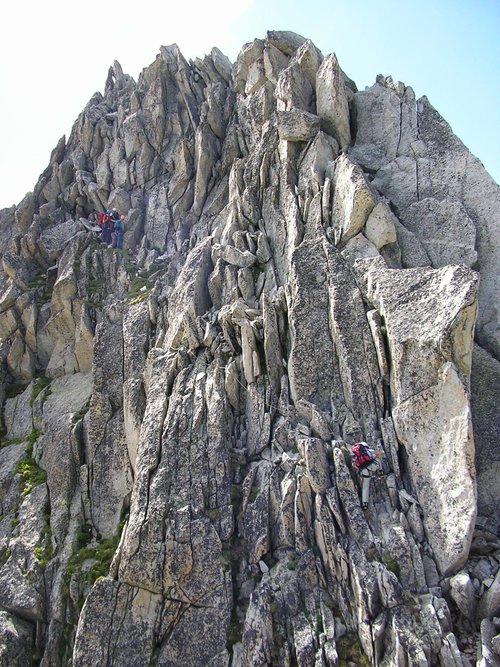 Essential Gear
Slings, and a small rack of nuts and some friends.
About 6 quickdraws.
Helmet.
Rockshoes.
Maps and guidebooks
Map: Swisstopo 1:25000 #1276 'Val Bregaglia'.
Guidebook: Jürg von Känel,
Schweiz Plaiser sud
(Edition Filidor 2003).
style="display:block"
data-ad-format="autorelaxed"
data-ad-client="ca-pub-6523272176520096"
data-ad-slot="7132222476">