Overview
Part of the attractiveness of Bighorn Mountain (10,997 ft. elev.) is that it is off the beaten track. If you've gotten yourself to the summit of San Gorgonio, Bighorn lies just to the southeast. This page describes a cross-country route to Bighorn across that geographic curiosity known as The Tarn.
Getting There
This route starts from the Vivian Creek Trailhead. Coming from the west, take Interstate 10 to the University Street exit in Redlands. Turn left onto University and proceed through the campus of the University of Redlands to Lugonia Ave/Hwy 38. Turn right at Lugonia and proceed about 14 miles through Mentone and up into the mountains to Forest Falls Road. Bear right onto Forest Falls Rd. and take it about 4.5 miles (passing through the Town of Forest Falls) to its end where you will find, on the left, the trailhead parking lot for the Vivian Creek Trail. Now get yourself up the approximate 8-mile route to the summit of San Gorgonio and you'll be ready to visit Bighorn Mountain.
Route Description
From the summit of San Gorgonio head over to its southern side and start down the slope selecting the most convenient route as you go. As you start down, you'll be able to see a field of trees and, just beyond that, an oval-shaped dry lake bed described as "The Tarn" on the USGS topo map. You will be dropping 900 feet from the summit of San Gorgonio to The Tarn.
When you get to The Tarn (10,600'), proceed east (left) and start ascending a little north toward Bighorn's west ridge. Proceed to the high point, Bighorn's summit, at nearly 11,000 feet.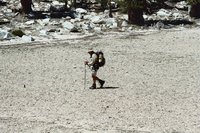 For the return, rather than retrace your steps all the way back up to San Gorgonio's summit, proceed northwesterly dropping back into The Tarn and then start ascending going west until you reach the saddle just north of Dragons Head.
From the saddle, contour in a northwesterly direction toward the Vivian Creek Trail. You will drop into and cross a small creek before heading uphill again to join the trail. Depending on your speed, it will take you 30-40 minutes to get from this saddle to the trail. When you reach the trail, you will be well above High Creek so you have a ways to go to get back to the trailhead.
Distance: 16-17 miles on trail and some cross-country
Elevation Gain: About 6,000 feet
Essential Gear
No special gear required in summer or any other time when the terrain is snow and ice free. Otherwise, during the winter season, snowshoes, crampons and ice axe may be necessary.
Other Useful Information
On the way in, the last water source on this route is at High Creek on the Vivian Creek Trail. So plan your water supply accordingly.
Pick up the required hiking permit at
Mill Creek Ranger Station
off of Highway 38.
USGS Topo: San Gorgonio Mountain 7.5
External Links
San Gorgonio Wilderness Association

San Bernardino National Forest Current Conditions