Approach
To get to the trailhead drive to the park headquarters of Dinosaur N.M., which is a few miles east of the town of Dinosaur, CO (Dinosaur is located on Highway 40 just east of the Utah border). Drive north on the Harpers Corner Road for 6.9 miles and park on a little side track on the left. This canyon is in a WSA and the BLM request that you park just inside the gate.
Route Description
This is a rugged route. There are no trails in the canyon and you will need a map and compass to follow the route. From the trailhead, walk down the old road until you see that the drainage to the south is starting to deepen.
Don't drop in too early (See map)
. Walk into the drainage and make your way through tedious boulders and vegetation (but no bad bushwhacking) until you reach the beginning of the slot.
The first drop can be bypassed via an exposed ledge on the left (looking down canyon), but on my last visit the ledge was covered with sand and treacherous. If the ledge is covered with sand, you should do this drop as a rappel. Unless things have changed, you may want to replace the sling here.
There are a few downclimbs up to 5.7 in difficulty (you can rap them if you don't want to downclimb) and the slot gets better and better as you continue down canyon. The canyon is incredibly twisty and there are fantastic erosion features. You may get your feet wet in some pools. The highest rappel is 95 feet and is in the best section of the canyon. This is the Magic Chamber section and there are chockstones and logs wedged almost 100 feet above the canyon floor in the slot. The chamber is just incredible and spectacular.
From the junction of the two forks just below the chamber, walk down canyon passing an interesting boulder obstacle. Continue down canyon.
When the canyon opens up and becomes very shallow, climb north and back on to the old jeep road. Follow it back to the car. There is about 1800 feet of elevation gain and the jeep trail is very steep, so expect a workout. Expect the route to take 6-9 hours depending on the experience of the group.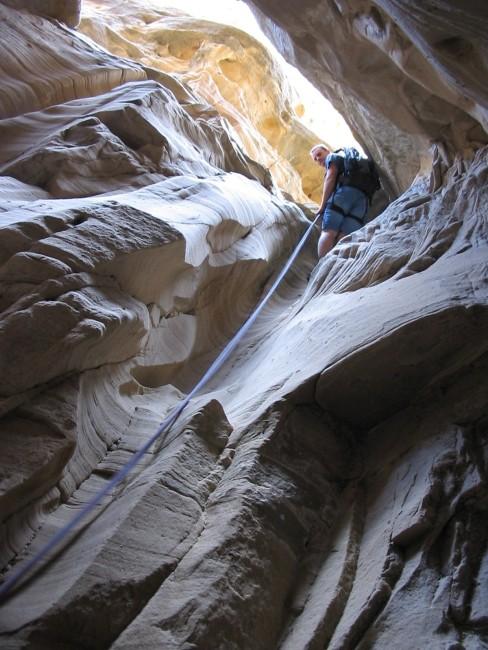 Essential Gear
Several slings (bring 60 feet minimum), 6-10 rapid links or rappel rings, one 60 meter rope, one 15 meter rope, and a climbing harness. There may be short wades in the slot, but probably never any swimming, so go prerpared for that. A helmet is definitely recommended.