Overview/Approach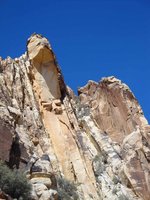 Many
Red Rocks
routes are well traveled and don't always represent the adventure I am used to in the Canadian Rockies. Not so for the Monument and its respective routes. The Monument is home to some serious (would be classics except for the approach) single pitch crack climbs.
Desert Gold (5,13a) (photo) is the only gem really well known and does attract some attention.
On my way to do one of the
few routes that leads to Monument's summit
(Cornucopia), I got a good glimpse at some other fantastic looking crack lines, not the least of which is
Hand Bone (5.10c)
. To reach the summit of the Monument is not a huge undertaking, but definitely an
adventurous one
and a good objective for winter climbing at Red Rocks.
The route Cornucopia is an interesting northeast facing adventure on the Monument. To start the route requires a bit of circumventing the south and east faces of the Monument. The route leads to the summit and the descent takes you down the opposite side into a gully that ends up where you first started the circumvention.
Therefore a complete traverse of the monument is required.
Although the easier pitches are comprised of some stellar rock,
the two 5.10 pitches are quite chossy
. The last technical pitch would be full on scary for most folks unless they are used to climbing 5.10 "sand".
I had a varnished foothold give way on me on this pitch.
The first 5.10 pitch would be a classic anywhere else in the park, but having to jug and pull on holds that see little to no traffic, took a bit of nerve to say the least. My partner on this route was a Gunkie and would have nothing to do with leading either of these pitches. I doubt if many granite climbers would be too excited about them either.
Mark Moore
established the route in
'75
.
Park at the Black Velvet Canyon trail head. Follow the road up to the typical trail heading into Black Velvet Canyon. Leave the trail at any spot that sets you off directly for an obvious break high up in the bright red band at the base of the Monument. A gully dissects this distinct red cliff band at the route known as Desert Gold. There is not much of a trail, but from time to time you might see footprints which are more than likely hard crack climbers going for Desert Gold. You will have to cross one wash where you lose eleveation and have to regain a bit. Once up to the base of Desert Gold (photo),
drop your packs and suit up as the gully straight in front of you is your descent.
Start a traverse right, around the base of the Monument walls. Some of this indistinct trail will be narrow. All of it is chossy. Pass by several great crack climbs. About half way around the Monument from this direction, will be a 5.8 crack that ascends to below a roof, with an impressive crack climb above same roof.
Route Description
650'+/-, 5 Pitches, 5.10a
1st Pitch- 150'- 5.8/
The base of the route is quite bushy. You need to make a few easy moves to get up to a varnished corner where you can follow pretty solid cracks to a comfortable belay below a
significant left facing roof/chimney
.
2nd Pitch- 170'- 5.10a/
The chimney section goes easy for the grade, so I would
avoid placing too much gear here
. Reason being is that you will squeeze out the top and move right to a steep and sustained crack where you must mantle through two small overhangs.
I had a single rack as per Handren's book and this pitch can eat up much more gear than that.
I placed one .75" piece in the chimney, nothing else before the crack, and still
wished I had more 1"-2" pieces.
The chimney is fun and easy with a squeeze through the top. Then move right a bit to an obvious crack. The crack starts out wide (4") and becomes fingers before the first overhang pull which has a huge horn to jug on.
There is a bad flake inside the crack that messes with your gear placements before the overhang.
It is best to reach (height dependant) and place a 1" in the crack at the huge horn before you make the mantel. Continue up better rock to another, smaller and less technical overhang. Make this pull and then follow a much easier and more solid crack up to a flaring chimney (5") to establish a belay.
Rope drag is an issue on this pitch with a single rope
.
3rd-4th Pitches- 180'- 5.7/
Follow the great 5.7 crack up the wide section to a fork. Take the
left fork
up moderate terrain on fantastic rock placing gear at will to a large ledge. Bring up the 2nd and then
move the belay
(4th class) left over to the base of a short crack that gets you started up a chossy looking chimney system on the right side of a huge steep gully.
5th Pitch- 150'- 5.10a/
This pitch takes Cornucopia down a star or two. What had been a pleasant climb turned chossy in a hurry. Take on the short steep bushy wall in front of you. The sandstone is horrible, protect it the best you can,
but anything you place and leave here will cost you huge in rope drag on a single rope.
Then move along easy ground to the base of the chimney. At first it is pleasant enough chimney technique, then it narrows to off width forcing you to rely on some rotten holds.
Place your large gear as strategically as possible to avoid a deck fall on the many ledges.
I knocked off a varnished foot hold on the left outside face. Once you reach a large ledge with an old dead tree out right, set up a belay in the crack above.
The total gain from the top of the technical portion to the summit is approximately another 600'+/-.
We put the ropes away here and switched out to approach shoes.
Traverse over to the large dead tree and scramble up mostly 4th class terrain to a shoulder on the north side of the Monument summit block.
Turn left and ascend 5th class terrain angling right until below a 5th class crack
(photo) that leads directly to a tree on the summit proper. There was a summit log in 2010, but no pencil or pen. Last entry was a solo trip in May, 2009.
Climbing Sequence
Climbing Sequence II
.
Descent
Descend from the summit in a southwesterly direction. There were sporadic summit cairns in place in 2010.
Handren's book discusses a rappel, but we found that unnecessary
and suspect many of the cairn building has been by some ambitious Vegas peak bagger. Zig zag down the peak avoiding anything too technical. Eventually you should be almost even with the steep gully to your right.
You need to kind of nail this spot, because the gully falls and rises to meet this side of the peak, probably only once without having to rappel.
Walk into the gully and then take an exposed ledge off left to avoid a steep section ahead. Down climb a few 5th class spots until you are back in the gully. Stay right to avoid horrible brush and meet up with your bags.
We used a single 70m rope, single 60m should work as well. Single rack to 5". Handren's book calls for single to 6",
but I could have gotten by without either the 5" or 6". Double up .75-2" for the 2nd pitch
. It is a long pitch and you will want to protect the suspect rock well. Half dozen draws, half dozen shoulder length slings. This wall loses sun well before noon in the dead of winter and can be a bit chilly. You might want to take a jacket even if you feel quite warm on the approach and the route is lit up in the morning.
Definitely carry your approach shoes for the descent
.
External Links