Overview
Time: 2h 30m to summit (Almost 3h with snow). Total: 4h (5h with snow).
Getting There
See main page of Teleno to approach to Corporales and cabaña de Mascariel.
Route Description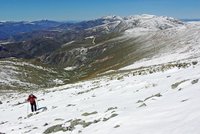 You cross the fence under the small hut climbing the long ramp of plants without path. It's not difficult but the paths aren't clear to reach the bottom of the small ridge of Peña Citrera (1,783m). You can reach the ridge or not because you need turn to right side to reach the area where the ridge ends. In this place you reach a nice path with cairns and green paint entering in Llanos de Mascariel, a long plateau to reach the col under our peak. You start the long final ramp following the path to cross a zone of small rocky peaks and walking in zigzag you reach the col between the main summit (left) and a rocky cone (right). Turning to left you reach the summit of Teleno (2,188m).
Another possibility from the same place is following the small river to the end of the valley climbing to right side to reach the Llanos de Mascariel.
Essential Gear
In winter is necessary the use of crampons and ice-axe in the morning even in South face but in Spring in a sunny day you don't need anything, but the walking poles are very useful if the long final ramp has snow.
External Links
Add External Links text here.