Overview
Located between Villanueva and Pedroveya asturian villages, the Desfiladero de las Xanas (Xanas Canyon) is the result of centuries of erosive proccess of the river Viescas (also know as river Xanas) over limetone.
Nowadays hundreds of people enjoy the trail and tunnels constructed on the rock during the 50s with the idea of comunicate the villages of Santo Adriano, Quirós and Proaza town conciles. Although the project wasn´t finished, today we can enjoy this easy but beautifull route along a high and wild canyon.
The origin of the name of the canyon comes from the asturian mitology: the xanas are short beautifull women with long blond hair, who live on sources, caves and sides of the rivers.
In the ancient times, people probably thought this was a really good place for this magical creatures to live, so they decided to call the places las Xanas.
Las Xanas canyon it´s also famous in
canyoning
world. Nowadays, as a protected areas I´m not sure canoying activities are allowed.
Getting There
Description of the route along the canyon
The route starts from recreational area of las Xanas (Villanueva) and fisnishes on the lovely village of Pedroveya (or viceversa) along a path of 5,5 - 6 Km. It will take us 2-3 hours go and back.
It´s not difficult at all, and we´ll ascent 200-300 meters more or less, so we can take with us children or not well trained friends. Technically the route has not difficulties, but I recomend to wear a suitable clothes for the activity.
Starting from the recreational area we´ll walk up along the road that goes towards Puerto de Tenebredo.
We´ll find an signposting pointing a narrow path on our right. We´ll walk along the path, and it will take us to the canyon. Once on the canyon we´ll walk along the path and tunnels carved on the rock. In some
points we will be 80 m over the river Viescas. The canyon it´s 2 Km long, and the rocky walls on the both sides stand 500 m over the river. We will be walking on the left side, crossing bridges, tunnels and some exciting steps where ropes has been installed on the rock wall to give some people more security.
We´ll find a nice forest before we arrive the Pedroveya meadows.
Red Tape
The canyon was declared Monumento Natural (Natural Monument, a lower grade of protecction than National Park an Natural Park) on 2002 by Pricipado de Asturias (The Goverment of the region). It means this is a special protected areas so there are some restrictions . Some of the rules are shown on information pannels on Las Xanas recreational area and Predroveya I recomend to read carefully.
In this link your find for info (Spanish):
SIAPA - Sistema de Información Ambiental del Principado de Asturias
No wild dangerous animals known.
PLEASE: Keep the environment clean.
Camping and Accomodation
Free camping it´s not allowed in this area. I don´t know about a private camp site near here, but there are a lot of "casas rurales" (rural accomodation) in the area.
You can search for accomodation in this web site:
TopRural
It´s my favorite one, and has transaltion in these languages: Català,Deutsch, English, Español, Français, Italiano, Nederlands, Português.
Also, you can have a look
Infohostal
to find low price hotel and hostels.
External Links
Here you have some external links you can find useful:
English/Spanish contents
Click
here
to have a look a Spanish page where you can find out how to plan a circular route between Villanueva and Pedroveya.
Here
we have another good description of the route (Spanish) .
My Suggestions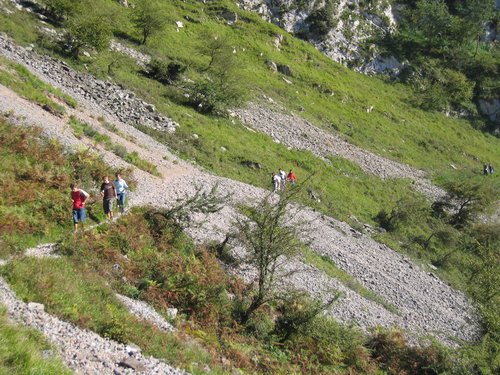 * I have heard really good comments about a restaurant called Casa Generosa located in the nice village of
Pedroveya. The restaurant it´s closed on Wednesdays. As far as I know, on weekends and hollidays sometimes
it´s really difficult to eat there because it´s crowded, so here you have the telephone number, just in
case you want to make a reservation 985 78 30 46 (important note: I assume they can´t speak in English,
French or other languages, only Spanish, but you can try).
* Not far from Villanueva there is another popular route called Senda del Oso (Bear trail), an old train
trail where you can walk on ride a bike. It´s 25 Km long a let you visit and see the valleys of Trubia, Teverga and Quirós.
More info about Senda del Oso here:
http://www.fortunecity.com/greenfield/fatcat/604/oso.htm
(Spanish)
http://www.desdeasturias.com...
(Spanish/English)
Maybe one day any of the Mbposter will add this route in MBpost.
Another canyons in the area
The most famous and amazing canyon in all Cordillera Cantábrica range it´s Garganta del Cares, located on Picos de Europa range, between Asturias and León province.
Another canyons on Principado de Asturias:
Desfiladero de los Beyos
Desfiladero de los Arrudos
Desfiladero de la Hermida
Desfiladero de Valdemurio
Desfiladero de la Foix
Desfiladero de la Estrechura
Hoces del Esva
Hoces de Entrepeñes
Foces del río Pinos
Foces del Río Aller
Foz de Abeyón
Foz del río Lindes
Foz del Cabritu
La Foz Grande y la Foz Pequeña
In the neighbor province of León we can find as well interesting canyons:
Hoces de Vegacervera
Hoces de Valdeteja
Hoces de Villar
Calderones del Infierno
Barranco del Pincuejo