Overview
Falling Fir Ridge is a major ridge on the north side of Ontario Peak. It divides Falling Rock Canyon and Fir Draw (see MyTopo Map on the left), and is the first ridge to the east of Sugarloaf Ridge. Falling Fir Ridge begins at roughly 5400 feet in Icehouse Canyon and terminates on Peak 8688, which is roughly half a mile east and five feet lower than Ontario Peak.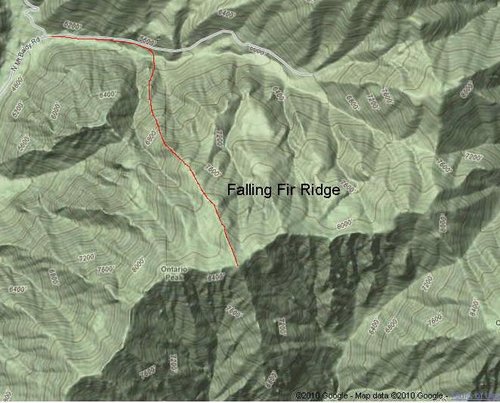 Getting There
Park at Icehouse Canyon parking lot.
Route Description
Hike up Icehouse Canyon Trail for half a mile. Once you see Fir Draw on your right, leave the trail, cross Icehouse Creek, and grovel your way up to the crest of Falling Fir Ridge. Climb the crest of the ridge for 3000+ vertical feet, dropping down occasionally to bypass steep sections. The crux is a 20-foot, class 3 gully on the right side of the ridge midway up. It might be possible to avoid this gully by traversing down to the right.
There are various descent options. Here are three: (1) Descend Falling Fir Ridge; (2) From Peak 8688, walk west for a quarter mile and descend Sugarloaf Ridge. (3) Hike down Ontario Peak Trail to Icehouse Canyon Trail.
Red Tape
Much of Falling Fir Ridge is in the Cucamonga Wilderness. The required wilderness permit, in addition to the required Forest Adventure Parking Pass, can be obtained at the Mt. Baldy Visitor Center in Mt. Baldy Village.
External Links
Trip report from The Mountaineering Review
(November 13, 2009).
style="display:block"
data-ad-format="autorelaxed"
data-ad-client="ca-pub-6523272176520096"
data-ad-slot="7132222476">