Fausto Susatti via ferrata
This wired route is one of the easiest ones but it drives you through beautiful scenery. Its difficulty is only "A" but you have to walk and climb 900m height.
The route needs 6 hours but you can reach other summits too from Susatti via ferrata so you can spend more time. I think if you want to walk through all the routes and all the summits in this massive you must spend there 2-3 days.
Getting there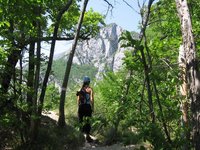 If you just leave Riva del Garda to Limone on the western coast of Lake Garda you can find a small bridge above the car-route before the first tunnel. If you can see a white arrow shaped table with red-white mark, "405 F.Susatti via ferrata" title you are at the right place. :-)
The table mentions the via ferrata is 3 hours far from here.
Follow the direction that the table shows and go on the 405 trail.
Be careful because in the first half an hour you must walk on a popular mountain bike route so let the bikers to go !
After some tunnels you will see another F.Susatti via ferrata table at a steep, narrow track. It's our place: no more bikers from here. :-)
The track is well marked so you should follow the red-white marks and delectate the beautiful scenery. You can see the whole northern part of Lake Garda, Monte Baldo, the northern towns: Riva, Torbole, Arco, etc.
In good weather the lake is full of wind-surfers and sailers.
Via ferrata
After cca. 3h walking you reach a red table at an artificial cave or bunker. You should put on harness, attach the via ferrata set here. Don't forget to wear a helmet !
The first 10m is not wired altough you can see old anchors. It is not important because it's very easy part. Rock is very good quality limestone so if you are experienced climber it's not necessary to use the wire you can climb free.
Route is very safe there is wire where you need it so you can climb it with unexperienced partners.
Climbing takes 1/2 - 1 hour depends on your speed.
Where wired part is finished there is a very nice balcony. I suggest you should take some photos from here because IMHO it is the most beautiful place in the whole route.
Cima Capi (929m)
From the end of the wire it is 10-15 minutes to the summit of Cima Capi. You should walk through a simple track and at the summit you will find a metal Italian flag and there is a box with a summit-book.
Descending
You can go back on the ascending route
OR
You can see a helicopter landing zone with a white H a little bit further on the ridge. Go to this direction (it is marked with usual red-white marks somewhere only with a red point). After 20 minutes walking you will find a junction you can choose Foletti via ferrata, other trekking routes to other summits or you can go away on F. Susatti back to Riva del Garda. Sometimes you will find wired parts because the track goes high. If this part is under snow it could be interesting. :-)
After the second table (where you can choose another targets) follow the Riva del Garda directions. Your way is very simple from here just follow the red marks. Admire the scenery and see the military bunkers all the way down.
You will reach Riva del Garda at its end almost at the small bridge where you started.
Have a good trip !