Overview
Most Goblin Valley visitors traipse across the red-clay pan, the valley proper. The backdrop of the Valley on the East side features taller and often more spectacular red clay formations, topped by a 5,000 ft plateau of white siltstones. There are several routes for the more adventorous travellers to get there, including some rather claustrophobic slot-cave variations. This page decribes the route normal, predominantely class 2 but with one small class 4 crux section.
Getting There
From the main parking area for the GV, follow East for 1/3rd of a mile. You should end up slightly south-east of the high point of the plateau (marked on the topo)
Route Description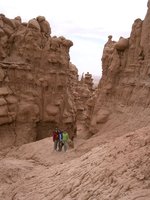 Head up an obvious short slot near East end of the South Face of Goblins' Top. As the slot curves rifgt (East), watch for a short coloir on your left (NW), blocked by an oblong chokestone (roughly 3 ft across and 10 ft long). Scramble up on the right side of the chokestone.
Once above the chokestone, look for an obvious gully between the tall orc-walls 100 ft to the NE, follow it to the upper Goblin Bowl and to the distant low saddle of white siltstone on the NNW side of the bowl, then ascend a series of somewhat exposed benches to the top of the white formation.
The Dragon Overlord of the Goblins is watching them from up above just SSW of the highest point. It is an enormous winged white formation, all but invisible from the normal tourist paths.
Essential Gear
Sturdy boots, headlamp if you up to exploring the side slot caves.